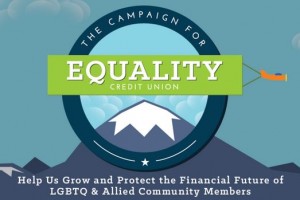 Phillip Endicott wasn't always the President of a financial nonprofit. Back in the '90s, he was an actor, a co-founder of the grungy Velvet Elvis Theater in Pioneer Square, a founding board member of the Seattle Fringe Festival, and helped start Gay City Health Project and the artistic facility Consolidated Works.
Now, he and a former drag queen would like to assist you with your finances. They're starting the world's second credit union for the queer community.
Here's all you need to know about the difference between a bank and a credit union: a bank is like a Broadway show, and a credit union is like community theater. Banks are big, and use your money to make billionaires richer; credit unions are small, and use your money to improve your community.
Years ago, when Phil was fundraising for his theater projects, he noticed that there was a sudden influx of money in the gay community — lots of guys had cashed in their life insurance policies to help pay for AIDS-related health care — but there wasn't a lot of financial planning going on.
"It was like the Titanic was sinking and everyone was partying before they drowned," he recalled.
At the time, he observed to his friend Andrew Tasakos (who hosted a public access show as drag queen Bitsy Bates) that someone ought to create some sort of financial institution to help with the particular issues facing LGBTs.
And for twenty years, that was that. Over the intervening two decades, both Phil and Andrew's careers moved on from the theater — Andrew worked in sales for Audi, and became a loan originator. Phil went back to school and got a Master's Degree in Information Management, working for various high-profile local tech companies. And a few years ago, he started to notice that new technology and regulations were making it easier than ever to start a financial institution.
So he called Andrew.
"Remember twenty years ago when we talked about opening a gay bank?" he asked.
"Yeah," said Andrew.
"I think now's the time," Phil said.
They're calling it "Equality Credit Union," and if it goes according to plan, it would be uniquely positioned to benefit the gay community. The organization would function like a bank, and thanks to Washington law, there would be no special membership requirements, like having a certain employer or living in a certain area. It would be part of an ATM network, and would accept mobile check deposits via phone.
But it could also do a lot more.
"Other banks might throw money at a pride parade, but what other impact are they going to have?" Andrew said.
Most of the time, queers face the same financial issues as everyone else (a perpetually-overdrawn checking account, and a savings account with around $300 and change). But LGBTs also have some unique needs when it comes to money.
For example, Phil and Andrew anticipate offering unique loans for gender transitions, or for surrogacy. They can provide LGBT-specific sensitivity training to loan officers. They'll give you the option to round up your transactions by a few cents to benefit LGBT charities. They expect to provide financial literacy courses through LGBT institutions. And they'll allow trans customers to have both a male and female name on file — now that's a level of sensitivity that even Facebook has struggled with.
This attention to queer needs is particularly urgent outside of the big cities. You're not likely to face a lot of discrimination from your bank here in Seattle, but in 29 states, you can be denied a loan for a home, car, or education just for being gay.
They've been working full-time on the project for nearly a year, and now Equality Credit Union is scheduled to launch in June with the backing of an (as-yet unannounced) pre-existing credit union. That means that they won't have to start completely from scratch, and they'll have an experienced, proven institution handling the actual money while they steer the ship.
"We're not financial wizards," says Andrew. "We're community activists."
*******************************************************************
Editor's Note: This article has been corrected to reflect that this Seattle based credit union would be the SECOND such LGBTQ banking institution. The Dallas Gay & Lesbian Alliance  established a Credit Union in 1991 which offered members the first "gay" credit card.  The institution has since disbanded.
Also: 29 states currently have legislation that can deny gay people basic human rights.
1/29/2015 12:35 pm.
Tags: Andrew Tasakos, Equality Credit Union, Gay Banking, Gay Credit Union, LGBTQ Banking, Phillip Endicott