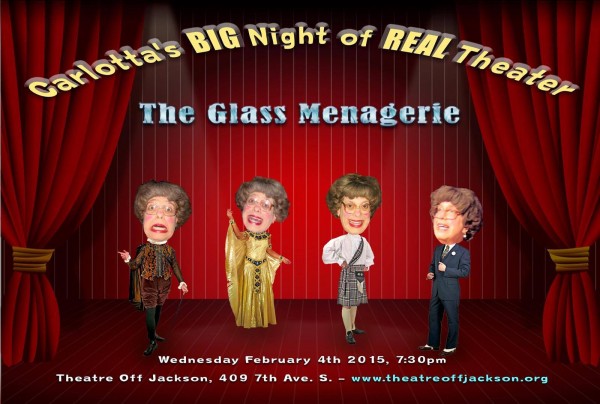 It's a rare day when you have to make this tough of a live stage choice. On Wednesday, February 4, 2015 in Seattle you kinda have to decide between two local stage icons since both have live shows at the same time. Do you go see the delightfully eccentric CARLOTTA SUE PHILPOTT in a very rare appearance, or check out the hilarious comedic antics of the delightfully funny LISA KOCH & FRIENDS as they all celebrate Lisa's 39th Birthday….again.
It depends on what rows your funny boat. Do you like men in drag who aren't drag queens but actors creating an original character (that just so happens to be a lady)? Or, do you like funny lesbians (mostly; a couple non-lesbians snuck into the line-up) being hee-lariously inappropriate on stage?
We like both, so we're still stuck.
Go flip a coin!
For Carlotta fans, here's what the adorable Southern fried auntie has up her sleeve:
Carlotta's back after a long stint to provide a night of REAL culture, REAL civility, & yes what she considers REAL theater. "Oh," says Carlotta, "It's SO real that we're puttin' it on in 3-D!!!" This 1 night event Carlotta presents her version of what she can remember of what a friend told her it was about "The Glass Menagerie". "It's REAL sad too…" Join us in what will definitely turn out to be a BIG …. ummm… show!
So, to translate, it's Carlotta (and friends) presenting HER twisted take on a classic play….GOTCHA!
It's at 7:30pm down at Theatre Off Jackson in the International District. Grab tickets HERE!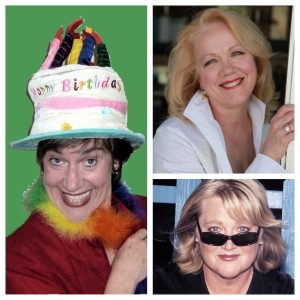 As for the Divoon Ms Koch, she has great guests and a LOT of comedy talent onstage at The Triple Door, downtown. Here's some skinny:
Singer/comedian Lisa Koch celebrates her semi-annual Birthday Bash at the Triple Door Feb. 4, with hilarious Texas comic Vickie Shaw and twisted pianist Roxanna Ward.
Info at www.tripledoor.net –Tix link: http://goo.gl/PvN6fQ
Doors open at 6p for dinner.

Special guests include Peggy Platt (Ham for the Holidays), Jen Todd (Laura Love Duo), Mel Watson (Fruit), David Koch (Cabaret de Paris), Larry Murante (award winning singer-songwriter), DJ Gommels (ACT, Ham for the Holidays), Alicia Healy (singer-songwriter) Ken and Anna Lauris Boynton (ACT, Annaken), and lots more talented pals and ne'er do wells. Snort-inducing comedy, fabulous music and surprise appearances for a jam-packed evening of tunes and laughs!
It's a tough call….maybe you can base your decision on your food options for the night….you can eat IN The Triple Door or choose from MANY options before/after the ToJ show.
Dammit.
More choices.
Tags: Carlotta Sue Philpott, Lisa Koch, The Triple Door, TOJ