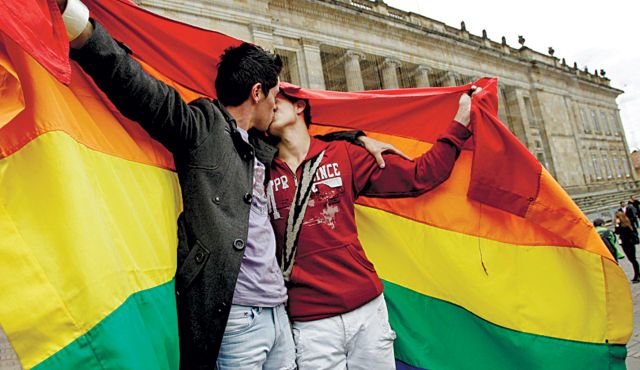 Seattle Mayor Ed Murray recently appointed a task force of 30 community members to strategize ways to reduce the city's increasing amount of hate crimes and brainstorm ideas to make neighborhoods safer for LGBT folks. This comes at a critical time when violence against the queer community—even in Seattle's largely gay Capitol Hill borough—is an all-too-often-reported (perhaps even all-too-often-unreported) phenomenon. 2013's New Year's Eve arson at Neighbours Nightclub, an anti-lesbian death threat against an R Place bouncer, the despicable murders of Ahmed Said and Dwone Anderson-Young, a recent anti-gay beating in Georgetown, and too many other hate crimes have LGBT Seattleites looking over our shoulders and rethinking our routes home at night, waiting to hear shouts like, "You look like a faggot," "We kill dykes like you," or "That woman's a man!"
What does this have to do with Love and Lust in Queer Seattle? This article is dedicated to the concept of love for our fellow humans, or what the ancient Greeks referred to as agápe. Taking action to support and protect our community amidst abuse and violence could be considered a supreme form of love. Actions, after all, are one form of expressing love, especially during a time of need.
A couple years ago, a date of mine requested a nighttime stroll in Cal Anderson Park. Intuition told me this was a bad idea, but he was cute, and wasted, and I didn't want to argue with either of those. I'd never had a skirmish in the park before, so I figured the risk was low enough to indulge this guy's spontaneous request. So we sipped milkshakes on a bench under the glowing lamps just north of the park's baseball diamond. A young man meandered up to us, clearly blazed out of his mind, and asked if we wanted weed. "No thanks," I said (though it looked like my date was about to take him up on the offer). The man shuffled closer to us, spat at my shoes and said, "I'm not afraid of you." I replied that it's great he's not afraid and said goodbye. When he reached back and a click resounded from his back pocket, I found myself immediately in his face, asking what the fuck he thought he was going to do with whatever was in his hand. Not my smartest moment.
A look of terror briefly washed over his face, but when I grabbed my (useless, never-again) date and power-walked across the field—the same field where our community puts on Bat N' Rouge and other queer-friendly events—the man shouted all sorts of slurs at us and laughed. The Seattle Police Department was very responsive to my call, but to this day I do not know the status of this man who was "not afraid of us."
The case for activism is the very real, urgent circumstance that sexual minorities in this city are still oppressed, still in danger. Queers tend to develop fun, comfortable "gayborhoods" with affordable cover charges, polite service, cheap booze, good food, and great music. Adjacent communities have always been welcome on our turf so long as they minded their manners and respected their surroundings. But dynamics are rapidly changing with the onslaught of wealthy, privileged outsiders who can't hold their liquor, migrating to our neighborhoods and disrespecting our culture, our businesses, and our bodies. It's like living on display at the zoo, waiting to feel safe again when the visitors leave on Sunday, in their wake a river of trash in our streets and a few more police reports of violence and intimidation.
To my straight readers who may not understand the problem, consider an aggressive group of frat boys or criminals coming to your neighborhood every weekend, leaving garbage in your driveway, assaulting your neighbors, and calling "people like you" every derogatory name they can think of. Wouldn't feel great, would it? The difference is, if this happened in your neighborhood, the response would be swift and effective. Queers historically don't benefit from that kind of police support and legislative intervention. It is my abounding hope that Mayor Murray's appointed task force has not been formed too late, and that they are able to work with local law enforcement and elected officials to make a measurable impact in defense of our community.
The alternative—apathy to injustice, acquiescence to subordination, or fleeing—are tempting ways to avoid conflict and excuse ourselves from the stress of this culture clash, but it is not fruitful; it's giving up. Sure, we pick our but-this-is-my-home battles all the time, and we can't win 'em all. Some neighborhoods become too expensive to afford anymore. Some districts don't develop schools functional enough to set your child up for success. These are regrettable but understandable reasons to relocate. But the battle for our safety and wellbeing is not negotiable.
So this week while you scroll through Grindr for a sloppy BJ or plan a date with your long-term partner or attend another same-sex wedding, think of the kind of love that extends beyond just two (or a few) people. Think of the love that touches the entire public. Think back to 2012 when grassroots organizations in Seattle and across Washington State banded together to promote the successful passage of marriage equality by popular vote. Think of ways you can become an activist, however vast or small your involvement may be.
Was there a time an activist came to your rescue? Is community involvement an idealistic fool's hope? Want to know how to get involved? Comment below, hit us up on social media, or email me at ryan@seattlegayscene.com.