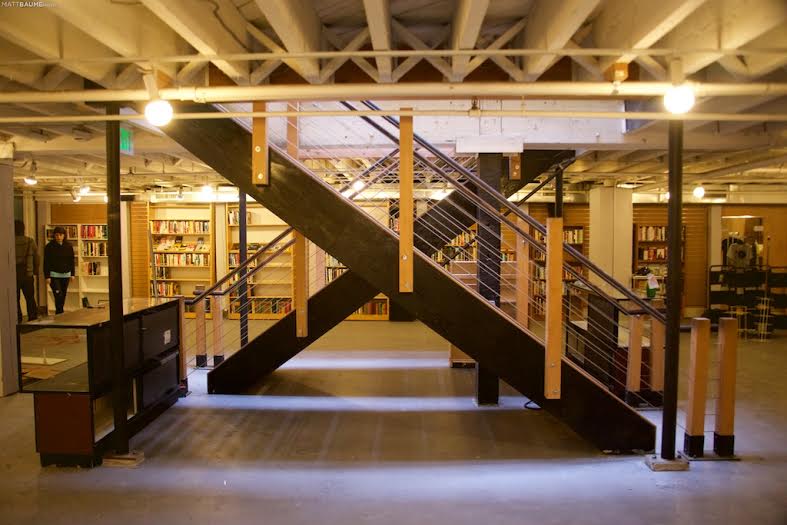 It's called a "soft opening".
(No, rude jokes, please…)
Capitol Hill's beloved Lifelong Thrift Store was forced to leave its old home over in the No Man's Land of 11th & Union (THANK YOU GENTRIFICATION!!!) but because you make lemon flavored cocktails when life hands you a lemon, they got a BIGGER and BETTER new home over on Broadway at the just vacated spot left by the vintage clothing/costume boutique, Red Light at 312 Broadway East, in between the derelict remains of the Grill on Broadway and the emotionally derelict currently standing remains of Julia's on Broadway.
They've actually taken over the space next door as well, previously held by Apris, so the Lifelong Thrift Store has about a gajillion more square feet of room for all your vintage clothing, housewares, tchotchkes, books and VHS tape needs.
Mr. Matt Baume and I went to visit the new space last week to get a sneak peek at the new store, conducted by the very lovely store manager Tamara Asakawa who gave us all the dish…including reminding us that not only does the Thrift Store sell slightly used treasures to the general public, it also provides clothing and household goods to HIV positive clients of Lifelong who need assistance in setting up a home or even pulling together an outfit for a job interview. And, obviously the profits generated by the store go to the many programs at Lifelong, including Chicken Soup Brigade that provide all kinds of services to our community.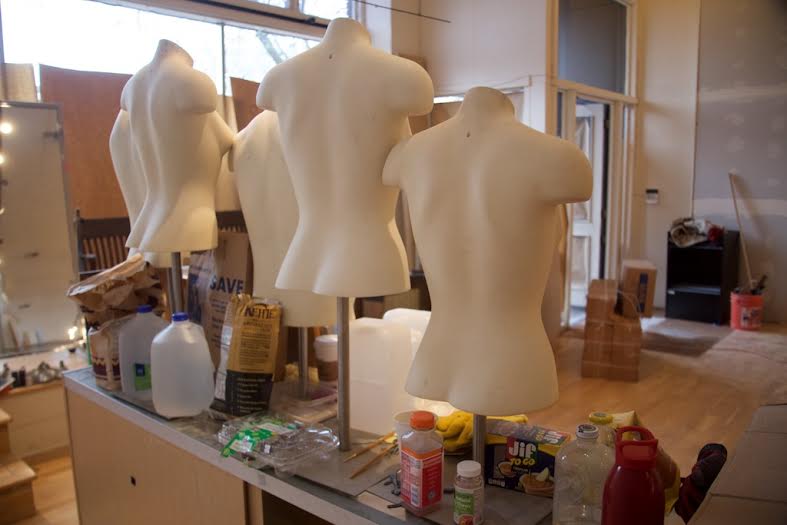 The new store is enormous and much more light filled than before….the dark, gloom and doom of Red Light is a thing of the past, as Tamara has been adamant in bringing in a lighter, fresher look to the space. Clothing will occupy the main floor of the store but without the strict gender discrimination you see in most clothing shops. "Men's" wear and "Women's" wear won't be exiled to opposite corners of the building. We live in a gender fluid / gender bendy neighborhood…why have strict rules when it comes what we wear or how to sell it?
The basement level will feature media goods; books, vhs tapes, vinyl, etc in the room at the foot of the staircase. Over in the former area devoted to costumes, household goods will reign supreme, including soft goods like bedding, as well as kitchen and household goods including furniture. There will also be plenty of space available for assorted knick-knackery and bric-a-brackery, one of the chief highlights of any good thrift shop.
Right now, it's a bit bare in the new location. Lifelong hasn't been able to accept donations for the last couple of months as they shut down the old location and remodeled the new. Spring cleaners and folks in the process of moving are strongly encouraged to donate their gently used, no longer needed items at the new store…there's a back entrance with access immediately behind Julia's on Thomas Street. Contact store for best hours to bring goods by….and, remember it's tax deductible to donate items! (Also remember that Lifelong is a REAL non-profit agency that uses all funds for their programs…the Goodwill and Value Village, as lovely as they might be, are NOT non-profits. We won't mention the abomination known as the Salvation Army. And, as for that OTHER HIV health related thrift store on Pike Street, they're not local, are they?)
Tamara also gave us the nitty grit on one of the rumors swirling around….that Lifelong only has a short, 3 year lease for the new location because that block is destined to be torn down in three years. The truth of the matter: Lifelong has a 5 year lease with options to renew.
She also confirmed that the store will also probably carry some costume related items to fulfill a need caused by Red Light leaving the space, though there's no current timeline on if and when that will happen. (We urged her to have a corner with wiggy/panty hosey/feather boa-y type stuff…where else you gonna go for last minute "drag" or costume party needs?)
The poo we're hearing NOW, is that the new Lifelong Thrift Store will quietly open on Wednesday, March 25. (They might even open doors on Tuesday evening if they're feeling frisky…) We suggest you either just pop by if you're on Broadway, or check back with SGS or Lifelong via social media to see if they have opened.  A more formal grand opening will happen in a few weeks.
We're thrilled they're back. The Hill would NOT be the same with the Lifelong Thrift Store.
All the lovely photos: Matt Baume.
Tags: Bargains, Broadway Business, Capitol Hill Business, Charity Thrift Stores, Lifelong, Lifelong Thrift Store, retail