GUYZ. GUYZZ!!!1! Are you as stoked as I am?? Who among you has passes to The Premiere Comic Con of Comic Con season? Because it is SOLD OUT!!
Frothing at the mouth yet? This nerd sure as fuck is!! It'll be the first time Korra Q is attending #ECCC for more than a sporadic few hours. YAYS! Ok, breathing. Breathing is good. 'K. That being said, I shall start off the three-day countdown with the Top Ten Things I'm Looking Forward To:
This is by FAR the only item in its correct rank (first) on this list. If you have not seen The Legend of Korra, what the fuck is the matter with you! It is the single most important animated series (non-anime) since Justice League. And I don't say that lightly. Avatar: The Last Airbender was amazing, yes. But without it LOK couldn't have happened, and we are all better off for it. With worldly themes like genocide, totalitarianism, anarchy, religious extremism, war, torture, murder, PTSD, compassion, nation-building, and coming of age, LOK is singularly the greatest thing any person over age 13 should see. But the most important aspect to LGBTQ people is that it ends with two of the main characters as women of color who end up together as bisexuals. This has NEVER happened in American animated television geared toward young adults, and for once we can thank Nickelodeon for allowing the show's crew to do the right thing. The fandom is pretty split on this with their shipping, but creators Michael Dante DiMartino and Bryan Konietzko have definitively confirmed Korra and Asami's relationship. Plus, did you SEE the Bi flag in the finale?? (See pic above.) Anymoo. Janet Varney, the voice of Korra, will be at ECCC! SQUEEE!!! She's hosting a panel on Saturday at 5pm, where she'll answer your questions about becoming, literally, a legend. Stephen Yeun will also be there, the voice of Avatar Wan as well as Glenn from The Walking Dead. EEK!
COSPLAY COSPLAY COSPLAY!! I dunno about you, but I'm absolutely stoked every time I see a well-thought-out costume. The attendees at last year's GeekGirlCon had it going on, and I expect nothing short of greatness from the ECCC fans. From what I'm hearing, the queers are definitely making themselves much more known at cons by "crossplaying," where genders are crossed for characters or concepts in a single outfit. ALL THE AWESOME. I'm eyeing you, you nerdy little queen, you! Plenty of women do it already, but I would love to see more nerdy drag queens, dammit! Getchyer asses in some tights!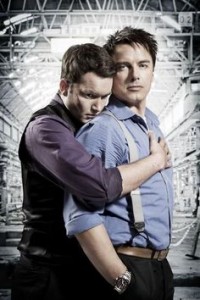 Celeb guests! The guys I'm looking forward to: Clark Gregg, from Avengers and Agents of S.H.I.E.L.D. His deadpan cracks me up every time. Joss Whedon struck gold casting him. Panel: "Clark Gregg: Agent of A.W.E.S.O.M.E.," Saturday at 5pm. Patrick Warburton, who's voiced every single muscle-bound tough guy in animation since The Emperor's New Groove. He'll always be Cronk to me, but Adventure Brothers was the shit, and his work on Archer had me rolling on the floor! My only wish was that the live-action The Tick show didn't get cancelled. Panel: "Patrick Warburton: Unforgettable," Saturday at 3pm. John Barrowman, our secondary Gay Nerd Leader!! (The first being George Takei.) Holy fucknuts, Captain Jack Harkness! Guys, his work on Torchwood was fucking hawt. Even *I* almost wished I were a gay man so I could kiss him on that show. Panel: "John Barrowman, the Many Faces of Handsome." I'll be attending his little soiree on Saturday night, eeek! Ha! And last, but certainly not least…The Man. The Legend: Stan. Fucking. Lee. If you don't know who he is, I refuse to explain it to you here. You'll know when you get to the con by the line out the damn door and around the block.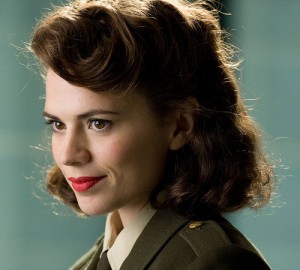 Celeb ladies! The women I'm dying to see, other than Janet Varney: Alex Kingston. Well known for her role as River Song on Doctor Who, I've had a little crush on her since she was on E.R. She's currently on Arrow. Panel: "Alex Kingston: The Canary on the TARDIS," Saturday at 1pm. Gina Torres and Jewel Staite, of Firefly fame. Can we say YUM? I've seen Ms. Staite at Steamposium, and she's an absolute joy. Both will host the "Firefly with Gina Torres and Jewel Staite" panel on Friday, and Torres will host her own called "Gina Torres: Bad Ass" on Sunday. Susan Eisenberg, whom I had the pleasure of annoying at GeekGirlCon last year, will bring her fabulous self back to remind us all what it takes to voice Wonder Woman. YAY! She's super funny in person, and I gotta say I'd like to get her, Marina Sirtis, and Denise Crosby in a room together to see what enfolds. But the name on most women's lips this year for all the superhero shows is currently Agent Carter herself, Hayley Atwell! So stoked that such an awesome character who seemed to get kind of background treatment in Avengers gets to represent, and honor, the fictional and real women of WWII. Haven't seen the show yet, but I'll binge-watch it at the earliest opportunity.
OH THE PANELS!! Not much to be said here except you had better have gotten the ECCC app on your smartphone to schedule ALL THE THINGS you want to do. This year's offerings are crazy diverse, from sexy topics to writing to celebrities to publishers to goth stuff to…you get the idea. Yes, you *will* get conflicting events, but so what? Planning to panel-hop as much as humanly possible.
Northwest Press and Fantagraphics! Folks, if you don't know these amazing publishers, you've been living either under a rock or in another country. These two are the foremost in LGBTQ comics, and will be at ECCC to spread the word that "comics are for everyone." We are incredibly lucky that they are housed in the Pacific Northwest. Stay tuned to SGS for further info!
And on the actual *ahem* COMICS note, I would be incredibly surprised if there's a single one of you out there who does *not* read webcomics. Since the late '90s, webcomics have exploded as an industry, and with that came a huge outlet (innuendoes not intended) for LGBTQ content. Among them, we have Matthew Inman, of The Oatmeal. It's seriously one of the funniest things you could be reading right now, outside of Cyanide and Happiness, which will also be exhibiting.  Danielle Corsetto will be there for Girls With Slingshots and her paper comic Lumberjanes, and I can't wait to meet her! Also, Jeph Jacques of Questionable Content fame will be exhibiting. His comic is pretty freakin' sweet. For you fiends out there who love both sex and humor, Erika Moen of Oh Joy Sex Toy! can probably answer all of your questions. Chances are good nothing will phase her in any of her three panels. These are just a few. Yay!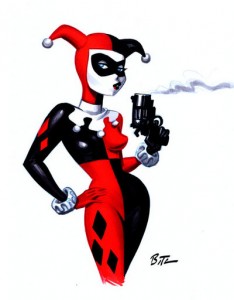 Bruce Fucking Timm. Dude. This guy is responsible (along with Paul Dini) for the entire aesthetic of every DC cartoon since Batman: The Animated Series. Which, by the way, is the reason we have the one and only Harley Quinn. He preeeettttyyyy much saved DC from what was almost Comic Book Death, right before the digital age ushered in ComiXology and Amazon to give us comics on screens. Dare we say also that his designs have led to some the easiest cosplays possible, simply for the clean lines and solid colors? I love this guy. I missed him a couple of years ago when he was here at the same time as Kevin Conroy (the only guy who should ever be Batman's voice), so hopefully I'll catch him this time around. So should you!
If you're queer and would like to see queer representation but certainly don't expect it among the traditional heroes, some of the best titles are coming from Fiona Staples, Brian K. Vaughn, Kieron Gillen, and Jamie McKelvie. The last two will actually be here, which is a big deal because they're based out of the UK. If you haven't yet, I strongly encourage picking up Wicked + Divine. There's a sexy androgynous Lucifer! Both of these guys work on Phonogram, and are soon releasing Phonogram 3. Gillen has also worked on Young Avengers, which features a mostly LGBTQ cast, and will be doing about seven panels. That *has* to be some kind of record.
Last, the books. ALL THE BOOKS. In the world. I will sell all of my earthly possessions if it means I walk out of Comic Con with a plethora of new titles. Will I be able to keep up the habit? Probably not. Money comes and goes. But so what? I don't need to attend Pride, or have a birthday, or travel, or eat. The books, though? GIMME.
So! There's my Top Ten. What are yours? Look for me; I'll probably have Season 4 Korra hair. Feel free to chat about your LGBTQ experience! Are you facing harassment? What did you have to do to get that fabulous cosplay? Are you crossplaying? Is ECCC 2015 better or worse than previous years? Who are your queer heroes in the industry? Would you do nerdy drag? Are you headed to Guardians of the Sexy? Do you have a different experience based on your specific interests? Will you be attending other conventions this season? What panels are you attending and which are your favorites? Are the celebs everything you imagined? Go! Find out! Then let's chat!
(Visited 1 times, 1 visits today)