Detroit is one of my all-time favorite cities.  Hands down.  It is rich with history (and a fair amount of scandal), has a musical history that is quite literally legendary, and is home to some of my favorite people on the planet. One of whom, is DJ Minx.
A set by DJ Minx can be described as funky, powerful house, with a smidge of grace. Her early career included engineering and hosting "Deep Space Radio"- an electronic music show on a Detroit's WGPR radio station, headed by techno innovators like: "Magic" Juan Atkins, Kevin "Reese" Saunderson, Eddie Fowlkes, and Derrick May.  As a resident of world-renowned Club Motor, Minx has played with the likes of Basement Jaxx, Doc Martin, Cajmere, and Afrika Bambatta. In the mid 90's, Minx created Women on Wax, a collective of lady DJs from the Metro Detroit area.  In May 2000, Minx was a featured performer in the line-up for the very first Detroit Electronic Music Festival.  Minx began producing music in 2001 and created her own record label – Women On Wax Recordings (with a sub-imprint called W.O.W.B.A.M – Women On Wax Bangin' Ass Music).  She has had many noteable releases on her own labels, as well as releases and Remix work with Minus, Trisomie 21 (Paris), Soiree Records (Detroit), West End Records (New York), Psychostasia Recordings (Detroit), United Music (Paris), Whasdat Music (Detroit).  Her Minus single, "A Walk In The Park" was remixed by Josh Wink, Matthew Dear, Magda and Ricardo Villalobos.  Impressed yet?  You should be.  This lady works hard.
I became a fan of DJ Minx when I was in my early 20's and had just started spinning myself. SuperJane Collective out of Chicago (DJ's Heather, Collette, Dayhota and Lady D), and Women on Wax out of Detroit (helmed by DJ Minx) were HUGE inspirations to me.  So much so that I led the charge to start a Seattle collective (hitgirl!), along with DJ's Julie Herrera and Ginger Vaughn.  As the hitgirl! Collective, one of our first moves was to bring DJ Minx to Seattle for one of our parties at The Baltic Room.  It was a magical night.  Since then, DJ Minx has been to Seattle to play for parties like Flammable and Decibel Festival….and now, Kiss Off (Saturday, March 28th)!
Conceived and managed by resident DJ Julia PlanetDisco and Kremwerk's Nicole Stone, Kiss Off is quickly becoming a nightlife staple. With a rotating roster of guests (Julie Herrera, L.A. Kendall, Trinitron, General Meow and more), a sassy host (the one and only Kitty Kitty Bang Bang), and a killer venue, it's not hard to see why.  Clear your schedule for this event.  YOU ABSOLUTELY DO NOT WANT TO MISS THIS NIGHT.  A hot club night and one of Detroit's finest?  It's gonna be wild!
I had a chance to catch up with Minx in advance of her appearance in Seattle.  We chatted about her history, Detroit, Seattle, and some advice she has for those who come to see her at Kiss Off.  Read on for all the juicy bits…..
---
LA Kendall:  When did you first get bit by the vinyl bug?
Minx:  It first hit me in the summer of 1988.  After going to the Music Institute in Detroit, and listening to Derrick May beat folks into submission, I felt compelled to be a part of this musical underworld – from the other side of the dancefloor.
LAK:  You helm your own label, Women on Wax, and sub-imprint of the label called W.O.W. B.A.M. (Women On Wax Bangin' Ass Music).  What inspired you to start your own label?
M:  I played one night at (I believe) Temple in Ferndale and noticed Kenny Dixon there…just watching me.  After a while, he was gone.  This happened a few more times (him coming, watching, leaving) until I played at a party at the State Theatre in Detroit.  Kenny was there and watching as usual.  He stayed until the end of my set this time and came to talk to me.  "Okay baby-girl…it's time to go to the next level."  He explained to me that since I'd been spinning globally that I needed to start a record label and continue to grow.  He told me about the benefits of it and what I needed to do to get started. I worked on my first EP, met with him a few times, prepped a label design and had vinyl pressed.  It was amazing how it all got started…and the SUPPORT oh my GOODNESS!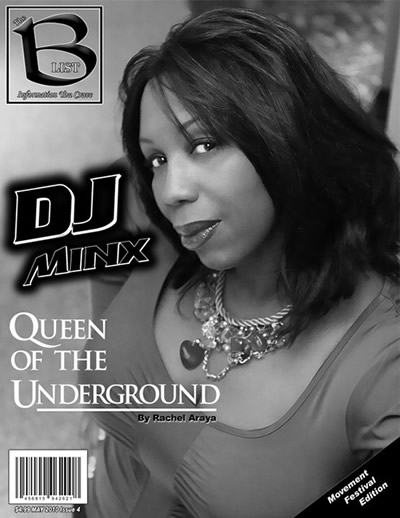 LAK:  Who have been your biggest inspirations throughout your career?
M:  Jerrald James, Keving Saunderson, and Sarena Tyler! Jerrald was there the first time I said, "I want to be a DJ" to "I need to start this record label" and everywhere in between.  There were days when I was frustrated with learning, with people being crazy and just being overwhelmed. Through everything, there was Jerry.  Kevin Saunderson was and is still there for me today.  He is the reason I was the voice and engineer on Deep Space Radio on WGPR.  I can't say enough about how inspiring he is to me.  Sarena Tyler is a very relaxed and chilled person – but is a MONSTER!  Lol!  She knows her stuff!  Whatever she could share with me, she did.  She always had good advice for me that I use to this day.
LAK:  You have been producing music for years in addition to spinning live.  How has stepping into the producer chair affected your DJ sets?
M:  DJing outside of Detroit picked up a great deal since the label was started, so I play many more places and more often.  I also get a chance to play stuff from my label for better promotion of what Women On Wax has to offer.
LAK:  Being a woman in an industry that can sometimes feel like "the old boys club" can sometimes be daunting.  How have you navigated this in your career?
M:  In the beginning, there was a lot of disrespect out there.  I wasn't going to let that discourage me nor accept it.  I didn't give in to the, 'I will let you play if u……' or 'if you want to spin for …, then you should…..' FUGGGG that!  Nope!  I demand respect.  If it isn't there, then neither am I.
LAK:  Detroit has a legendary relationship with music in general, and definitely with electronic music.  What is it like to be a part of that history?
M:  Detroit is respected worldwide, and it shows everywhere I go.  Most of the time the people out there can talk about the music in the D as if they're reading it from a book.  People love us!  Knowing I'm an artist from Detroit is like walking around with an S on my chest.  It is awesome!
LAK:  Some of my favorite Detroit times have been attending DEMF, or The Movement Festival as it's called now.  Been a few years since I have been.  You've played every one of them, haven't you?  In your view, how has it evolved over the years?
M:  I haven't played all of them but have played quite a bit over the years.  For that, I am gratetful (thanks everybody!)
First there was the DEMF in 2000 (Carol Marvin), then on to FUSE-IN (Kevin Saunderson), and finally to MOVEMENT (Paxahau).  Three names, same goal – to get together with people all over the world to dance and party from 12 noon to midnight.  Throughout the years, the festival has continued to grow and although there were some changes it is still awesome.  Some folks refer to it like it's another holiday (I know I do) and that's okay.  I've been happy with them all and enjoyed myself just the same.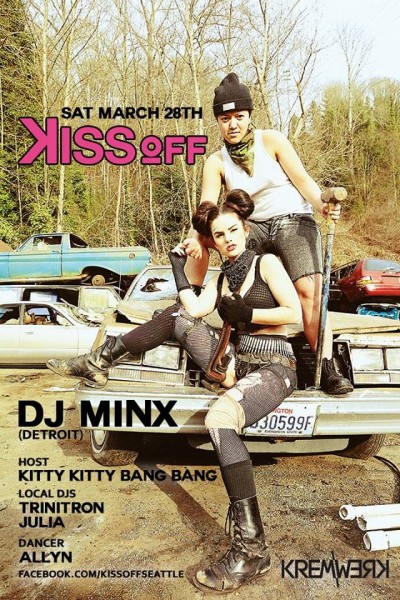 LAK:  Remember the first time we brought you out to Seattle as the hitgirl! collective?  You played one of our nights at The Baltic Room.  I think you were 8 months pregnant at the time.  We all loved you immediately.  What was your impression of Seattle during that first gig?
M:  Ahhh yes…I remember that I was VERY pregnant lol!  Seattle, itself, was absolutely beautiful.  I loved the smell of the freshness all around and I'm sure it was because of all of that damn rain!  LOL!  At the party, everyone talked to me as though they'd known me for years.  I mean they were gentle, soft-spoken and kind.  I thought it was because I was pregnant but that was NOT the case.  I was treated with love every time I was there.  I've made a ton of friends out there and I can't WAIT to see you all again!
LAK:  It's been a minute since you've played in Seattle. What are you most looking forward to?
M:  I'm looking forward to some good food, seeing all you beautiful people and making y'all dance your patooties off!  I was gonna say asses, but I don't talk like that.  😀
LAK:  If you were to give the crowd at Kiss Off a few words of advice to prepare for you set, what would it be?
M:  You may want to take a nap before you come to hang with us because we are going to work out, baby!
---
She's serious when she says take a nap kids.  This lady is going to rock the decks at Kiss Off.  Clear your calendars, drink ALL THE WATER, and have a good meal.  You are going to need your strength for this party!
Kiss Off
Saturday, March 28th @ Kremwerk
w/ DJ Minx (Detroit), Julia Planetdisco, Trinitron & hostess Kitty Kitty Bang Bang
8PM – 2AM
https://www.facebook.com/events/415980508579008/
More on DJ Minx:  https://soundcloud.com/djminx
Tags: DJ Minx, Kiss-Off, Kremwerk, Lesbian Events, Women's Events