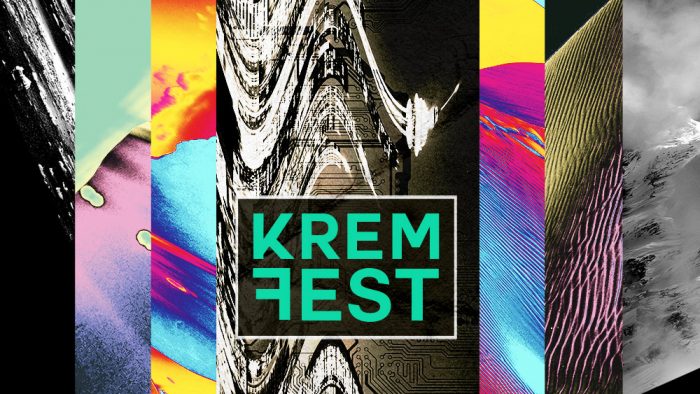 Kremwerk, the funky underground club in Seattle's "The Meat District™" (a term I totally made up solely based on the fact there's that awesome deli on the corner right in the middle between Seattle's funkiest/queer spaces, Re-bar and Kremwerk…) is throwing a 4 day weekend long shindig this upcoming weekend from Sept 21 to the 24th.
It's KREMFEST, a "celebration of underground electronic music and digital media"being presented on three stages at the Kremwerk/Timbre Room complex at 1809 Minor, between Howell and Stewart. It's a multi-media event with live music, DJs, interactive visual art installations and Virtual Reality experiences.
Everything but pie and the kitchen sink!
Kremwerk has teamed up with other area producers, promoters and artists like Research, Noise Complaint, False Prophet, secondnature, Customs, Tom Kha Music, Fraktured, Work! & Butt Day to curate each stage on every day of the festival which will also encompass a lot of queer content including drag performances from some of the edgiest performers in town.
You can snag passes for the weekend or just one day, over HERE!
Here's the FULL schedule of events:

THURSDAY, SEPTEMBER 21, 2017:

KREMWERK
Kremfest Kick Off ft. Black Milk | KEXP's Street Sounds Presents

TIMBRE ROOM
Early – WEIRD (Tix: bit.ly/SeptWEIRD)
Join your hostess Londyn Bradshaw, Miss Gay Seattle 53, at this month's installment of Seattle's oddest drag show: WEIRD! Your cast will be performing the weirdest numbers they can think of, all in the name of charity, as we raise money for Lambert House. 8-10PM, Timbre Room.
Late – Butt Day Finale ft. BareBacchus, Howin, and FACE_OKAY
BUTT DAY, our weekly patio party, holds its end-of-summer finale, featuring DJs BareBacchus, Howin, and FACE_OKAY. This party is a space to let out all your weekday woes, with plenty of room to dance, so swing your booty in anticipation of the approaching weekend festivities! 10PM-2AM, Patio.
FRIDAY, SEPTEMBER 22, 2017:
Hosted by Cucci Binaca & Arson Nicki
Cucci Binaca (Cucci's Critter Barn, 2nd Saturdays in Kremwerk) & Arson Nicki (RAPTURE, 2nd Saturdays in Timbre Room) host our KREMFEST Friday night bash, with electronic music showcases by Research x secondnature, False Prophet, CUSTOMS, and JK POP!
KREMWERK
Research/secondnature Kremfest Showcase ft. Voiski & Erika

TIMBRE ROOM
Early – False Prophet Kremfest Showcase ft. Sextile

Late – Customs Kremfest Showcase ft. Throwing Snow & Vektroid


PATIO
JK POP Showcase
Seattle's premiere Japanese & Korean pop dance night returns to The Complex for a special patio party. Featuring JK POP! resident HOSTBOI & surprise special guests!
SATURDAY, SEPTEMBER 23, 2017:
Presented by @c89.5FM

KREMWERK
Noise Complaint Showcase at Kremfest
TIMBRE ROOM
Tom Kha Kremfest Showcase ft. Paint, Doctor Jeep, Greazus & More
PATIO
WORK! Kremfest Showcase ft. DJ Minx, Kendoll, Riz, & More


LOCAL SUPPORT BY:
Trinitron/Lyons & Lucero/Jasenka

SUNDAY, SEPTEMBER 24, 2017:

KREMWERK
Fraktured Kremfest Showcase
TIMBRE ROOM
Kweenz of Kremwerk! (Tix:bit.ly/KweenzofKremwerk)
Kremwerk is proud to close-out the inaugural edition of KREMFEST with a celebration of the cutting-edge drag performers that The Complex is known for — spotlighting featured artists from ArtHaus, Cookie's Baked Goods!, Kings, and more! 6-9PM, Timbre Room.
PATIO
Stiffed! Sunday Tea Dance
It's a lovely day for a Tea Dance — luckily, Pavone's the name and disco's his game. The STIFFED! Sunday Tea Dance with DJ Derek Pavone returns to The Complex for KREMFEST, featuring drink specials & free pizza from our pizzaria, Little Maria's! 4-7PM, Patio.
🔷 STAGES PRESENTED BY 🔷
Research
Noise Complaint
secondnature
C89.5 Public Radio
CUSTOMS
Tom Kha Music
WORK
FALSE PROPHET
Fraktured
Butt Day
Virtual Reality Experiences Powered by:
Kinetoscope VR
Kremwerk is widely known as a vortex of creativity and with the addition of our Timbre Room venue and pizza place, Little Maria's Pizza, we are a growing complex of possibilities. With Kremfest we are hoping to continue to provide the amazing platforms to local, national and international talent to exhibit their creative passion that our city has become known for, and pay homage and respect to those who have paved the way.
========================
Kremwerk / Timbre Room Complex
1809 Minor Ave. Seattle, WA
http://kremwerk.com/
21+
(Visited 1 times, 1 visits today)