Last week Verotica, Seattle's Circuit Party Diva gabbed with Teriyaki Temple as they braided each other's hair pieces and talked about boys, "getting around", letting baby dolphins die, and her plans for her big Seattle Pride Weekend which includes THREE events!
---
Teriyaki Temple:  So tell me about Verotica Prudemore and Zachary Allen.
Verotica:  We dropped Prudemoore…it was my friend Eric's advice. It's just Verotica, no last name.
(Teriyaki Temple thinking to herself) I guess this bitch thinks she's like Madonna, Cher, or Beyoncé now.  I wonder if she'll go in the same direction as Prince and her name then becomes a symbol.

What would it be?

So would Verotica's symbol become 🍆 👑 ?….)
TT:  I'm sorry I lost my train of thought for a second.   So tell me about yourself.
V: I grew up in Corvallis, Oregon. When I finished school, I decided to move to Los Angeles; I thought bigger was better… Ya know? After realizing that was not the city for me, I moved a couple more times on the West Coast. When I finally moved to Seattle, I had no idea that I would not only fall in love with the city but the people too. I'd like to think I've jumped around on the West Coast enough to proudly call Seattle home.
I have this "friend" named Verotica who tends to only be out at night. She's that girl you would never want your parents to meet, but you always hope you run into her out on the streets or at a party. How she ended up here in Seattle, is I'd assume she was trying to get into Canada but lost her Passport.
TT: Where would you find Verotica on Friday night?
V: Verotica on a Friday night is usually recovering from the night before because she couldn't wait and decided to start her weekend early.
TT: What makes Verotica tick?
V: People are what makes Verotica tick. Meeting new people, bringing people together and seeing everyone let their guard down, letting others know them in a more intimate way. Every person is unique, and she just loves to see people from all walks of life interacting.
TT: What excites her in the morning when she wakes up?
V: A large black cup of coffee. After that, it's usually the texts from friends asking if we are going out this weekend… Yes, even on Mondays.
TT:  You are making quite a name for yourself producing your events.   How did this all start?
V: Verotica never actually realized how much she loved event planning. Back before Verotica Events started she would only host parties in her 1,100 sq ft condo. For one event we had over 120 guests…cramped!! After that, she realized it was time to take the jump and rent a venue.
Now it's not just Verotica involved. She has two other fantastic business partners Nik Justin and Eric Belzer who have helped take business to the next level.
TT:  Walk me through how to set up one of these events?
V: Initially, it was tough to secure venues because most of our events go until at least 4 am. Now that we've made some important relationships, we have been fortunate enough to lock in some of the best venues in town.
Bringing in international talent from the circuit community has also been a challenge at first, due to the fact we were new. However, we have worked hard networking with people from all over the world, to make sure we can bring in talent for major events like Seattle Pride.
The experience of Verotica Events starts once our event goes live on our website or Facebook. We try to make playful and detailed concepts come to life. Most of our guests have realized we do a lot of ticket sales online because we offer a lower price than buying at the door. Which means, purchasing a ticket on our website needs to be seamless and as easy as possible.
With all three of these concepts in place, it then just leaves Verotica to make her notorious videos for each themed event to excite guests on the upcoming party. Let's be honest, if she isn't excited to go to the party, then who would be? Trust us, Verotica Loves to party!
TT: When all the prepping is done for the event,  on the day of the event tell me what it takes to get ready?
V: We have been around for over a year, and we keep adapting to figure out what works and what doesn't. Our first event we started setting up at 11 am, and we weren't finished cleaning up until 10 am the next morning. We are dedicated! Verotica Events is our passion, and we are willing to do whatever we need to make sure our guests have a good time.
TT: How do you pick out your outfits for Verotica?
V: Well… Verotica needs help, a lot of help. She might be the best party girl here in Seattle. However, she has a fantastic team around her to make sure she is ready for a night on the town. Daniel Telles who is the creator of Haus of CommonWealth is always designing Verotica the latest looks. While her best friends, James Majesty and Kaleena Markos are making sure her makeup and hair on point.
TT: If you had to choose between saving a baby dolphin or saving your favorite outfit (Jimmy Choos etc) which would you save?
V: Verotica is more of a CHANEL girl and would the dolphin be on land? She doesn't really like to get wet.
TT: Is there a Mr. Verotica?  Or is it true Verotica is a lesbian?
V: Verotica is single, and that's just a rumor you heard from someone she told.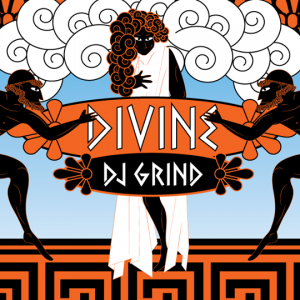 TT:  Tell me about your upcoming event on for Pride!
V:  We are super excited to be offering a full weekend of events this Pride…this is the first time Seattle has had this.
This Friday night  we will be hosting Pride: Enlisted with Cajjmere Wray (Toronto, Canada) at Capitol Lounge from 10 pm – 4 am.
Saturday we will be taking over the legendary Foundation Nightclub with our event Pride: Divine with DJ Grind (International Superstar) from 9 pm – 3 pm.
Finally, we will be hosting our first after hours event on Saturday night, Pride: Xtra with Nick Bertossi (Vancouver B.C.) at Kremwerk from 3 am – 7 am.
Overall, we are extremely excited to be able to bring a full weekend here in Seattle. Our passion is to bring people together, and we can't wait for Pride to start!
TT: Tell me about your upcoming projects.
V:  We have two pretty large scale projects we are planning on announcing for 2018. While one does mimic our current style of events, the other is a completely new concept that will help raise money for local non-profits.
As much as Verotica loves to party, there is still that soft place in her heart that wants to help her community grow. While we can't give any details of our fundraising concept, we believe it is very innovative and we will be announcing more details soon!
TT:  OMG, I'm so sorry, I got distracted watching HSN (Home Shopping Network) .  I saw something shiny and I think I hallucinated for a second.  Remind me again?
V:  Of course, please find the links below.   We hope to see everyone there!!!
Website: www.veroticaevents.com

Pride Tickets: www.veroticaevents.com/seattle-pride

VIP Tables for Foundation (Saturday Main Event): www.veroticaevents.com/seattle-pride/#vip-tables

We have 3 VIP Tables left. It's $50 to reserve the table and INCLUDES up to 10 admissions to the event. You also get your own server and VIP area. This is a really good value for people who are planning on drinking, there is $1,000 minimum spend on the table.

Friday Event (Facebook): https://www.facebook.com/events/1440880199258321

Saturday Main Event (Facebook): https://www.facebook.com/events/1438015516249593

Saturday Afterhours Event (Facebook): https://www.facebook.com/events/1640067096299953
Verotica Events Facebook: www.facebook.com/veroticaevents
Verotica Events Instagram: www.instagram.com/verotica.events
Verotica Facebook: www.facebook.com/verotica
Verotica Instagram: www.instagram.com/xo.verotica.xo
Thank you!
(Visited 3 times, 1 visits today)