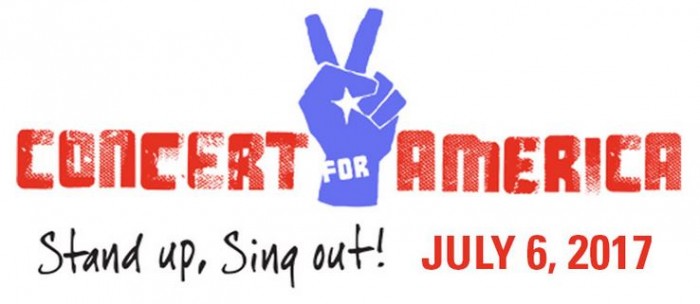 A bevvy of familiar names from the past have joined the upcoming "Concert for America: Stand Up, Sing Out! " which is happening Thursday, July 6th at the 5th Avenue Theatre. It's produced by Seth Rudetsky (best known as creator of "Disaster!") and James Wesley and it benefits five human rights organizations:
Southern Poverty Law Center, National Immigration Law Center, The Sierra Club Foundation, NAACP and National Coalition Against Domestic Violence.
New names being added to the line-up include some popular names from the past: Megan Hilty (Smash, Wicked), Shoshana Bean (Hairspray, Wicked), Marissa Jaret Winokur (Hairspray, Dancing with the Stars), Dinah Manoff (Tony winner/best known for playing Frenchie "Marty" in the Grease film and for her TV work on Soap and Empty Nest) and multi-Grammy Award nominee Maureen "There's Got To Be A Morning After" McGovern. This femme dominate group joins the already announced Sierra Boggess, Tony nominee Kerry Butler and several local performers including Billie Wildrick and Naomi Morgan.
More from the press release:
Broadway, TV, Film and Recording Stars Join Lineup for
Concert for America: Stand Up, Sing Out!
at The 5th Avenue Theatre this July

Thursday, July 6, 2017 at 7:00 PM

The 5th Avenue Theatre

Seattle, WA

Tickets On Sale Now at www.5thavenue.org

(Tuesday, June 20, 2017—Seattle, WA) An additional lineup of Broadway stars and some of America's finest actors has been announced to perform at the special one-night-only edition of Concert for America: Stand Up, Sing Out! this summer at The 5th Avenue Theatre. Megan Hilty (Smash, Wicked), Shoshana Bean (Hairspray, Wicked), Marissa Jaret Winokur (Hairspray, Dancing with the Stars), Dinah Manoff (who played the iconic role of Frenchie MARTY in the movie Grease) and multi-Grammy Award nominee Maureen McGovern (known for the Academy Award-winning song "The Morning After") will join the previously announced lineup of Broadway and local talent in the concert of songs, comedy and commentary that benefits national organizations working to protect human rights. These sensational performers will share the stage with Seattle stars and 5th Avenue Theatre favorites Billie Wildrick and Trina Mills, and Diverse Harmony, the nation's first queer-straight alliance youth chorus.


Previously announced performers include Broadway star Sierra Boggess, Tony nominee Kerry Butler, Seattle's critically acclaimed Spectrum Dance Theatre and 5th Avenue Theatre favorites Naomi Morgan and Caety Sagoian. Concert for America will be presented at The 5th Avenue Theatre on Thursday, July 6 at 7:00 PM.

Concert for America has been hailed by the New York Times as "striking for its emphasis on the importance of faith in the United States and optimism about its future." Created and hosted by Seth Rudetsky and James Wesley, who also organized the Broadway For Orlando/What the World Needs Now is Love recording, Concert for America: Stand Up, Sing Out! debuted as a monthly series to universal acclaim at The Town Hall, which serves as its New York home. Prior to this Seattle engagement, Concert for America will be presented in San Francisco at The Curran on June 24, 2017, following other recent editions at Royce Hall at UCLA in Los Angeles and the Auditorium Theatre in Chicago.

After years of fundraising and volunteering for a myriad of non-profit organizations, in 2015  Rudetsky and Wesley decided to form their own 501(c)(3) non-profit organization. Though their initial focus was intended to be children, it became clear by the end of 2016 that the number of people at risk in the United States had increased greatly. They chose to widen the scope of the organization to provide more support to more communities in need. Rudetsky and Wesley wanted to benefit a wide array of non-profit organizations serving diverse audiences but all with a similar focus: fighting for civil and human rights for all Americans.

Proceeds from Concert for America: Stand Up, Sing Out! will benefit five national organizations working to protect human rights: Southern Poverty Law Center, National Immigration Law Center, The Sierra Club Foundation, NAACP and National Coalition Against Domestic Violence.

Tickets start at $25 and are available at www.5thavenue.org. Participating performers are subject to change.

For those unable to attend Concert for America in person, it will be broadcast via Facebook Live on the Concert for America and 5th Avenue Theatre Facebook pages and at ConcertsforAmerica.com, beginning at 7pm PDT / 10pm EDT on Thursday, July 6.

Concert for America: Stand Up, Sing Out! is created and organized by Seth Rudetsky and James Wesley, in association with Your Kids, Our Kids, as well as the generous support of The Actors Fund and Playbill. The Seattle edition of Concert for America is co-presented by The 5th Avenue Theatre, facilitated by Lauren Smith and will be directed by Pauls Macs.

For more information about Concert for America visit:

Facebook.com/ConcertForAmerica

@Concerts4USA
(Visited 1 times, 1 visits today)