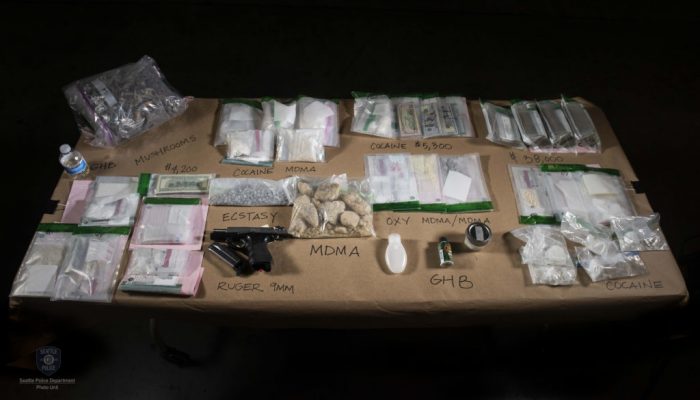 WOW!
The Seattle Police Department Blotter has the scoop on last night's huge bust at Belltown's Foundation Nightclub that we reported on earlier today. Working with Homeland Security, the sting resulted in the arrest of 12 individuals and the seizure of :
"829 grams of cocaine, over 1,000 grams of MDMA, 400 ecstasy pills, 800 Xanax pills, 190 grams of ketamine, 13 grams of DMT, 176 grams of GHB, 1200 Molly capsules, and additional prescription drugs, as well as two handguns and more than $60,000 in cash…"
A dealer bragged to an undercover officer about his close ties to the club's owners and coached officers on how to dose women using GHB, frequently used in "date rape".
The Washington State Liquor and Cannabis Board put the venue on a 6 month suspension following last night's bust.
Via the Blotter:
Law enforcement officials began investigating Foundation in March 2018 after receiving reports of drug trafficking inside the club, as well as ongoing concerns city-wide about overdoses and sexual assaults associated with drugs like GHB.

In a series of undercover operations, police purchased cocaine, methamphetamine, MDMA, and GHB inside or near the club. All of the drugs were either purchased from employees at the club, including security, or facilitated by employees or managers of Foundation, who introduced undercover officers to dealers.

Police learned Foundation had several in-house drug dealers, who were allowed to bypass club security and sell inside the venue.

Management was aware of the drug dealing, and one dealer even bragged about knowing the owner, and later explained to an undercover officer how much GHB to use to dose women, depending on their weight.
We're going to surmise that Foundation will probably NOT be re-opening any time soon…
(Visited 1 times, 1 visits today)