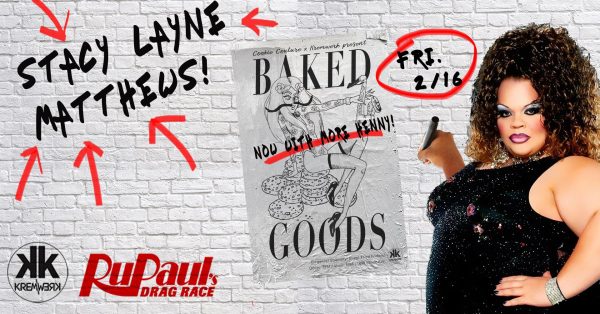 Poo on Raja, Delta and the other Mean Girl Heathers on Season 3 of RuPaul's Drag Race. They weren't very nice to the quietly sweet big boned Southern queen Miss Stacy Layne Matthews…the mean bitchez made fun of her quaint country ways and Delta apparently felt threatened by the other Big Queen on that season. Then again, that heifer Delta was threatened by everything and everyone and spent the whole season bitterly whining about every perceived slight. 
Annoyingly, fashion plate Raja won that season (solely based on an ability to put together cute outfits…yawn) but Stacy Layne continues to delight her many fans with appearances all over the country.
At one point, it was rumored Stacy Layne might be on the currently running season of RuPaul's All-Stars 3 but alas, that spot was filled by Season One winner BeBe Zahara Benet for reasons we don't really understand other than the fact no one remembers who she is since she was on the first season….and, she's 'nice' but not that interesting.
But, we're very excited Stacy Layne is coming to Seattle next week for a guest spot at Cookie Couture's "Baked Goods!" monthly party at Kremwerk…it's all happening on Friday, February 16th. She's sweet and very talented. Go HERE to snatch tickets before they're gone and here's some info on the event:
Cookie Couture x Kremwerk present: Baked Goods!

Elegance! Stupidity! Drag!

🍪 Hosted by: Cookie Couture

🍯 Guest Henny: Stacy Layne Matthews (RuPaul's Drag Race)

💅 The Goods:
🍰 Betty Wetter
🍰 Dion Dior Black
🍰 Irene Dubois
🍰 LaSaveona Hunt
🍰 Old Witch

🐱 Stage Kitty Girl: Uh-Oh!

3rd Fridays at Kremwerk!
Door: 7PM | Show: 8PM
$10 GA Adv., $25 VIP Adv. (limited)
+ VIP Adv. includes reserved premium seating, cocktail service, meet-&-greet + photo w/ Stacy Layne!

🎨 Artwork by: Alex Thomas | alextthomas.com

1809 Minor Ave.
Seattle, WA 98101
Tags: Baked Goods! RuPaul's Drag Race Season 3, Cookie Couture, Kremwerk, Stacy Layne Matthews