Back in 2009, suddenly there was a new kind of dinner theater, a pop-up stage show with food all about chickens, housed at Theo's Chocolates. It was called Modern American Chicken and told stories of chickens, but also introduced a megalomaniacal chef called Nordo. The waiters acted in the show, and took themselves very very seriously, in a send-up of serious food-writing. There was a message in that show about knowing where your food comes from, dovetailing with the farm-to-table movement.
Then it happened again, though this time Bounty – an epic adventure in seafood focused on the Salish Sea, and local fishers. Erin Brindley, one of the driving forces for Cafe Nordo, said that she wanted the feeling to be, "an immersive dining experience that felt like a Disney ride." People started waking up to the idea that there was something new and maybe on-going that they could experience, though a lot of them (according to Erin) wanted the chicken one to come back, either because they liked what they experienced or heard about it and felt sad they had missed it.
But the whole idea of a pop-up theater/restaurant actually started in New York City. Erin grew up here and went to school at New York University. She was immersed in theater, first as an actor and then director and, "always wanted to run my own theater company, integrating movement and spectacle and an immersive kind of aesthetic. I wanted to work collaboratively with a group of people that wanted to work together."
In 2003, she formed a theater company in New York by creating a 501(c)3 called Ripple Productions. "We wanted a tiny thing to become bigger like a ripple."
Dating a chef who worked high-end New York restaurants, they saw, "the opportunity for an immersive five-course meal where each course was paired with a story. We did that in a tiny little loft in Soho and it was very successful for our launch. We got awards, it was sold out, and it was really cheap and we sold terrible wine. $30 and all the wine you could drink. Memories were made."
Erin says, "I wrote the stories collaboratively for each course. We picked 'masculinity and femininity' at different times of life. The first (course) was adolescence, with two gay teens grappling with their sexuality. (The served food was) representative of what happened on stage like a comforting chicken stew and hidden in there were bourbon-soaked cooked dates. Like a burst of emotion. It was very symbolic."
"Doing dinner theater was nowhere near what I (thought I) wanted to do. Our next show was just a great play, but not very many people came and everyone asked us when we were doing food theater again. So we did another food show (which was also successful and made back its expenses) in New York before I moved back here."
The Move To Seattle
We segue then to Circus Contraption, a popular and well-regarded circus/vaudeville/cabaret performance troupe started in 1998. Erin became the managing director. CC disbanded, Erin reports amicably, in 2009 after members disagreed about future directions. Drew Keriakedes and Joe Albanese were tragically killed at the Café Racer Shooting in 2012.
Erin says, "While I was at CC, Terry Podgorski was the technical director. When Terry and I were running CC and we had the back warehouse behind Theo's Chocolates, we developed a business plan that would keep the circus running all year in that space. Terry and I realized that we had similar ideas of how a company could make money and give performers wonderful opportunities.
"Terry asked me to read a short story of his about a megalomaniacal chef, Chef Nordo Lefesczki. I had been cooking a lot and learning a lot about cooking, and we said, 'Why don't we make this real?'  We talked about what I did in New York. We talked to Theo's Chocolates and they loved it and let us use the kitchen. The confection chef was our first chef. I have always created the menus, but those first two shows, we hired the chef who had permission to use the kitchen."
Each show was an experiment. Erin did and does the food development and Terry did and does the script-writing. They began collecting the company of people who would become their regular cohort.
Erin says, "When we opened (Modern American Chicken) and the response was so great and it was so much fun, it became obvious that we wanted to do another one. (There was) no vision for longer term. (For) the chicken show, (we felt it) was really important to break up parties. We wouldn't seat people together because we wanted to force Seattlites into talking to strangers. People did not like that. We do think it's a shame that people didn't like that.
"(Subsequently, in our other shows) people do still talk to strangers, but we had this (original) idea that it would give them a sense of adventure and they could get back together at the end of the night and share. Some people were game, but some less so. We still do want to knock people out of their comfort zone so they have a unique experience.
"In (Terry's) short story (about Chef Nordo), there were a number of dinners described, but the chicken was the only one that seemed to translate into a staging. We decided to do a less expensive smaller show that was potentially to tour. It was cocktails, four actors and really lean (called Sauced). We never did take it on the road. We did do it in someone's house, though, as an auction item. That went pretty well."
Due to Theo's Chocolates being popular and too busy, they were unable to use the kitchen. Thus began the Nordo traveling kitchen show, behind the scenes. Sauced was still housed at Theo's but the food had to be prepared at a commissary kitchen and brought in. Erin describes, "We built a plating kitchen and did dishes at a site. We used butane stoves and warming ovens and kind of functioned like a catering company."
Around that same time, they began to think, "We're those weird food theater people," Erin says. "We started having so many ideas of what to do next. We talked about wanting to do a thing in a bunch of rooms where each room is a totally different world," which turned, eventually, into Cabinet of Curiosities at Washington Hall.
"We knew we could do a show at West of Lenin and Terry likes a 1960s spy aesthetic. The 'green revolution' was changing the way we farm. To Savor Tomorrow (was a cocktail show). Sauced was pretty light on food, but it was a mistake to serve that many cocktails without food. TST upped the food content. We tried (in the story line) to dissect the idea that GMOs are all evil. The intention behind the science was to save people from starvation. We wanted to educate on the original intention, all with a ridiculous farce.
"For Somethin' Burning at Theatre Off Jackson, we were able to indulge in in our mutual obsession with Twin Peaks (the whole company was into Twin Peaks). And the spaghetti Western came along (Smoked) and I took my first tour of Pioneer Square. We found Delicatus and fell in love with Pioneer Square.
"When we walked into Delicatus and there was a full kitchen right next to the performance space and everything was on site, our stage manager said, 'You realize you'll never want to do another show without a kitchen on site.' We flirted with the idea of our own space. When we took a tour of Washington Hall, early in their new development, they let us take over the whole building and could do our Cabinet show. It was an amazing experience. I loved that one."
In 2013, they revived Modern American Chicken at Washington Hall, due to continued requests to have that show back. Erin describes the total craziness that food prep caused them, off-site 2 ½ miles away from the show venue.
"I'm off-site preparing all the food during the day, then I clean that kitchen, pack it all up in my little car, drive it to Washington Hall. (Note: Except apparently for the chicken!) The moment the audience sits down, I send my sous chef back to the commissary kitchen to put the chickens in to cook for the first half of the show. There is a pause built into the show if something goes wrong like traffic. The stage manager calls the kitchen to see how close are we, and the sous chef calls when she crosses I-5 with the chicken. Then the show 'starts up' again, we unpack all the chicken, put it on platters, sauce them and put them in the coffin (where the performers serve from) and then send it to serve. But you can imagine how stressful it is if there is a Sounders game and we have to move the chicken 2 ½ miles! It became obvious that we only wanted to do another (show) if we had our own venue because moving around was so challenging."
2014 was all about raising money and finding the perfect venue. When Elliott Bay Bookstore relocated to Capitol Hill, that left a Pioneer Square space begging that even included a kitchen, but could they raise the money they'd need to rebuild it? With a vigorous crowd-funding campaign https://www.kickstarter.com/projects/950413761/nordos-culinarium-where-food-meets-art and other funding, they raised over $290,000, and built out the space. But building delays and shortages of skilled workers have caused their grand opening and new show to be delayed for over a month. Now, they are in the finishing touches phase and will open their space to the public in April.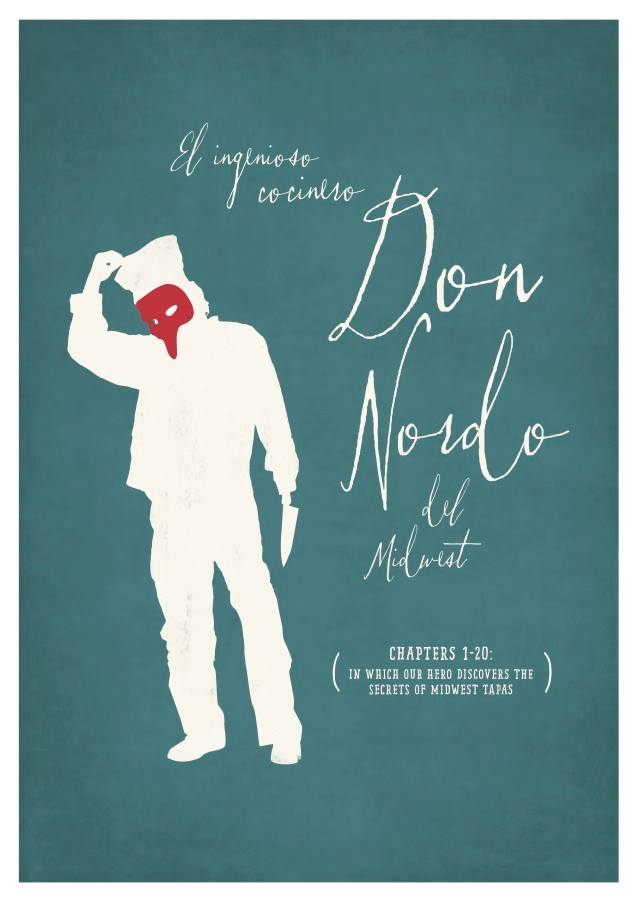 Del Nordo Del Midwest will feature a nine-course Midwestern tapas menu, live original music, a five glass wine flight of Spanish varietals specially selected by Nordo's sommelier, and the adventures of Don Nordo and sous chef Sancho as they battle the theology of bland cuisine.
Now that they have their own place, they have both new responsibilities (paying for it constantly) and also new opportunities. They plan to do two full productions a year (called Main Stage productions), and eight (count 'em 8!) different programs to keep busy! They are:
Chef + Artist – Local chefs and artists are paired to create seasonal pop-ups merging their styles and aesthetics.
Drinkers & Thinkers – An evening of spirits and debate where the drinks are poured by one of the city's celebrity bartenders, and the conversation is led by a thinker shaping the culture of Seattle.
Readers and Eaters – A monthly reading series where local writers curate their favorite pieces of food writing, and try recipes of old.
NordoLAB: FIRST THURSDAYS – Café Nordo opens its doors to Artwalk where from 7pm – 11pm we will offer a cabaret style performances, works in progress, artistic collaborations, drinks, and small bites.
Food in Film Series – Enjoy popcorn inspirations along with thirst quenching libations paired with a film or documentary highlighting food in film.
Cabaret – Nordo teams up with Seattle's cabaret community to create an evening of live music, performance, drinks, and food…smaller and less formal than Main Stage shows
Breaking Bread – Thoughtful people on two sides of a controversial argument sit down to eat a meal together and a civil, moderated conversation ensues.
Erin reports, "We are moving from a $200 thousand dollar per year  budget to an over $600 thousand dollar annual budget, so that is enough to make anyone nervous. However, one of the things that has made us successful is trying to run our non-profit more like a small business.  We budget very conservatively and keep paying our artists a top priority. They are the reason people come, from the food to the music to the storytelling.
"There are so many things we want to do, and so many artists we want to work with and give a platform to, that as long as we keep the venue lively and well curated we believe people will keep coming back. Our fundraising of course must increase but we still are relying primarily on earned income to keep the space going which separates us from most theaters. Short term we have a deficit to recoup, primarily from the delays, and hope to have an angel or two come through for us to make up the difference."
Still, it sounds like with all the extra programming they'll offer, it sounds like we'll have trouble staying away! Raise a glass to the future of Café Nordo!
Del Nordo Del Midwest
Nordo's Culinarium
109 South Main Street
April 16 – May 31, 2015
Tags: Cabaret Theater, Cafe Nordo, Del Nordo Del Midwest, Dinner Theater, Erin Brindley, Nordo's Culinarium, Pioneer Square, Terry Podgorski