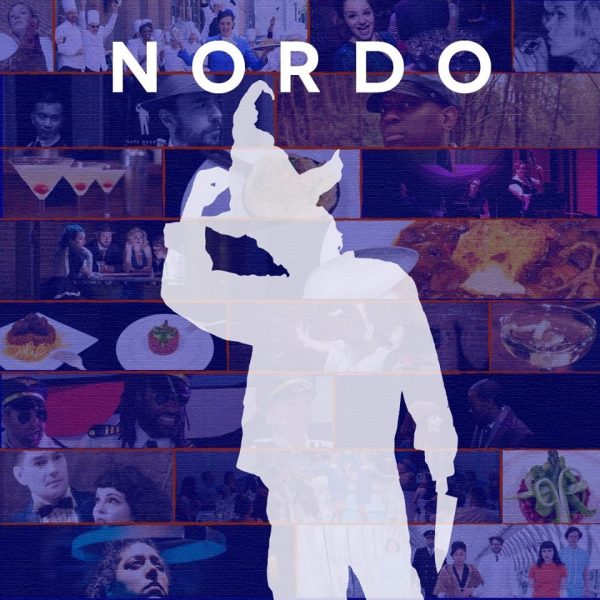 Erin Brindley and Terry Podgorski, the co-founders/co-Artistic Directors of Café Nordo are looking for help to fulfill an artistic dream. The Nordo Team made their debut nearly a decade ago as a "hybrid of the pop-up restaurant and underground theater" by staging their unique cabaret dinner theater pieces at a variety of unlikely venues all over the city to great acclaim before moving into their permanent home in Seattle's historic Pioneer Square neighborhood in 2015. 
The company took over part of the building formerly occupied by Elliott Bay Books (before they decamped to Capitol Hill) but long cherished the idea of taking over more of that space to open a second performing venue showcasing a wider variety of entertainment.
After long negotiations and planning, that dream is starting to come true. Nordo has signed a lease to take over the rest of the lower level space, the area that used to be Elliot Bay's reading room and café, to turn it into THE KNIFE ROOM, a new cabaret space that will showcase live music and theater in a more intimate setting.
They're actually already using the new room, to great success, (including their new Jazz series) while they continue to make changes and build out the space. But, Brindley and Podgorski could use some help from the community to make the new space a top notch arts destination…more info in their letter down below with links to help with donations.
Frankly, we think this is a great idea. Pioneer Square is a sadly under utilized arts and entertainment neighborhood, which is odd considering its great beauty and place as the birthplace of the city of Seattle. A combination of things contribute to the lack of "arty fun" in that hood…it's too close to the big sports stadiums which means there are a lot of sports bars and rowdier types of entertainment venues, none of which are conducive to the artier side of the entertainment spectrum. There's the issue of the very large homeless population which deters some people from enjoying the neighborhood after dark. There used to be many art galleries in that part of town, but many of them have closed up shop. It's a neighborhood that can't quite define itself…homeless people living side by side with tech workers living in pricey lofts; tourists milling about in the daytime and drunk sports fans/frat boys rampaging at night. Pioneer Square is a confusing place, despite its charm and history, and the presence of the Nordo Team is an important step into re-building a strong base for the arts in that part of Seattle.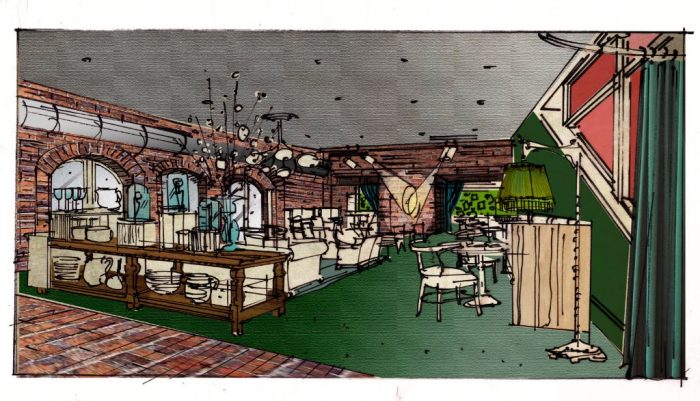 To our loyal supporters, new fans, and friends,
We are ecstatic to announce, finally, that we have signed the lease on 103 South Main Street, formerly home to the Elliott Bay Book Company Reading Room and The Elliott Bay Café, and we are looking for your help to create Seattle's newest home for artistic incubation.
Since we opened Nordo's Culinarium we have longed for the 4,000 square feet below, just within reach of our kitchen. This magical underground space is so unique to Seattle and dripping with the memory of all of the authors and great thinkers that have come down its stairs.
Three and a half years later, after so much patient (and sometimes impatient) waiting, the dream has become a lease, suddenly signed, and the race to make this raw space an incredible arts venue is ON!
We have had the great fortune of working with architecture and design firm, B+H Advanced Strategy and Studio Busto, who have donated their time to create a design that captures our vision for the space – vintage, surreal, intimate, and extremely functional as a multi-use performance and events space.
We are asking you, our community, to help us realize this vision.
Since signing the lease in August, we have begun transforming the space. With support from The Morgan Fund and 4 Culture we have installed the electrical infrastructure needed to support theatrical lights and sound, painted the floors and walls, purchased new sound equipment, and ordered sound baffling panels. We need you to help us finish the project. We are looking to raise $65k for the remaining work, furnishings, and equipment, and we'd like to raise it FAST! Our sights are set on a Grand Opening party February 2nd which means we'd like to meet our goal by Tuesday November 27. We know it's ambitious, but isn't that Nordo's way?
Four years ago we came to you with a crazy idea – help us transform our weird, itinerant, pop-up theatrical dining experience into a year-round Seattle institution in one of the city's most beloved and historic buildings. We called it Nordo's Culinarium, and you, our community, made it possible. We hope we have made you proud.  In that time we have collaborated with Book-It Repertory Theater and the 14/48 Project, commissions  by Scot Augustson and Sara Porkalob, and continued to raise the bar on the Mainstage Productions. Now we are bursting at the seams, and ready to begin the new phase of Nordo – one with more space and resources to develop experimental projects without reducing our robust programming in The Culinarium.
What will The Knife Room be? 
As small arts venues all over the city fall prey to Seattle's exponential growth, Nordo is doubling down on our reputation for innovation by creating a new venue dedicated to events with lower overhead and lower ticket prices than our street level Culinarium. We're calling this beautiful venue The Knife Room, and we will support cutting edge work and create a gathering place for a neighborhood in Renaissance.
Specifically this 4,000 square foot flexible space will be home to jazz nights, play and literary readings, wine tastings, fundraisers, rehearsals, and private events.
We cannot wait to show you the luscious and evocative venue we are creating. And we are so grateful for your support, always, but particularly now as our dreams get even bigger. Thank you for investing in an incredible subterranean multi-use arts venue in the heart of Pioneer Square where writers, musicians, thinkers, and craftspeople share their gifts with our community.
Yours, 
Erin Brindley & Terry Podgorski
Co-Artistic Directors
Café Nordo
(Visited 1 times, 1 visits today)