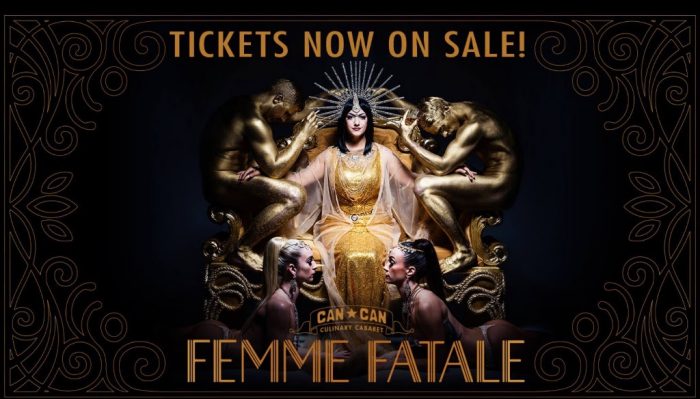 The 2nd annual UPSTREAM MUSIC FESTIVAL is just around the corner and all the venues behind the festival fences in Seattle's historic Pioneer Square neighborhood are getting ready including the fine folks at Cafe Nordo, Seattle's delightful fine dining/theater/cabaret experience. They'll be taking next weekend off (June 1st through 3rd) from their current hit show SMOKED but they're offering up three terrific shows as part of the Upstream experience (meaning, you have to buy a ticket/pass to attend Upstream to get in!)
More poo!
Headed to Upstream Music Festival?
Let's not mince words – Last year, Paul Allen's latest event commonly dubbed "North by Northwest" ROCKED Pioneer Square with over 300 bands in multiple venues, including our Culinarium. Nordo was at capacity for the entire festival, with several VIP guests elbowing for the best seat on our Lynchian Lost Falls set.
This year, we are one of very few venues that has a capacity below 200, with a menu of delicious food and craft cocktails to boot. We're flattered! That also means if you plan on stepping through our SMOKED Saloon doors for the 3 stunning shows playing over the festival weekend (Friday June 1st – Sunday June 3rd) you should hurry to reserve your seat on the Upstream website after you purchase your pass. 
Friday we host our guest curator SIFF with "Torrey Pines"
Torrey Pines is a stop-motion animated feature film by director Clyde Petersen, presented with a live score by Lori Goldston, Jacob Jaffe, Clyde Petersen and guests. The film is a queer punk coming-of-age tale, taking place in Southern California in the early 1990's.
Saturday we play with our friends from Can Can Culinary Cabaret with FEMME FATALE
A provocative night of dance, music and body mapped projections
FEMME FATALE is loosely based on the apologue of the original fatale, Mata Hari, featuring original soundtrack by Pink & Pezzner collaborating with Prom Queen with projection mapping by TJ Davis (Lux Collective).
Sunday the Indie Game Soundtrack Experience with bring the virtual world to Nordo in a sonic exploration of their favorite games, played live. 
You know we'll treat our regulars like gold and this festival is Seattle at its most ambitious and exciting. There's nothing quite like rolling into Nordo when you're in the know.
SMOKED! will resume performances on 
Thursday July 7th

. 
Then, the countdown begins: 15 shows left till the stranger rides off into the sunset. Tickets are flying for the final weeks, so we've sweetened the pot for Memorial Day weekend with a 30% discount on shows 

May 25th and 26th

.  Enter the code "MEMORIAL" and spend the holiday at Nordo. 
(Visited 1 times, 1 visits today)