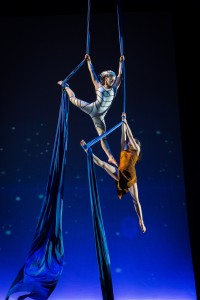 We've all seen what Cirque du Soliel has done. But have you seen The Cabiri?
This Friday, June 12, at 7:30pm, feast your eyes on EZID, part two of the TEA Trilogy at the Cornish Playhouse at Seattle Center! This installment features legends and inspirations from the Yezidi people of Kurdistan, who have faced violence and exile from ISIL. EZID brings together acrobatics, aerial performances, and puppetry to tell you about a culture you might never have experienced otherwise. Folktales from Anatolia to North Africa serve as the backdrop for the human and angelic battle for Earth.
Says the website: The Cabiri is a Seattle-based nonprofit that preserves the mythologies of extinct and endangered cultures through theatrical performance, lectures, and publications. Our acrobats, dancers, stilt walkers, aerialists, and puppets have been seen worldwide.
The giant puppets in the show depict the nephilim, a mythological race of half-angel/half-humans. The name, EZID, refers to the divine among the Yezidi people. Coreographed in part by Sam Alvarez of Cirque and Cavalia, the show promises to amaze and astound your senses as you travel to distant lands with ancient stories. Cyrus Khambatta of local Seattle fame (Seattle International Dance Festival founder) will be directing the ground-based movements.
Shows run from June 12th through the 20th, so don't miss your opportunity! It's the perfect thing to see before gearing up for PRIDE. Tickets are pretty cheap at $20-$35. Fun for the whole family, or an awesome date!
(Visited 1 times, 1 visits today)