June 9, 2015

•
by
Jeff Coté
The 41st Seattle International Film Festival officially came to a close Sunday afternoon with the Golden Space Needle Awards, which gives statuettes to the fest's best films, as decided by both audiences and pre-selected juries.
It's been a great year at SIFF this year, with a great deal of highlights from both the documentary and narrative film categories. With an astounding 28 queer-themed films at the festival this year, there was a great deal of high-quality LGBT content as well.
The winners of the Golden Space Needle Awards, as well as our own picks for the prizes, can be found below:
BEST FILM
Audience Award: The Dark Horse, directed by James Napier Robertson
SGS Pick: The New Girlfriend (Une Nouvelle Amie), directed by François Ozon
---
The Audience Award for Best Film this year went to the New Zealand film The Dark Horse, a biopic about little known speed chess champion Genesis Potini. According to the SIFF synopsis, his story became an inspiration and positive influence for thousands of Maori children.
First runner up went to the new Pixar film Inside Out, directed by Monsters, Inc. and Up director Pete Docter. The long-awaited film takes place inside the mind of a young girl and features an all star cast of comedians as the girl's various emotions. Initial critical reception looks promising and we are looking forward to the film's wide release.
Our choice goes to François Ozon's The New Girlfriend, an elegantly shot film about the blended complexities of gender and sexuality. The film features an exploration into repressed sexuality and trans identity that is both ingenious and refreshing. Keep an eye out for its eventual release from Cohen Media.
The Basque-language Flowers, a lovely contemplation on relationships and the value of human existence, deserves further exposure as well. The film features gorgeous cinematography and stellar performances.
BEST DOCUMENTARY
Audience Award: Romeo is Bleeding, directed by Jason Zeldes
Jury Prize: The Great Alone, directed by directed by Greg Kohs
SGS Pick: The Look of Silence, directed by Joshua Oppenheimer
---
The Audience Award for Best Documentary went to Romeo is Bleeding, a film that follows Richmond, CA-based poet Donté Clark as he adapts Shakespeare's Romeo & Juliet for a group of young artists. The film deftly explores the topics of racism and gang violence and is greatly deserving of the recognition.
The jury prize this year went to The Great Alone, a film about Iditarod Sled Dog champion Lance Mackey. A special mention was given to Romeo is Bleeding and Sergio Herman: Fucking Perfect, which is about a chef's 3-star restaurant.
Our choice goes to Joshua Oppenheimer's Indonesian genocide reflection piece The Look of Silence, which is a follow-up to his Academy Award-nominated The Act of Killing. Given the latter's nearly immediate legendary status among the film community, it's truly shocking that Silence wasn't selected for recognition anywhere this year. The Look of Silence is by the far the best film from the selection at SIFF this year and is just as essential as Oppenheimer's previous work. Expect to see this film get attention come awards season.
We also would like to recognize 3 1/2 Minutes, 10 Bullets, a beautiful and incredibly effective film about the murder of Florida teen Jordan Davis. The tension in watching the trial of Davis' murder is palpable, not just due to the skill of the filmmakers, but because of the possible repercussions outside the scope of the screen. The film will see a limited release later this month and will be shown on HBO in November.
BEST DIRECTOR
Audience Award: Alfonso Gomez-Rejon, Me and Earl and the Dying Girl
Jury Award for Best New Director: Károly Ujj-Mészáros, Liza, the Fox Fairy (Liza, a Rókatündér)
SGS Pick: Joshua Oppenheimer, The Look of Silence
---
Given the wide appeal and Sundance cred of Me and Earl and the Dying Girl, a win somewhere at SIFF this year was all but expected. Make no mistake, this says nothing of the quality of the film.
We greatly prefer Joshua Oppenheimer for The Look of Silence. Oppenhiemer's work will undoubtedly be remembered for many years to come and will likely become an essential part of cinema history. No matter how high the buzz for Gozem-Rejon's film eventually becomes, don't be surprised if Me and Earl and the Dying Girl is completely forgotten in less than a decade.
BEST ACTOR
Audience Award: Cliff Curtis in The Dark Horse
SGS Pick: Al Pacino in Manglehorn
---
The Dark Horse picked up another Golden Needle Award for its lead actor Cliff Curtis. Curtis is perhaps best known for his role in Niko Caro's 2002 film Whale Rider. First runner up went to Ian McKellen for Bill Condon's Sherlock Holmes re-telling Mr. Holmes. McKellen is very charming in the role and regardless of the tepidness of Condon's film, McKellen is easily the best reason to watch it.
Our pick goes to Al Pacino for David Gordon Green's Manglehorn. Pacino is typically known for his violent characters and sudden loud outbursts in his roles, which as effective as they sometimes are, are undoubtedly the exact opposite of subtlety. Which makes it all the more surprising to see him take on such a quiet role as this. Pacino's character is a cantankerous man who lives a sad, lonely existence. It's a thankless role, but one that deserves great praise.
Paul Dano also deserves mention for his turn as Brian Wilson in Love & Mercy, particularly for a fascinating pool scene in which his character's mental state has completely unraveled. Kostas Nikouli of the Greek neo-Odyessy tale Xenia was also a welcome treat this year, whose immature and childish antics made the character completely his own.
BEST ACTRESS
Audience Award: Nina Hoss in Phoenix
SGS Pick: Kitana Kiki Rodriguez and Mya Taylor in Tangerine
---
The Audience Award went to Nina Hoss for the German language Holocaust drama Phoenix, while Kalki Koechlin took first runner up for Margarita, with a Straw. While we haven't seen Phoenix, Koechlin takes an Oscar bait-esque to her role in Margarita. Her performance is incredibly physical, creating a character with cerebral palsy with fine detail. Her performance is emotionally rewarding at times as well, but it's nothing that couldn't have been achieved if the director had just cast someone who actually has the disability.
There's undoubtedly no greater star turn at the festival this year than in the dual performances of Kitana Kiki Rodriguez and Mya Taylor in Sean Baker's Tangerine. Their performances depend on their shared energy and chemistry, Rodriguez with her hot temper and Taylor with her biting frustration. Rodriguez spits out insults and witty retorts with an impressive rapidity, demanding your constant attention. Taylor takes a more reserved approach. There's a great moment early in the film when she's promoting her show at a club to people on the street – "Mary's at 7. Mary's at 7. MARY'S at SEVEN." Her differing emphasis on each take is both hilarious and impressive, the mark of a true comic pro. Rodriguez and Taylor were a constant joy to watch. They are the heart and soul of this film.
Melissa McCarthy also deserves mention for her role in Paul Feig's latest film Spy, which opened the festival this year. She's undoubtedly one of the most interesting and talented actors in the Hollywood system right now and her performance here furthers that image. She is quickly on her way to becoming one of our nation's best comedic actors.
---
This concludes our coverage of SIFF 2015. Some of our extensive coverage of the festival can found below. For more, click on the SIFF tag.
Week 1 Week 2 Week 3 Week 4 Awards
(Visited 1 times, 1 visits today)
Jeffrey Alan Coté is a writer and director based in the Capitol Hill neighborhood of Seattle. He recently graduated from the film and video studies program at Central Washington University with a minor in Women's and Gender Studies. He has five years of experience in print and radio journalism, during which he has interviewed figures such as civil rights leader Jesse Jackson and Washington state governor Jay Inslee. His short film "Speak in Rounds" won numerous scholarly awards, including the SOURCE Award for Best Creative Presentation and the CWU Arts and Humanities Undergraduate Achievement Award. Coté is also regularly engaged in social justice issues, including being part of a research team that trained educators in the treatment of trans and gender queer students for the Ellensburg School District.
Related Posts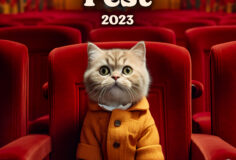 *Seattle Cinemaland • All Ages Events • Animal Lovers • Arts & Entertainment • Cats • Family Friendly • Film • Film Events • Living • Pets
OHMIGOD WE LURVE OUR CAT VIDEOS! WE WANT TO HUG
...