May 14, 2015

•
by
Jeff Coté
With tonight's gala screening of Paul Feig's Spy, the 41st Seattle International Film Festival will commence. This year's schedule features an astounding 450 films, 286 of which are feature-length. We've scoured through the guide book and sat through many press screenings to give you the most comprehensive guide possible for SIFF 2015.
We're only human, so keep in mind that we have not actually seen all 286 features, nor do we plan to. This series of articles is meant to be a guide through the most hotly anticipated and buzzed about features at SIFF this year, as well as the occasional hidden gem. Emphasis will be given to queer film making when possible. There's an incredible 28 LGBTQ-related features at this year's festival, so even just seeing all of these is quite the chore!
Without further ado, here's some highlights of what SIFF has to offer during Week 1 of the festival (May 14-May 21):
SPY director Paul Feig screenplay Paul Feig starring Melissa McCarthy, Jude Law, Jason Statham, Rose Byrne, Allison Janney, Morena Baccarin USA, 120 minutes
In Paul Feig's latest comedy, Melissa McCarthy strengthens her title as America's greatest contemporary comedic actor. That's not to say the film fares just as well. Quite the contrary, as McCarthy often elevates the material to greater heights. There's nothing in Spy that's so artistically offensive that the film should be avoided. Some of the material feels stale, but let's be honest. As long as Feig has McCarthy working for him, it really won't matter.
Opening Night Gala. Thursday, May 14 at 7 PM, McCaw Hall (director in attendance)
ACCUSED (aka LUCIA DE B.) director Paula van der Oest screenplay Moniek Kramer, Tijs van Marle starring Ariane Schluter, Sallie Harmsen, Fedja van Huêt Netherlands, 97 minutes
This Dutch suspense flick about a hospital nurse wrongly convicted of murder is essentially a darker, grimier version of A Cry in the Dark, sans Meryl and the dingos, of course. Aspects of the film are well-made, particularly a sequence in which the incarcerated de Berk suffers in solitary confinement. However, there's nothing particularly stronger about Accused than most other dramas of its type. More valuable for its social-political complexities than its worth as a film.
Friday, May 15 at 4 PM, SIFF Cinema Egyptian/Sunday, May 17 at 7 PM, Harvard Exit/Friday, May 22 at 3:30 PM, Lincoln Square
FLOWERS (LOREAK) director Jon Garaño, Jose Mari Goenaga screenplay Jon Garaño, Jose Mari Goenaga, Aitor Arregi starring Nagore Aranburu, Itziar Ituño, Itziar Aizpuru, Josean Bengoetxea Spain, 99 minutes

This lovely Basque-language contemplation on relationships and the value of human existence deserves further exposure. Loreak features two parallel narratives, the eventual collision of which is brilliant and beautiful. This is as riveting a mystery as any other, only rather than the traditional murder and mayhem we receive a gentle affirmation of love and life instead. Features gorgeous cinematography and stellar performances. Simple, subtle and beautiful. Not to be missed. *MUST SEE*
Friday, May 15 at 4 PM, SIFF Cinema Uptown (director in attendance)/Saturday, May 16 at 6:30 PM, SIFF Cinema Uptown (director in attendance)/Wednesday, May 20 at 6 PM, Lincoln Square
GUIDANCE director Pat Mills screenplay Pat Mills starring Pat Mills, Zahra Bentham, Kevin Hanchard Canada, 81 minutes
Pat Mills the actor is much more impressive than Pat Mills the writer-director. There's some funny moments in this dark comedy about a gay, alcoholic school counselor, but they're largely due to Mills' timing as a comedian. Once the plot unravels and the film becomes more and more uncomfortable, it becomes very apparent that Mills has worked overtime to elevate lackluster material. You have to give him credit, he almost pulls it off. If only they had left that whole bit about robbing tanning salons on the cutting room floor… There's promise and potential for Mills, just unfortunately not for Guidance.
Friday, May 15 at 9:30 PM, Harvard Exit (director in attendance)/Saturday, May 16 at 3:30 PM, SIFF Cinema Uptown
LOVE & MERCY director Bill Pohlad screenplay Oren Moverman, Michael Alan Lerner starring Paul Dano, John Cusack, Elizabeth Banks, Paul Giamatti USA, 119 minutes

Biopics often follow their subject along every moment in life with little intrigue or introspect. Love & Mercy is unfortunately no exception. Thankfully, the film is saved by its artful depiction of mental instability. At one point, Dano's Brian Wilson retreats from his stress and puts on a pair of headphones, only to hear a collage of screams penetrating through the silence. It's a more emotionally involved approach and the film benefits as a result.
Friday, May 15 at 6:30 PM, SIFF Cinema Egyptian (composer Atticus Ross in attendance)/Saturday, May 16 at 12:30 PM, Pacific Place
MARGARITA, WITH A STRAW director Shonali Bose screenplay Shonali Bose, Nilesh Maniyar, Atika Chohan starring Kalki Koechlin, Revathy, Sayani Gupta, William Moseley, Hussain Dalal India, 100 minutes
This Indian coming-of-age tale unfortunately feels more like an after school special than anything else, only with occasional explicit sex. The filmmakers deserve massive kudos for centering a movie around a protagonist who is a strong-willed, physically disabled queer woman of color. That's legitimately pretty amazing. However, more often than not, Laila kind of just shuffles around her life without much of a sense of purpose. Probably more of a fault to the filmmakers than to the actual story. Maybe this film could be saved in the editing room, but right now it feels scattered.
Friday, May 15 at 6:30 PM, SIFF Cinema Uptown (filmmakers in attendance)/Saturday, May 16 at 4:15 PM, Harvard Exit (filmmakers in attendance)/Saturday, May 23 at 8:30 PM, Renton IKEA Performing Arts Center (producer in attendance)
FOR GRACE director Mark Helenowski, Kevin Pang featuring Curtis Duffy, Michael Muser, Ruth Snider USA, 92 minutes
For Grace follows top chef Curtis Duffy as he spends a year constructing his new restaurant Grace. The tension in the film is designed to come from the hurdles he faces along the way. Unfortunately, they're never quite explained more extensively than "contractors are lazy and uninspired." Sure, the restaurant opens nine months later than planned, but when you can afford to spend $90,000 on chairs, (they literally spend $90,000 on chairs) was there any real doubt the place would open anyway? There's a rather welcome and compelling shift in the second act when the film explores Duffy's tumultuous childhood, but it doesn't really end up contributing much to the rest of the narrative. This is a film by and for rich snobs.
Friday, May 15 at 6 PM, SIFF Cinema Uptown (director in attendance)/Sunday, May 17 at 3:45 PM, Pacific Place (director in attendance)
THE NEW GIRLFRIEND (UNE NOUVELLE AMIE) director François Ozon screenplay François Ozon, based on the novel by Ruth Rendell starring Anaïs Demoustier, Romain Duris, Raphaël Personnaz, Isild le Besco France, 107 minutes

The Hitchcockian themes in French director François Ozon's The New Girlfriend are utilized to an ingenious effect. As we come to acquaint ourselves with the transgender character Virginia, Ozon injects the film with a chilling sensation. Not to humiliate or demonize trans identity, but to call into question why discomfort against non-binary gender exists in the first place. Beautiful acting, gorgeous cinematography and a brilliant narrative. The New Girlfriend is a masterpiece of queer cinema.
**BEST OF WEEK 1**
Saturday, May 16 at 9:30 PM, SIFF Cinema Egyptian/Sunday, May 17 at 11:30 AM, SIFF Cinema Uptown
ME AND EARL AND THE DYING GIRL director Alfonso Gomez-Rejon screenplay Jesse Andrews, based on his novel starring Thomas Mann, RJ Cyler, Olivia Cooke, Nick Offerman, Molly Shannon USA, 104 minutes
The Fault in Our Stars for the art house crowd, as designed for teenagers who love scatological puns about Truffaut. Don't you know a movie isn't racist for having a one-dimensional black character who loves "titties" and beats up random people? Because, you know, cancer or something. Be prepared to start hearing chatter about this one, it's being marketed by Fox as 2015's Juno. Unfortunately it's not nearly as charming, relevant or smartly written.
Saturday, May 16 at 6:30 PM, Pacific Place (director in attendance)/Sunday, May 17 at 2:30 PM, SIFF Cinema Uptown
ROMEO IS BLEEDING director Jason Zeldes featuring Donté Clark, D'neise Robinson, Molly Raynor, Deandre Evans USA, 93 minutes

This painful and timely documentary successfully builds a profile of a community where living in fear is to be expected daily. In Romeo is Bleeding, poet Donté Clark unites a group of young artists in creating a revival of Romeo & Juliet, with their violence-stricken and gang-separated community of Richmond, CA substituting for Shakespeare's Verona, Italy. The film never holds any party solely responsible for the system of violence and poverty disproportionately affecting people of color. The police, the criminal justice system, corporate America, the gangs themselves – Romeo is Bleeding smartly calls all of them into question, for the issue is much more complex than being able to point a finger at a single source. As many of the film's interviewees confirm, this violence has been going on for many decades. Donté himself claims he doesn't think the violence will ever end. Fortunately, the more we have artists like him enacting change in their communities, the greater hope we have for change. *MUST SEE*
Sunday, May 17 at 5 PM, SIFF Cinema Uptown (filmmakers and subjects in attendance)/Monday, May 18 at 3:30 PM, SIFF Cinema Uptown (filmmakers and subjects in attendance)
VIRTUOSITY director Christopher Wilkinson featuring Vadym Kholodenko, Fei-Fei Dong, Alessandro Deljavan, Sean Chen USA, 87 minutes
This doc about competitive piano playing hits all the right notes. The film brings to mind the 2002 Oscar nominee Spellbound, which follows a group of children as they compete in the Scripps National Spelling Bee. In Virtuosity, director Christopher Wilkinson focuses in on a variety of artists competing for the top prize at The Cliburn, a world-renowned piano competition. Along the way, we become acquainted with an eclectic group of folks, some kookier than others. But we fall for them and admire them all just the same. This is a fun, light and remarkably well-paced film.
Wednesday, May 20 at 6:30 PM, SIFF Cinema Uptown (director in attendance)/Thursday, May 21 at 4:30 PM, Harvard Exit (director in attendance)/Sunday, May 24 at 3:30 PM, Lincoln Square
---
Week 1 Week 2 Week 3 Week 4 Awards
(Visited 6 times, 1 visits today)
Jeffrey Alan Coté is a writer and director based in the Capitol Hill neighborhood of Seattle. He recently graduated from the film and video studies program at Central Washington University with a minor in Women's and Gender Studies. He has five years of experience in print and radio journalism, during which he has interviewed figures such as civil rights leader Jesse Jackson and Washington state governor Jay Inslee. His short film "Speak in Rounds" won numerous scholarly awards, including the SOURCE Award for Best Creative Presentation and the CWU Arts and Humanities Undergraduate Achievement Award. Coté is also regularly engaged in social justice issues, including being part of a research team that trained educators in the treatment of trans and gender queer students for the Ellensburg School District.
Related Posts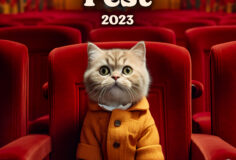 *Seattle Cinemaland • All Ages Events • Animal Lovers • Arts & Entertainment • Cats • Family Friendly • Film • Film Events • Living • Pets
OHMIGOD WE LURVE OUR CAT VIDEOS! WE WANT TO HUG
...