Many of us would like to see Seattle's celebration of LGBTQ Pride be a tad more focused on events of an artistic nature instead of the non stop pounding beat of a bass line and the shrieks of drunken drag queens. There's nothing wrong with some debauchery at Le Disco and our glittery sequinced sisters encouraging us to boogie all night long, but ya gotta have some ART to go with all that nightlife lovin'.
To kick off Seattle's pride festivities on a more genteel note, the folks at PrideFest have coaxed 11 venues on Capitol Hill's normal monthly art walk to "queer" it up for this month's edition by featuring LGTBQ artists and themes. They're calling it an "art walk within an art walk" but you should be aware that OTHER venues not on this "Queer Art Walk" list are also featuring art and artists from the community, including St. John's who have an exhibition from photographer Michael McAfoose/Urban Focus Studios.
Art Walk venues have varied schedules but most are open for the Walk from roughly 6 to 9pm on Thursday, June 11th with some starting earlier and closing later. See below list for times for each venue. Most art in the public spaces will be displayed through the end of June; check with each venue for exact dates. Most of these shows will have artists in attendance.
Here's the official "Queer Art Walk" map link:
http://www.seattlepridefest.org/queerartwalk/queerartwalk-2015-map.pdf
And, a link for the Capitol Hill Art Walk: http://capitolhillartwalk.com/map.html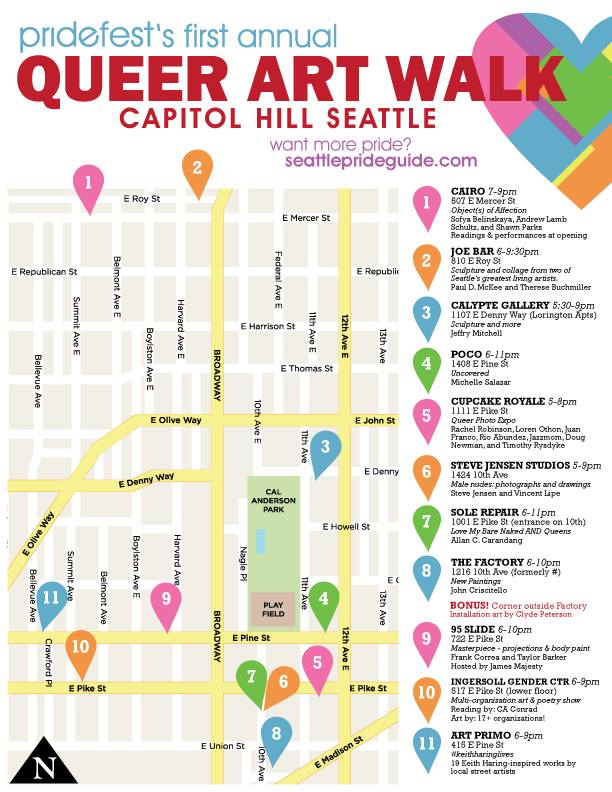 The 11 venues:
CAIRO
7-9pm
507 E Mercer St
"Object(s) of Affection"
Sofya Belinskaya, Andrew Lamb
Schultz, and Shawn Parks
Readings & performances at opening
JOE BAR
6-9:30pm
810 E Roy St
Sculpture and collage from two of
Seattle's greatest living artists.
Paul D. McKee and Therese Buchmiller
CALYPTE GALLERY
5:30-9pm
1107 E Denny Way (Lorington Apts)
Sculpture and more
Jeffry Mitchell
POCO
6-11pm
1408 E Pine St
"Uncovered"
Michelle Salazar
CUPCAKE ROYALE
5-8pm
1111 E Pike St
Queer Photo Expo with:
Rachel Robinson, Loren Othon, Juan
Franco, Rio Abundez, Jazzmom, Doug
Newman, and Timothy Rysdyke
STEVE JENSEN STUDIOS
5-9pm
1424 10th Ave
Male nudes: photographs and
drawings
Steve Jensen and Vincent Lipe
SOLE REPAIR
6-11pm
1001 E Pike St (entrance on 10th)
"Love My Bare Naked" AND "Queens"
Allan C. Carandang
THE FACTORY
6-10pm
1216 10th Ave (formerly #)
New Paintings
John Criscitello
BONUS!
Corner outside Factory
Installation art by Clyde Petersen
95 SLIDE
6-10pm
722 E Pike St
"Masterpiece" – projections & body paint
Frank Correa and Taylor Barker
Hosted by James Majesty
INGERSOLL GENDER CENTER @ GAY CITY
6-9pm
517 E Pike St (lower floor)
Multi-organization art & poetry show
Reading by: CA Conrad
Art by: 17+ organizations!
ART PRIMO
6-9pm
415 E Pine St
"#keithharinglives"
19 Keith Haring-inspired works by
local street artists
(Visited 1 times, 1 visits today)