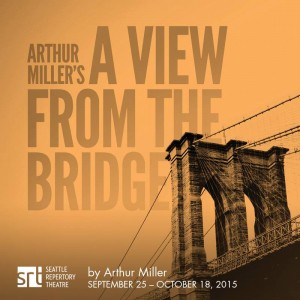 Single tickets for Seattle Repertory's 2015/16 Season go on sale today! It's your first chance to snag individual tickets for their season opener, Arthur Miller's American classic, A View from the Bridge which opens September 25th for a month long run.
Following up that production are three shows with lots of interest for LGBTQ fans of Seattle theater. Jonathan Tolins' one-man comedy Buyer & Cellar  won acclaim in its original NY production starring Michael Urie. It's the story of a man employed by Barbra Streisand to be the curator of her numerous collections and he hilariously dishes the dirt on Streisand herself and her mania for shopping and decorating. It opens October 23rd in the Leo K. theater.
Opening November 13 on the Bagley Wright stage at the Rep…their first full musical in 20 years. (I guess they're not counting last season's big hit "Lizard Boy"???!!!) Come From Away is a co-production with the La Jolla Playhouse, where it debuted earlier this summer and it's the true story of what happened when 38 international flights were grounded in Gander, Newfoundland in Canada on September 11, 2001 and how that community rallied to house thousands of passengers stranded in the small city. Come From Away is created by husband-and-wife team Irene Sankoff and David Hein and stars several popular local Seattle musical theater actors making their Rep debut: Eric Ankrim, Kendra Kassebaum and Chad Kimball. For Ankrim, it's just part of his very busy dual career as actor and director. His production of Green Day's 'American Idiot' begins its run at ArtsWest on September 10th and he'll also star in the 5th Avenue's production of How To Succeed in Business Without Really Trying in January of 2016!
Wrapping up 2015 at the Rep will be their very special holiday treat featuring two beloved Seattle stars. Jinkx Monsoon & Major Scales: Unwrapped will celebrate the holiday with the campy glamour you've come to expect and adore from the winner of Logo TV's RuPaul's Drag Race Season Five and her favorite pianist. Monsoon and Scales (aka actors Jerick Hoffer and Richard Andriessen) also starred at the Rep last year in their celebrated cabaret show, The Vaudevillians.
Single tickets are also available for the 2016 half of the season including the regional debut of Ayad Akhtar's Pulitzer Prize-winning drama Disgraced as well as the world premiere of local actor/writer R. Hamilton Wright's Sherlock Holmes and the American Problem, a follow up to 2013's very popular production of The Hound of the Baskervilles, with director Allison Narver and actors Darragh Kennan (Sherlock) and Andrew McGinn (Watson) all returning for the new production in April 2016.
Single tickets are available through the Seattle Rep Box Office at 206-443-2222, as well as online at www.seattlerep.org.  AND, you can obviously still purchase season ticket packages as well.
Here's the entire season with information:
The Shows of the 2015 – 2016 Season in Chronological Order

September 25 – October 18, 2015
A View from the Bridge by Arthur Miller
Bagley Wright Theatre
One family's dark secret is exposed when they agree to harbor two family members illegally in their home. This American tragedy about a deep family secret—and the suspicion, jealousy and betrayal that results from it—remains topical and thought-provoking 60 years after its 1955 Broadway premiere. The Rep is pleased to present Braden Abraham's new staging of this American classic in the centennial year of the playwright's birth.

October 23 – November 22, 2015
Buyer & Cellar by Jonathan Tolins
Leo K. Theatre
The Leo K. season kicks off with Jonathan Tolins' one-man comedy Buyer & Cellar. Alex More is an out-of-work actor who becomes the sole employee of the "shopping mall" in Barbra Streisand's basement. Turns out it's lonely at the top (and the bottom) of the Hollywood food chain. In this 90 minute romp full of pop culture references and campy humor, New York-based actor Scott Drummond embodies a range of characters, from James Brolin to Bea Arthur to the diva herself. This outrageous comedy takes an insider's look at fame and friendship and pushes it to the limit.  Director David Bennett (The 5th Avenue Theatre's A Chorus Line, Village Theatre's The Tutor) will make his Rep debut.  Fact:  Barbra Streisand documented her basement mall in her book My Passion for Design.

November 13 – December 13, 2015
Come From Away, book, music and lyrics by Irene Sankoff and David Hein
Presented in association with La Jolla Playhouse
Bagley Wright Theatre
For the first time in twenty years, the Rep will present a musical on the Bagley Wright stage. Come From Away debuted this summer to stunning reviews in La Jolla.  The work of husband-and-wife team Irene Sankoff and  David Hein (My Mother's Lesbian Jewish Wiccan Wedding) and is the remarkable true story of when 38 planes were diverted to Gander, Newfoundland on that fateful day, Sept. 11, 2001. The camaraderie that followed reminds us all of the power that comes from opening up your heart and home.  The Los Angeles Times called it "A stirring new musical … staged with remarkable finesse and buoyancy."    Come From Away is directed by Christopher Ashley.

November 25 – December 13, 2015
Jinkx Monsoon & Major Scales:  Unwrapped
Leo K. Theatre
Back by popular demand, and a perfect way to unwrap the holiday season, Jinkx Monsoon and Major Scales bring their irreverent musical stylings to the Leo K. stage.  Drag yourself to the Rep for big cheer — and plan to arrive early for cocktails and holiday shenanigans in the lobby – you never know who might show up!

January 8 – 31, 2016
Disgraced  by Ayad Akhtar.
Presented in association with The Goodman Theatre and Berkeley Repertory Theatre
Bagley Wright Theatre
Amir, a successful Muslim American lawyer, and his wife Emily host a dinner party that devolves into a fiery debate on prejudice and faith. Akhtar uses his experiences as a Pakistani American to probe themes of cultural identity, assimilation and race in the post 9/11 world. In a Wall Street Journal interview, Akhtar stated: "The ideas that unfold on that stage are not about the news cycle for me. They're about the world we're living in every day." The Pulitzer Prize-winning play will be directed by the original Broadway director Kimberly Senior.


January 22 – February 21, 2016
Constellations by Nick Payne
Leo K. Theatre
Desdemona Chiang will direct Nick Payne's international hit about a romance for two lovers who defy space and time as they explore their connection.  Science and romance collide in this unusual love story, which delighted audiences and enjoyed wildly successful runs in London's West End and off-Broadway in New York. The New Yorker called it "a singular astonishment…a wholly satisfying and complete emotional journey."

March 4 – 27, 2016
Luna Gale by Rebecca Gilman
Bagley Wright Theatre
A powerful and arresting new play that asks: 'Who is capable of raising a child?'  When veteran social worker Caroline becomes involved in one family's bitter custody dispute, her well-intentioned mission is swayed by hidden motives and buried secrets.  Highly lauded, The New York Times calls the play "an engrossing exploration of tough choices."  Directed by Braden Abraham.  Playwright Rebecca Gilman won the 2015 Harold and Mimi Steinberg/American Theatre Critics Association New Play Award for Luna Gale.

March 25 – April 24, 2016
brownsville song (b-side for tray) by Kimber Lee
Leo K. Theatre
Concluding the Leo K. season is the West Coast premiere of Kimber Lee's moving and lyrical portrait of a young man and his family's resilience when a senseless act of gang violence forever alters his future.  -"My name is Tramaine Berry Thompson and I am more than meets the eye," is the provocative beginning of this moving new work, set in the impoverished Brownsville borough of Brooklyn, brownsville song is directed by Rep favorite Juliette Carrillo (The Brothers Size and The Cook).

April 22 – May 22, 2016
Sherlock Holmes and the American Problem by R. Hamilton Wright
Bagley Wright Theatre
The season concludes with the world premiere of a Seattle Rep commission by R. Hamilton Wright, Sherlock Holmes and the American Problem. The American Wild West and Victorian England collide in this original adventure tale.  The year is 1887, the occasion is Queen Victoria's Golden Jubilee, and the coincidences are suspiciously piling up. The Rep reunites the creative team that brought Seattle audiences 2013's The Hound of the Baskervilles, with director Allison Narver (Boeing Boeing, Or,) returning to the helm. Seattle actors Darragh Kennan and Andrew McGinn will reprise their roles as Holmes and Watson, respectively.

Seattle Repertory Theatre is located at Seattle Center at the corner of Second Ave. and Mercer St., Seattle, Washington.
Tags: Buyer & Cellar, Jinkx Monsoon & Major Scales: Unwrapped, Seattle Rep, Seattle Repertory Theatre, Theater Preview