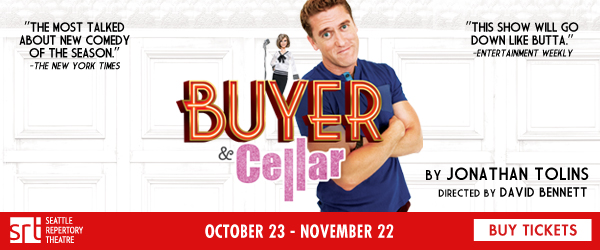 On the stage at Seattle Rep, he's the solo star of "Buyer & Cellar", the off Broadway hit comedy about a man who works as a curator for Barbra Streisand and her shopping mall sized collection of art and furniture. Off stage, actor Scott Drummond is kept very busy back in New York City as the father of twin five year olds and the partner of acclaimed Broadway/television director Scott Ellis in addition to somehow managing to find the time to act in plays, television and film projects. Despite being very busy this past weekend, Mr. Drummond managed to sit down long enough to do an email interview with us about juggling his family life and work while working on "Buyer & Cellar" which opens Wednesday, October 28, 2015 for a month long run at the Rep. (Grab your tickets HERE!)
---
Michael Strangeways: Welcome to Seattle, Mr. Drummond! It appears this is your first professional visit to Seattle…have you been here before in any capacity? And, if so, how are you coping with life in Seattle? Did you bring your family or do you and your husband "take turns" with projects so someone is always with the kids at home?
Scott Drummond: Thank you so much for the welcome!  I'm honored to spend a couple months in your beautiful city.  I've been here a couple times in the past, both to see wonderful shows at the Seattle Rep, so it's fantastic to be here now actually WORKING.  Sadly, my partner and two five year olds are sticking it out in NYC without me (I have no idea how they're coping…)  This is honestly the longest stretch I've been away from them.  We've somehow managed over the years to be an actor and a director with a couple kids, taking jobs that were close to home, working for shorter stretches.  That said, we're already putting money away for their future therapy bills.  😉  We're lucky to have an amazing nanny and a rolodex of babysitters for tech nights and shows, etc., so we've made it work.  And, truly, the kids are great.
MS: How hard is that? Balancing two very busy careers. Just looking over calendars and lists of credits, you've both been very busy this year and not always on the same continent, or at opposite ends of the continent. Your husband's been to London and San Diego on projects and you are here now…is it just lots and lots of careful scheduling, household help, and Skype?
SD: Yes, our household schedule looks like some crazy spreadsheet worthy of, well, people more important than us.  But we're making it work.  Just today my partner volunteered to chaperone a field trip for our daughter's trip to Fairway, and I was given grief by parents at our son's school for not going on a field trip to the NYC Tenement Museum.  Mostly, we try to take our kids wherever we are, but that becomes difficult with 1st grade schedules.  I call them every morning at 4:30 Pacific Time to check in before school, and we FaceTime every night before bed.  I also taped pictures of us up on their bunk beds and in my apartment that we kiss every night before bed.
MS: You're making your Seattle debut in "Buyer & Cellar" aka "That Play About Barbra Streisand's Basement That Starred Michael Urie From 'Ugly Betty'". It's a one man show with just you on stage for an hour and an half. How do you prepare for that rigorous of a work out acting wise? And, did you get a chance to see Michael Urie in the role originally? What do you do to be faithful to the role yet make it your own?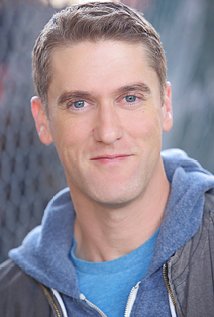 SD: Per the brilliant advice of a good friend of ours, I began work on this play about 6 months ago.  And I skype-rehearsed (it sounds dirty I know, but it wasn't), with my director, David Bennett, throughout.  So I didn't show up on day one in Seattle with a blank slate.  I honestly can't imagine how difficult it would have been otherwise.  Now that we're in performance, I've realized how much ENERGY this actually requires.  Our wonderful props mistress brought me some energy chew things that I ate last night before a show and they helped.  I actually Googled what food you should eat before a race.  Bananas, apparently.  So I've been doing that.  
I, sadly, never saw Michael Urie do the show in New York.  But I went to Lincoln Center and watched a tape of one of his performances.  He was wonderful.  It never hurts to see how someone else worked on a piece.  But I was careful not to see it until I had a sort of ownership of it myself.  He's who he is and I'm who I am.  That, in itself, makes it unique to me, and to him.  Every night, I just have to remember to relax and bring them into MY story.  And that usually works.
MS: Have you had a Barbra Streisand moment? Met her? Are you a mega fan? Did you do lots of research on her for this show?
SD: My Barbra Streisand moment is this show!!  I met the playwright, Jonathan Tolins, in New York recently, and I told him that I really knew little about Barbra.  What kind of gay doesn't??  But that's been an amazing aspect of the preparation for this piece.  I remember my Dad sitting me down and making me listen to duets of her and Neil Diamond, and my Mom making me watch Yentl. But I'd never seen Funny Girl for God's sake!  It was about time for me to go to Gay 101 and learn a little.  But, much like Alex More, the main character in the show, we've become fans.  I've watched everything from The Mirror Has Two Faces to the concert she did recently in Brooklyn, to ancient interviews with Barbara Walters.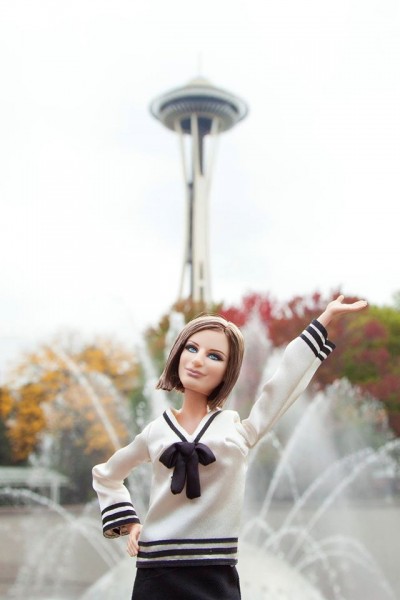 MS: As an out actor, do you deliberately seek out great roles like this, or do you just let them come to you naturally? What advice do you have for other young out actors, if any.
SD: This particular job presented itself by my friend Braden Abraham (artistic director of Seattle Rep) calling me up and saying, "Would you be interested in this?"  It's a unique, amazing opportunity, and I had to say yes.  I think, as artists, we're always looking for challenging, exciting, relevant pieces to work on.  And this is that.  I do think that being in this business amounts to a weird mix of being able to pick and choose, and then being desperate for work.  There is a certain amount of hustle that's generally involved in this biz (in most, I would imagine), but yes- great things (like this) just appear on your doorstep occasionally, too.  
Advice to young actors?
Do what you love.
MS: Do you have 'dream roles' you're determined to one day play onstage?
SD: I would love to rock Alex More in "Buyer and Cellar".  😉  
Honestly, I love doing new work.  New stuff is thrilling to me.  To create something new, with the writer in the room, inventing.  And anything else that pays me.
MS: You've done "Boardwalk Empire" and other film/tv work but for a NYC area based actor, you shockingly have NO "Law & Order" credits! How is that even possible?
SD: I've turned Law and Order down again and again.  😉  
But check me out in my one scene with Amy (Pohler) and Tina (Fey) in "Sisters," coming out in December.
MS: What's up next for Scott Drummond?
SD: Unemployment.  
And then stardom.
---
WHAT: Seattle Rep presents Jonathan Tolins' Buyer & Cellar, an outrageous one-man comedy directed by Seattle favorite David Bennett.
Every actor has taken on an odd job or two. In this narrative, Alex More might have them all beat. Desperate for work, he takes the oddest of odd jobs—resident shopkeeper in the basement mall in Barbra Streisand's fabulous Malibu home. This hilarious comedy takes an insider's look at fame and friendship and pushes it to the limit.

Taking inspiration from Streisand's coffee table book My Passion for Design, New York runaway hit Buyer & Cellar is half fact, half fiction. The fact: There is indeed a shopping mall in in the basement of Streisand's Malibu home, complete with a set of shops to display her collections including an antique clothing store, a doll storeroom and a sweets shop. The fiction: There is no shopkeeper. Playwright Jonathan Tolins balances the absurdly whimsical with blunt realizations as he details Alex's work and the toll it takes on his patience, his love life and his view of people.
WHEN: October 23 – November 22 (Opening Night: Wednesday, October 28 at 7:30 p.m.). Performance times: Wednesday–Sunday at 7:30 p.m. with select Saturday, Sunday and Wednesday matinees at 2:00 p.m. (no matinees during previews).
CAST:
Scott Drummond—Alex More
Scott Drummond makes his Rep debut in Buyer & Cellar. Drummond's acting credits include Machinal (Roundabout Theatre Company) on Broadway and A Perfect Future (Cherry Lane Theatre) and Hamlet (Theatre for a New Audience) off-Broadway. A New York-based actor, Drummond has performed on various stages throughout New York as well as regionally at theatres such as Arena Stage, South Coast Rep, La Jolla Playhouse, and the Eugene O'Neill Theater Center, where he spent six seasons.
CREW:
Scenic Design—Catherine Cornell
Costume Design—Harmony Arnold
Lighting Design—Robert J. Aguilar
Sound Design—Kevin Heard
WHERE: Seattle Repertory Theatre's Leo K. Theatre, located at Seattle Center at the corner of Second Ave. and Mercer St., Seattle, Washington
TICKETS: Tickets to Buyer & Cellar are now on sale and start at $34. Discounted tickets for groups of 10 or more may be purchased by calling 206-443-2224. For ticket reservations, call the Seattle Repertory Theatre Box Office at 206-443-2222 or toll-free at 877-900-9285, or go online at www.seattlerep.org.
(Visited 20 times, 1 visits today)