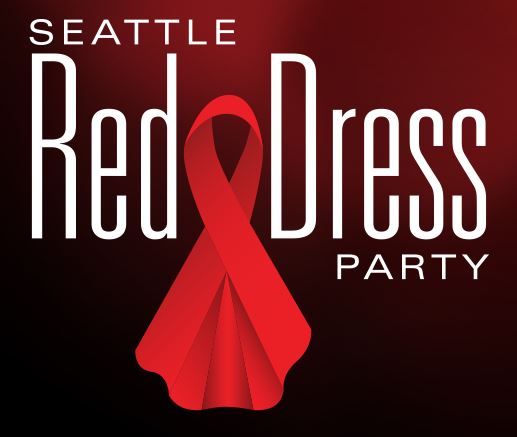 The very irregularly scheduled gala AIDS/HIV health organization fundraiser, the RED DRESS PARTY is set to return to Seattle after a long absence.
Seattle PrideFest's Egan Orion has revealed to us that his organization will assume production of the popular event which requires all attendees to wear Red Dresses to show support for anyone who has ever battled AIDS/HIV. The party will resume on Saturday, April 2, 2016 and will once again occur at the Fremont Studios space.
From the press release:
After retiring the Seattle Red Dress Party in 2014, the founders of the popular Northwest benefit event have handed the reigns for the party over to PrideFest, a 501c3 non-profit that produces PrideFest at the Seattle Center as well as other events throughout the year. The event will take place on April 2, 2016 at Fremont Studios. Key members of the original steering committee are playing a handoff role with PrideFest to insure a smooth transition and to preserve the key elements of the event intact going forward.

"We're humbled that the founders of Seattle Red Dress would trust us with this honor," said PrideFest Executive Director, Egan Orion. He and his organization supported the first Red Dress Party back in 2008, but this will be the first time that PrideFest is in charge of producing the event end-to-end. "Sam Galano and his team produced something really special with this event. We're very mindful of their legacy and for those who have been to Red Dress in the past, you'll find a lot that's familiar: the venue, the spirit of the event, and of course, the signature of the event—everybody in Red Dresses raising money for local non-profits. Over time, PrideFest will put its own stamp on the event. The Pride Festival is known for a diverse lineup from across the country, and we'll bring this and our ability to produce large-scale events to the Red Dress Party."

Proceeds from the event will benefit PrideFest and local HIV/AIDS charities. "A big part of ending HIV/AIDS is building a strong community," says Orion. "We think that's what PrideFest does best. We run the largest free Pride Festival in North America and have a fan community of over 60,000 on Facebook, a figure matched only by NYC Pride. Non-profits are the core of our community and is a central tenant of the work we do at PrideFest. When we have strong non-profits that are well-funded and connected to the community they serve, our entire community is stronger. Red Dress only expands upon this principle, having raised tens of thousands of dollars for HIV/AIDS charities. This work is key to ending AIDS."

Talent, sponsors, and beneficiaries have not been announced yet, but Orion said to expect a great lineup. "Anyone who's been to PrideFest at the Seattle Center knows to expect a great mix of local and national talent. As we're finalizing our lineup, just know that this is going to be a night to remember. Get your red dress and prepare for a party like you've never seen!"

Seattle Red Dress Party's original steering committee include Sam Galano (founder), John Fulton (designer), and Jason Brotman (local business owner and event producer), in addition to countless volunteers who helped produce the event from 2008-2014.
Seattle PrideFest is, of course, the premier event organizer in Seattle for Pride related events, including PrideFest on the last Sunday in June, and Capitol Hill PrideFest which happens the Saturday before, in addition to many other popular events.
The only name announced so far for the event is local dj Bret Law with other local and nationally known performers to be announced in the weeks ahead.
VIP and General Admission tickets are available now at http://www.seattlereddress.org/ . If purchased before February 1, GA tickets are $25 and VIP tickets are $60. Between February 1 and April 1, prices are $35 for GA and $75 for VIP. The day of the event, if tickets are still available, GA tickets will be $45 and VIP will be $90.
That weekend will be a busy one for many people in the community. Three Dollar Bill Cinema hosts their popular annual fundraiser/banquet/auction the night before, on Friday, April 1, 2016. Block out that entire weekend for good causes and parties.
We will keep you posted on further developments for Seattle Red Dress 2016.
(Visited 1 times, 1 visits today)