OMG!
WHO wouldn't wanna see Republican presidential candidate/professional asshat/poster child for classic narcissism, DONALD TRUMP debate the charmingly brusque and avuncular old Socialist/Democratic presidential candidate Bernie Sanders?!?!?!!???
In Seattle!
On March 8th!!
At The Neptune Theater!!!
Well, it's kinda/sorta "happening".
"Donald Trump"  is really comedian Anthony Atamanuik (Upright Citizens Brigade) and "Bernie Sanders" is actually one of  our crush objects, fellow comedian (and gay dude) James Adomian and they've teamed up for a nationwide tour for this mock debate tag team comedy act. What started out as small one-off debate last fall in New York, quickly became a big event after a video of the performance went viral and people began clamoring for the pair to tour.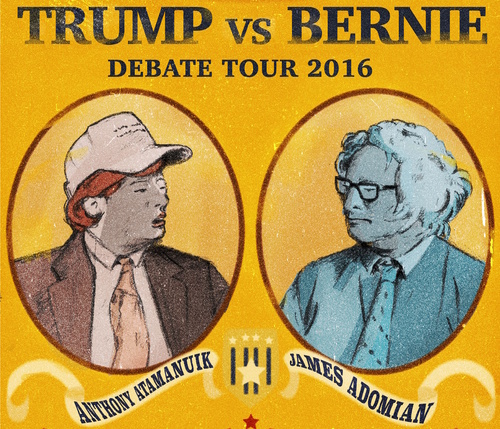 Isthmus.com interviewed the pair (read full interview) and this is what they had to say about getting into character:

Anthony Atamanuik: "I was saying stuff as Trump that seemed utterly ridiculous. A month later, Trump is saying the same stuff, almost verbatim, in his speeches. For me, the key is taking Trump's speeches and revealing how much of it is just old authoritarian politics."

James Adomian: "I've respected Bernie for years, but I never thought he would be famous enough to do an impression of. I did George W. Bush for years, who I hated. It feels nice to make fun of a guy I support. As a comedian, I get to say some things I think he'd like to be able to say."
Tickets just when on sale for the Seattle event, part of the West Coast leg of their tour which just keeps growing….they'll be at Portland's Revolution Hall on March 9.
The website is a tad out of date as of this posting but check out more info at  the #TrumpVsBernie website.
Check out this video of the pair:
Tags: Anthony Atamanuik, Comedy Tours, James Adomian, Political Comedy, STG, The Neptune, Trump vs Bernie