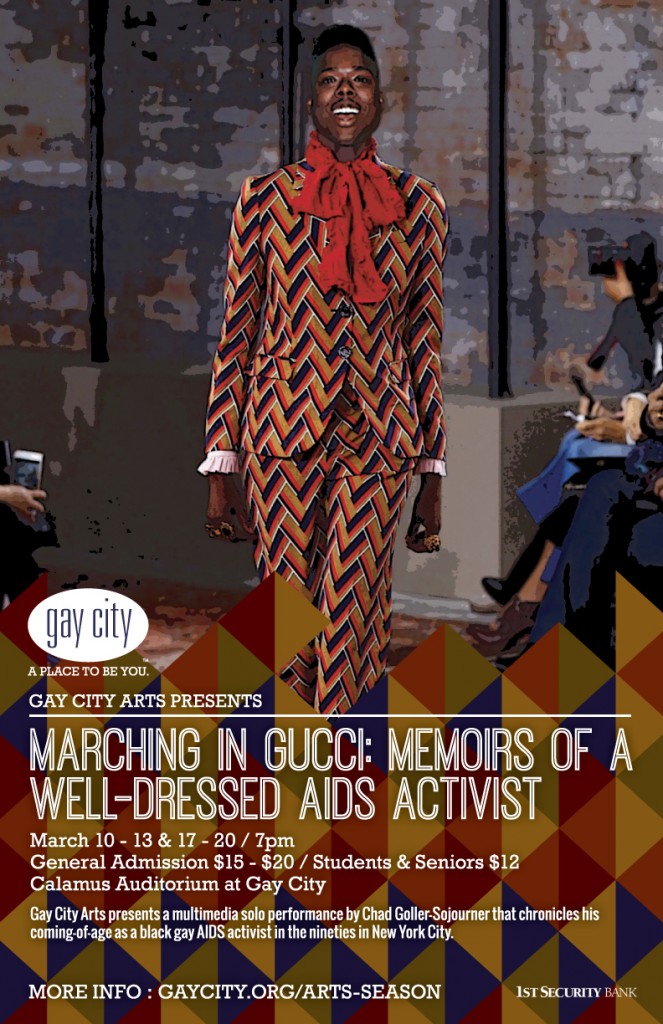 Chad Goller-Sojourner has become adept at turning his life into stories, and is a masterful chooser of titles! His first autobiographical solo show, developed and toured from 2008, was Riding in Cars with Black People & Other Newly Dangerous Acts: A Memoir in Vanishing Whiteness. He tells the story of his trans-racial adoption, raised by white parents, who lived inside "white privilege" until he left the shelter of his family. Outside the family, he discovered that society considered him "dangerous until proven otherwise," as he relates in his tale.
Part Two of his planned trilogy was named Sitting in Circles with Rich White Girls: Memoirs of a Bulimic Black Boy. Chad chronicles a ten-plus year history of bulimia. Chad's great gift is finding the humor while baring his soul.
In the next two weekends, he is world premiering his last solo show about his life. Marching in Gucci: Memoirs of a Well-Dressed AIDS Activist focuses on his move as a 22 year-old from Western Washington University for his last year in college at Hunter College, New York City, in the heart of Manhattan.
In an interview with SGS, Chad reminds us that 1992 was smack in the middle of the AIDS crisis, while the government was doing little, and researchers were still four years away from discovering the efficacy of "the cocktail!" Thousands of people were dying and Chad says, "In 1992, AIDS took the lives of 40,000 U.S. residents, and accounted for 23% of all U.S. deaths among men and 32% of all deaths among African American men." Chad, being gay and black, was at high risk, personally.
Chad had been an activist locally with POCAAN (People of Color Against AIDS Network), but when he got to New York, he says, "I became part of ACT UP. I'd never known a time when AIDS did not affect my community. (Working with ACT UP) was more bare, on the front lines. It felt like all these people were dying and no one cared. It was like a state of emergency that only you cared about. A lot of these people were my age or younger. Before the cocktail, you could be diagnosed at Christmas and be dead by Easter! People don't remember any of this."
Part of his current story relates to his idea that when he left Washington, he could somehow leave his personal issues behind. But instead, "this is a story about me trying to stabilize and help other people, but not taking care of myself and taking part in self-harming. Bulimia, doing drugs. It's a paradox. Always taking care of others and not myself.
"(But) There were always people who are sicker than you are. Worse off than you. Who are you to complain or to not participate when others need you?"
Asked what he wants to bring attention to in the piece, Chad says, "When people talk about gay history, they talk about Stonewall and gay marriage as if nothing happened between those two events. Nancy Reagan just died. Her husband, by the time he said 'AIDS,' we'd already lost 40,000 people. (But no one paid attention because) it was happening to a group of despised people. Gay men, black people and IV drug users.
"My work is to tell a story. It's not a lecture. A lot of people are not telling these stories for a host of reasons: if you don't know it you can't tell it, it's still traumatic for some people, people who weren't dead then are dead now, we weren't taking notes when we were in it.
"I'm telling it from this side of the mountain, and it's twenty years later. My story is in relationship to that period. Trying to get people with AIDS to eat while at the same time (I was) purging five to ten times a day. A story about when things didn't really make sense.
"Also (to tell about) that hard city of New York. We have a (cultural) concept,  living in this country, when the lie is: Your next big break might be around the next corner. New York is a city of infinite corners, you'll run out of 'you' before corners. There are many people who stay in New York much longer than they need to. No one wants to leave as a failure, so it's a city that can hold you hostage and trap you."
"It's a story that needs to be heard now. This is my most personal story. I tell all my secrets. With the other plays, I could hold things back. This time everything is on the table. The fact that I'm telling the story means there is transformation. You know I'm different."
Marching in Gucci: Memoirs of a Well-Dressed AIDS Activist runs March 10-13 and 17-20 at Gay City's Calamus Auditorium, including a separately ticketed Author's Workshop on Saturday, March 19. Tickets run from $12 – $20, and available HERE.

(Visited 1 times, 1 visits today)