Bag, Bath & Beyond: Bag Lady Manifesta and Broken Bone Bathtub Both Explore Memory, Trauma, and the Body.  
What Happens Next Is Anyone's Guess.
Rarely do shows ever give me pause — what am I in for here? — quite as much as these two: Bag Lady Manifesta (Taja Lindley/CD Forum at Langston Hughes, thru 5/19) and Broken Bone Bathtub (Siobhan O'Loughlin at various residences, thru 5/24).  Both are immersive performance pieces unpacking the power of memory and the body, and both happen to be going on this week.
I heartily recommend checking out both shows.  But I'll turn first to the one you can probably get tickets to.  

(Preview) CD Forum's Bag Lady Manifesta (5/18-5/19), Invites Examination of Stored and Discarded Memories   
Bag Lady Manifesta, which plays this Friday and Saturday only (so don't delay), considers memory through the lens of being discarded — such as the ways America casts away Black lives and histories when it prefers they be forgotten.  
Artist/activist/healer Taja Lindley will use burlesque, text, soundscapes, ritual, and projection to adorn and activate her Black, queer, female body with trash bags, as she traverses the dumping grounds and shadow side(s) of herself, the audience, and the United States.  The show then invites audiences to participate in a performance ritual to confront our own histories and to (re)consider what to let go of and what to remember.
The performances are presented by the Central District for Arts & Ideas (CD Forum), which puts on some of the most innovative showcases in recent memory — including the popular Kitchen Sessions shows, which partner with an area museum (Bellevue Art Museum or Seattle Art Museum) and invite Black female and Black femme-identified artists to respond to thought-provoking works in a current exhibit.  (Recent examples include the art of Kara Walker at Bellevue, and the Figuring History exhibit at SAM.)  Rumor has it that CD Forum's upcoming season will be curated by Dani Tirrell, whose recent work includes the far-in-advance-sold-out Black Bois at On the Boards.
Bag Lady Manifesta runs 5/18-5/19 (two days only!) downstairs at Langston Hughes Performing Arts Institute, in the Central District.  Tickets $20, available here.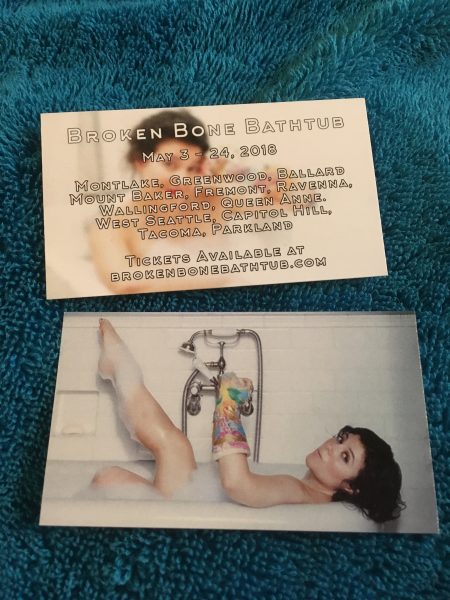 (Review) Broken Bone Bathtub (now through 5/24) Creates an Inordinate Intimacy from Shared Ordinary Experiences
Before you read this, please know: you probably won't get to see Broken Bone Bathtub in Seattle, because it's sold out and because the performance spaces are super-tiny.  However, shows are coming up in Olympia, Portland, and Oakland — all of which are pretty cool places to visit or, if not you, to tell your there-dwelling friends about.
Broken Bone Bathtub is a solo performance by Siobhan O'Loughlin that takes place with her in a bathtub full of water and bubbles, in a bathroom at a different private residence each night, in different neighborhoods throughout Seattle.  Audience members are crammed into the bathroom there with her, and some help wash her hair because her arm is in a cast.
That's about all I knew going in, and all of that sounded very uncomfortable to me — the crammed, the naked person, the whole bath thing.  I'm not really a participatory kind of participant. And yet, it was totally fine — the audience was tiny and cool; the chairs and stools were jigsawed in such a way that we weren't on top of each other; and the hosts polled the audience and put the participatory-inclined folks next to the bathtub and the wet (or in this case dry) noodles back in the comfier chairs.  It was very consensual, very individualized (ironically, in this shared experience), and thus very comfortable. (Also, she is naked but you don't see a whole lot. It's not a close-quarters strip show or a weird sex thing.)
Onward to the story.  O'Loughlin plays herself, a young woman who lives in New York; is involved, socially conscious, and also lonely (connected to the world but to no one deeply); and who, on her way to a fracking protest meeting, breaks her wrist in a bad bicycle-on-bicycle collision.  It is the loneliness — and the drive toward making connections — that fuels the performance's real content.
In a line uttered early in the performance, O'Loughlin says, "I want you to believe, it wasn't my fault."  That line lingers throughout, and sums up compactly the many places the audience will be pulled over the course of the show.  
"I want you"
Much of her story surrounds trouble with human intimacy, less romantic than simply close connections with those around us.  It is hard to ask for help, and it is hard to be open and vulnerable with others. During her month or so in a cast, she decides that rather than try to take showers at home wearing a plastic bag over her cast, she'll ask friends to use their bathtubs instead.  It's an admission of vulnerability. It's a response to the frequent, "Let me know if I can do anything!" offers we all get when ill or injured and, more than likely, rarely take most anyone up on. None of us want to be a burden. So we do everything ourselves, the best we can make it (or fake it).  
"To believe"
A surprising element of the performance was that O'Loughlin wasn't the only one talking.  Much of the performance was a give-and-take, in which the performer asked audience members questions that "polite" society has taught people to avoid — asking of each other: about beliefs, backgrounds, insecurities, broken bones and other medical mishaps.  The experience challenged the common understanding that so many questions should go unasked. Given the right setting, it turns out that such conversations are not strained or stressful; and O'Loughlin is a master at fostering that setting.
"It wasn't my fault"
It is ironic given the reluctance to ask normal curious questions — even on experiences many of us likely have in common — the questions we have no problem asking.  You know, the fully rational, infinitely reasonable, blaming questions.  O'Loughlin was asking us not to find fault with her; and even though the urge never arose in me (in part because the performance wasn't about dissecting the scene of the accident or parceling out the blame or identifying how she could prevent it the next time around), the threat is always very real.  
In the confined, manufactured space of the performance, it seemed clear to me that no one was as eager to question where fault lied than O'Loughlin herself — and perhaps that's the takeaway there.  Despite our instincts, often people don't need our help doubting them or faulting their (past) strategies; they're doing quite well at that on their own.
Overall, it's less a show than an experience, and that experience seems destined — however gently — to make us do better.  Ask for help, welcome the askers, challenge your own mental mistakes, and let others have the freedom to challenge their own without judgment.  Also, usually, it's OK to talk to strangers. (But out in the real world, probably not so much while they're bathing.)
Broken Bone Bathtub runs through 5/24 in Seattle, at various private residences; tickets $35.  However, as of this writing only one ticket remains (for the 5/24 closing show), and it is unlikely they can add tickets due to the small spaces.  The lone show in Olympia (6/4) is also sold out.  Shows in Portland (6/6-6/18), however, are presently open; tickets $30, are available here.  The performance reportedly heads to Oakland thereafter.
(Visited 1 times, 1 visits today)