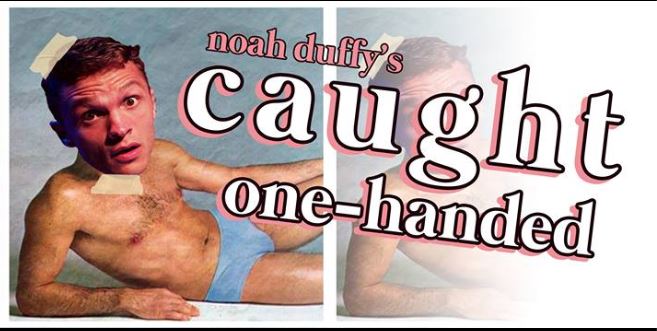 In the mood for some naughty confessional queer theater?
Have a desire to help out The Trevor Project (which benefits queer youth)?
Have a spot open on your calendar for this Friday, January 27th?
Oh, good…then you can head to the 18th & Union Theatre (uh, at 18th and Union in that no-man's land that's kinda Capitol Hill and kinda the Central Distric…) and check out this fun solo show, CAUGHT ONE-HANDED. It's the work of theater artist Noah Duffy and its his autobiographical solo piece about growing up gay in a Christian household.
Come home with Noah–a confused kid with sticky fingers who's caught between a cross and hard place. When his parents put him in conversion therapy at eleven to "straighten him out," it's all he can do to survive while his sin-riddled hormones, Christian calling, and dubious dad duke it out. Gleefully skipping through fire and brimstone, this shockingly true solo show tickles plenty of funny bones while serving as a catalyst for discussing sexuality, delusion, and endurance.
Friday, January 27, 9:30pm
One night only!Advance: $12/$18/$25 Door: $14/$20/$25
Caught One-Handed
created and performed by Noah Duffy

18th & Union: an arts space
1406 18th Ave

If you're already booked for this Friday (January 27, 2017) then never fear…Mr. Duffy will return in February with a DIFFERENT SHOW performed every Friday night in February but under a different persona…he returns as "WOODY SHTICKS"  in "Schlong Song"!
(We're sensing a phallic centric theme here…which we find riveting!)
Here's more poo on THAT show:
Woody Shticks' SHLONG SONG!
February 3, 10, 17, 24 at 9:30pm

Stand-up storytelling, hip hop heroics, and emotional nudity collide in SHLONG SONG, a brand-new solo extravaganza by Woody Shticks (one third of interarts gang The Libertinis and one whole bag of fun). Join Woody for an onslaught of hanky-panky hijinks from his days inside a Puritan cult to his nights inside consenting adults for an enlightening evening of the ins and outs of sexual misadventure.
Both of these shows are all part of 18th & Union's current series of shows titled ODDBALLS & MISFITS curated by local theater artists Andrew Lee Creech and Keira McDonald who when…
Asked about their curatorial philosophy, Keira and Andrew said, "Imagine that we acted like King Moon Razor who rules the Island of Misfit Toys and we flew around Seattle looking for oddballs or what some might declare 'other'. We collected these unique artists and programmed a sizzling two months at 18th & Union that will tickle your senses and spark your imagination."
Tags: 18th & Union Arts, Caught One-Handed, Noah Duffy, Queer Theater, Solo Theater, Woody Shticks' SHLONG SONG