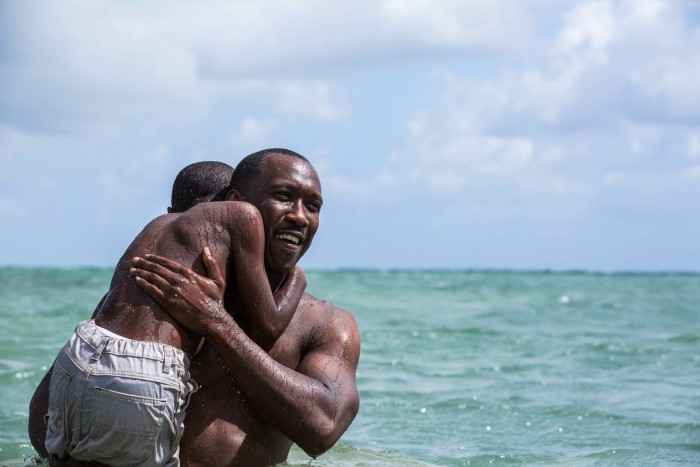 The nominations for the 89th Academy Awards were just announced this week and several LGBTQ films received recognition including 8 nominations for the highly praised drama MOONLIGHT and a Best Documentary nomination for I AM NOT YOUR NEGRO which is an "essay film" that uses queer black writer James Baldwin's manuscript "Remember This House" to document "the history of race relations in the United States" using archival footage featuring Baldwin and significant civil rights icons like Martin Luther King, Jr and Malcolm X.
"Moonlight" is currently playing at SIFF Cinema Uptown (and other area theaters). "I Am Not Your Negro" opens at SIFF Cinema Egyptian on February 3rd.
Among its 8 nominations, "Moonlight" snagged  nods for Best Film, Best Director (Barry Jenkins), Best Supporting Actor (Mahershala Ali), Best Supporting Actress (Naomie Harris) and Best Adapted Screenplay (Screenplay by Barry Jenkins; Story by Tarell Alvin McCraney). Tarell Alvin McCraney is a noted gay, African-American playwright. His play, "The Brothers Size" was a critically acclaimed hit at Seattle Rep in 2011.
Oscar (and the film industry) seem to have paid some attention to the cries that the Academy and the industry in general do not give enough recognition and opportunities to films and artists featuring non-white characters and themes. The #OscarSoWhite furor of last year has been abated for this year's awards: Four of the nine nominees for Best Picture were centered on non-white stories and 7 of the 20 acting nominees were of African or South Asian descent.
(Of course, one year of a positive showing at the Oscars isn't necessarily an indicator of major change in the film industry…)

Meanwhile, Three Dollar Bill Cinema and Gay City are also gearing up for their annual Oscar Night Party happening Sunday, February 26 at the Egyptian Theatre. Tickets are available at different package levels and you can also now vote in their fun RAINBOW CINEMA AWARDS, where you get to choose YOUR winners for Best Films of 2016.
They've also announced the hosts for this year's show and it's rather nice to see that they've stepped out of the glitter box for a change and booked two local queer comedians, Elicia Sanchez and Nick Sahoyah as hosts. (Yes, we adore drag stars and burly q stars but there are OTHER kinds of performers in the world…)
Here's some more info:
The Academy has announced their short list for the Oscars, and now is the time for you to cast your votes for our Rainbow Cinema Awards! All winners will be announced at our 12th Annual Academy Awards Party.
February 26, 2017

at Egyptian Theatre
Join Three Dollar Bill Cinema and Gay City with comedic hosts Elicia Sanchez and Nick Sahoyah to celebrate our community, raise money, and watch the Academy Awards Live!
Your ticket includes food, cash bar, stars on the big screen, and fabulous commentary by our hosts.
VIP Tickets include upgraded food, reserved premier seating, and complimentary sparkling wine!
$25 General Admission, $125 VIP
(Visited 1 times, 1 visits today)