Who doesn't love DITA VON TEESE, the beautiful yet brainy burlesque star/muse who became the gorgeous ring leader for the "New Burlesque" revival movement? She's smart, sexy and while she's a throwback to the classic beauties of the Golden Age of Show Business, she's also freshly modern and au courant. DVT is equal parts Rita Hayworth, Gypsy Rose Lee and your favorite Rrrrrriot Girl Rebel. She's the kind of modern woman who appeals to everyone on your Friend list.
And, she's heading to Seattle next week as part of the West Coast leg of her current touring burlesque show, "Dita Von Teese's Burlesque: Strip Strip Hooray!" which is making its way up the coast with stops at Portland, Oregon's Roseland Theatre on April 21 and 22, 2016 (Go here for Portland tix!) and then a three night stay at The Neptune Theatre in the University District on April 24, 25 and 26th (Go there for Seattle tix!) Joining Dita will be some top notch names in Burlesque including Catherine D'Lish, Perle Noir and Dirty Martini.
Ms Von Teese took a break from her tour to have a chat with SGS about her show and what we can hope to see in "Strip Show Hooray".
---
Jeffrey Robert: How were you first exposed to Burlesque?
Dita Von Teese: I think it was when I saw the film Gypsy with Natalie Wood when I was 16 or 17. I also met Tempest Storm in the early 90s and that's when I started looking at vintage burlesque portraits and became inspired to try to create shows that I thought they might have been doing. This is pre-internet so I couldn't easily see footage apart from a few clips I had on VHS tape thanks to a friend that collected videos, and I was also coached a little over the phone by the founder of the Burlesque Hall of Fame, burlesque legend Dixie Evans. Apart from that, I really had to make up my own ideas of what I thought burlesque was, because there wasn't much to see to imitate. I had never seen any burlesque shows in real life either. My first shows were in 1992, so the scene was very small still, and I didn't really know any of the other dancers until I met Catherine D'Lish.
JR: When did you realize it was something that you wanted to do?
DVT: I became interested in reviving burlesque in 1991 when I was recreating vintage style pinup photos, and in my research, I found that many of the pin-up models back then were burlesque dancers, and they used the pin-up pictures to promote their acts. I then had the idea to do the same kind of thing. At the time, in addition to my job in lingerie in a department store, I was working in the Los Angeles nightclub scene as a go-go dancer, and I also started occasionally working in a strip club, where I decided to put my own a nostalgic spin on it. No one was doing that at the time. Between 1991 and 1994 I became known among fetishists, Bettie Page fans, retro enthusiasts, and also fans of Playboy, because I was posing for their monthly special editions. I began touring and performing at clubs all over the world doing my burlesque shows and signing pin-up photos and little paperback books I'd have printed. Over the years, my acts became more and more lavish… I started off in 1991 with a pair of small pink ostrich feather fans and a handful of Swarovski crystals I'd saved up for, and now, the shows have evolved into major spectacles of crystallization that require months and sometimes years to complete. Some of the shows have over 350,000 hand-placed crystals on the costumes and props, and every millimeter of my newest martini glass is covered in Swarovski crystal.
JR: Our audience is mainly LGBT folks (although not exclusively) – is there anything about burlesque that you think appeals specifically to an LGBT audience?
DVT: I'd say that my audience is mainly women and their partners and also LGBT…I think our show has this kind of appeal because many women view it as an inspiration to see these shows, especially ones like my full length revue "Burlesque: Strip Strip Hooray!" that has a diverse selection of performers of many shapes, ages, and ethnicities. Many of the burlesque fans see it as a way to feel beautiful and sexy without feeling the need to fit into the typical modern day standards of beauty, where the emphasis seems to be on unattainable, natural, bikini-model, so-called "healthy" looking tanned and slim bodies. Burlesque embraces artifice, fantasy, diversity, and it's an image that can be emulated by anyone who puts their mind to it, really. It's about sensual freedom, and the enjoyment of sex and fun of a playful nature. I think that the LGBT community responds to the show for some of the same reasons…I mean, it's no surprise that the feathers, rhinestones and glamour  have garnered me a strong gay following… but also,  we have a diverse cast of the very best burlesque performers that are quite known in their own right in the LGBT scene. This is a show that really celebrates those who dare to be different.
JR: I know you are a fan of "The Golden Age of Cinema" as are many of our readers, and as am I – who are a few of your favorite actors/actresses from that era and what resonates with you about their style and performing?
DVT: I was always a big fan of 1940s era technicolor musicals….Betty Grable, Carmen Miranda, Rita Hayworth…I love the big showbiz movies of that time. I grew up watching these kinds of films because my mother loved them, and so those women made a big impact on me and shaped my obsession with becoming like them.
JR: Who (else) or what inspires you? What gets the creative juices flowing?
DVT: Watching classic films and thinking about how to turn those musical acts in stripteases is one thing that has always inspired me. I also love taking classic burlesque ideas and finding ways to make them new again, to take them to places that they have never been before.
JR: You brought burlesque to television with your appearance on CSI – what was that experience like and what has the reaction been from people who were exposed to you on that show?
DVT: It was the second highest rated episode of all time! I'm proud of that! It did rustle some feathers, but it also opened me up to a new audience…the viewership was around 98 million worldwide, and it played all over the world. It was great exposure for me and for burlesque.
JR: Let's talk for a minute about your status as a Fashion Icon. You have your own line of clothes, is that correct?
DVT: I have my own lingerie line which is at Bloomingdales, Nordstrom and many online retailers. I had a capsule collection of dresses a few years ago, and I am working on a new collaboration soon.
JR: We need to mention that you have been an advocate in the fight against HIV and AIDS. How did you get involved in doing that and what has that work been like?
DVT: When I worked with The MAC Aids Fund as MAC Viva Glam spokesperson, I learned a lot about the crisis, and I learned a lot about the great work they are doing, and the strides that have been made thanks to the fund raised. The MAC Aids Fund is amazing. 100% of the selling price is going directly to helping people– not a portion of proceeds,  but every CENT of what a customer spends on the lipstick. Even though I don't officially work for MAC anymore, I still promote the sale of Viva Glam lipstick for them a lot, because they've raised over $500 million in revenue since RuPaul first launched it in the 90s, and that money has gone directly to help people, and that's major. The power of that lipstick is amazing! I have also performed at several of the AMFAR fundraisers as well, and they gave me their Award of Courage at an event a few years ago, which was a great honor.
JR: I understand that you will be performing your "Martini Glass" routine in the show. Where did the idea come for that, and can you tell us a little bit about what folks should know about that routine?
DVT: Catherine D'Lish was performing her champagne glass act for many years, and she and I teamed up and we came up with the idea for a dueling striptease with me in a martini glass versus her champagne glass. My martini glass was a first in burlesque history. We worked on the design of this new glass together and we sculpted a foam olive sponge. We copyrighted the designs of my glasses and the choreography that we came up with, and since then I've created various twists on my glass, using different types of cocktails with different garnish sponges, and different costumes and music. For this show, I have new male backup dancers outfitted in gorgeous Brooks Brothers tuxedos, thanks to my friend Zac Posen. It's going to be a lot of fun with the added element of the male dancers! But don't worry…the tuxedos come off pretty quickly, They look too good to stay covered up!
JR: Tell us a bit about the other folks who will be sharing the stage with you at the Neptune.
DVT: We have Murray Hill, who I would hope that your audience knows about by now! I can't do the show without him! We also have the amazing Dirty Martini and Perle Noire who are both major showstoppers. They are both performing new acts on this tour, and we also have newcomers to the show Jett Adore and Ginger Valentine, two performers I have always wanted to put in the show because I have been admiring their talents from afar for a long time. Catherine D'Lish, my best pal and co-collaborator on my acts is also performing, and lastly, I have those  two hot male backup dancers…
JR: I'm really looking forward to seeing your show. I know there are many others that are looking forward to it as well, but in case we have any fence-sitters, what would you like them to know that might convince them that this is a show they should see?
DVT: A lot of people love seeing this show over and over, that's why we've been touring to sold out crowds for four years. Many people even go alone to see it, because the energy is incredible and they meet new friends and have a blast even if they can't round up friends to come along. What we always hear is that they've never seen another show like it, and they're always impressed with how much show we give for $35. I'm very proud of our production, we have a top-notch cast and crew, so it's not like any other burlesque show in the world.  It's always been my goal to offer a show that people can go home feeling inspired and uplifted, and that's the feedback we always get after the shows.
JR: Is there anything else you would like our readers to know about Dita Von Teese?
DVT: I'll just say I hope they come see the show and see what it's all about!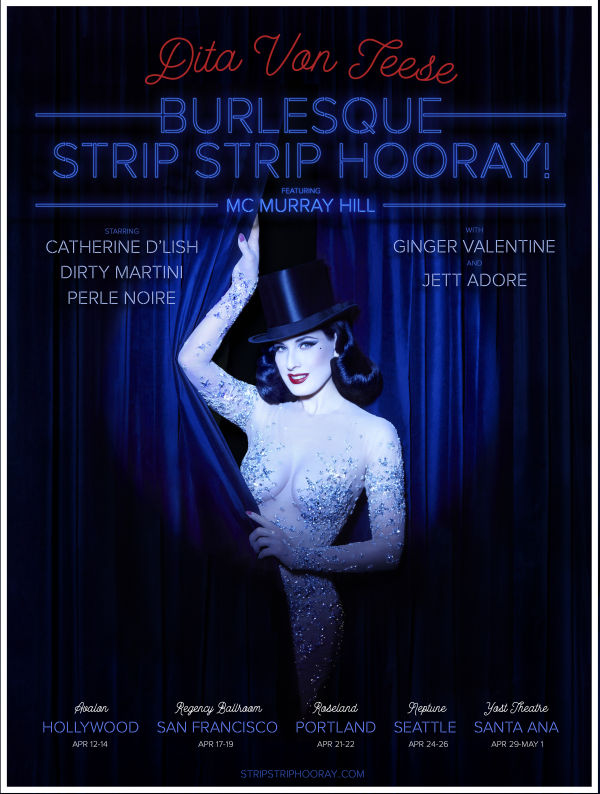 STG Presents
Dita Von Teese
Burlesque: Strip Strip Hooray Variety Show
Sunday – Tuesday
April 24 – 26, 2016
The Neptune Theatre
1303 Northeast 45th Street
Seattle, WA 98105-4502
Tags: Burlesque: Strip Show Hooray!, Catherine D'Lish, Dirty Martini, Dita Von Teese, Jett Adore, Perle Noire, STG, The Neptune