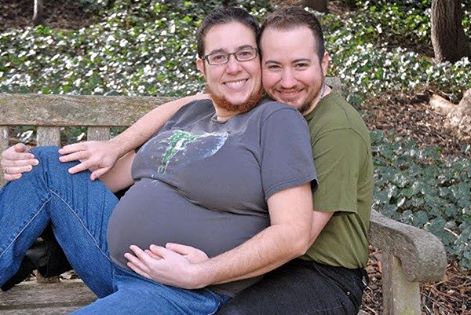 The 11th annual Translations Film Festival kicked off Thursday night at The Egyptian with the premiere of Major! about the life of trans activist Miss Major Griffin-Gracy.
The action now moves to various locations around Capitol Hill for the next three days with screenings and events at 12th Avenue Arts, Gay City Health Project and Northwest Film Forum.
Events for Friday, May 13th
include the US premiere of a locally made documentary. A Womb of Their Own examines the lives of transgender couples who choose to have children. It screens at 5 pm at Northwest Film Forum with stars of the film and film makers in attendance.
Tickets HERE!
More info:
Subjects Lorenzo and Imelio Ramirez in attendance, along with director Cyn Lubow and cinematographer Elayne Wylie! Questions about partnership, bodies, authenticity, family, and identity are all complicated—even before a child is added to the equation. A WOMB OF THEIR OWN shares the stories of masculine-of-center people at various stages of pregnancy and parenthood. In focused segments, individuals and some couples discuss their decision to birth a child, the unique struggle of navigating reproductive services catering to cisgender women, their shifting relationship to their shifting body, and what it means to deal with gender as a parent.
Highlights for Saturday, May 14 include the Seattle premiere of Pay it No Mind: The Life and Times of Marsha P. Johnson which examines the life of the Stonewall pioneer and transgender activist Marsha P. Johnson. It screens at 12 Noon on Saturday at Gay City Health Project as a Co-presentation with the Langston Hughes African American Film Festival. Two films will be screened at this event. Grab tickets HERE!
More info:
Pay it No Mind: The Life and Times of Marsha P. Johnson

T. Kebo Drew | 9 min.

Michael Kasino | 55 min.

Revolutionary trans activist Marsha "Pay It No Mind" Johnson was a Stonewall instigator, Andy Warhol model, drag queen, sex worker, starving actress, and "Saint of Christopher Street." Director Michael Kasino captures the legendary New York activist as she recounts her life at the forefront of the Stonewall Riots and (with Sylvia Rivera) the creation of Street Transvestite Action Revolutionaries (S.T.A.R.). This vibrant documentary features in-depth interviews with activist Randy Wicker, former Cockettes performer Agosto Machado, author Michael Musto, Hot Peaches founder Jimmy Camicia, and Stonewall activists Bob Kohler, Danny Garvin, Tommy Lanigan-Schmidt, and Martin Boyce.
Tags: A Womb Of Their Own, Pay It No Mind: The Life and Times of Marsha P. Johnson, Three Dollar Bill Cinema, Transgender Cinema, Translations Film Festival