Yes, it's time for this month's Capitol Hill Art Walk on the Second Thursday of the month, and since it's Pride Month, they've partnered up with Seattle PrideFest for the Queer Edition.
This month's walk features LGBTQ artists, queer themed shows and queer owned venues. The fun starts at 6 pm tonight (Thursday, June 9th) and lasts as long as each individual gallery/venue is open to the public. Most venues are open to the public; a couple are boozy so 21+ in those establishments obviously.
Here's a map for this month's event: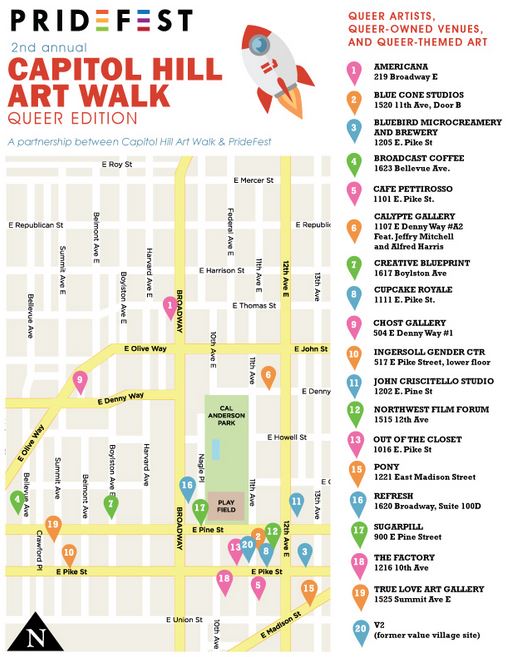 And, the list of venues.
Venues:
Americana 219 Broadway E
Blue Cone Studios 1520 11th Ave, Door B
Bluebird Microcreamery & Brewery 1205 E. Pike St
Broadcast Coffee 1623 Bellevue Ave.
Cafe Pettirosso 1101 E. Pike St.
Calypte Gallery 1107 E Denny Way #A2
Creative Blueprint 1617 Boylston Ave
Cupcake Royale 1111 E. Pike St.
Ghost Gallery 504 East Denny Way #1
Ingersoll Gender Center 517 E Pike Street, lower floor
John Criscitello Studio 1202 E. Pine St
Northwest Film Forum 1515 12th Ave
Out of the Closet Thrift Store 1016 E. Pike St
Pony 1221 East Madison Street
Refresh Frozen Desserts & Espresso 1620 Broadway, Suite 100D
SugarPill 900 E Pine Street
The Factory 1216 10th Ave
True Love Art Gallery 1525 Summit Ave E
V2 (former value village site)
Get more information at: www.seattlepridefest.org/queerartwalk
If you're more into movies, then go check out Three Dollar Bill Cinema and Northwest Film Forum's fun Pride Month event: Queer Fan Nights. Every week they'll screen a film curated and hosted by community members. Tonight, at 8 pm at Northwest Film Forum, check out A NIGHTMARE ON ELM STREET 2: FREDDY'S REVENGE !
More poo:
Three Dollar Bill Cinema and Northwest Film Forum have teamed up for a #Pride month series that will make you cheer with delight! It's an eclectic mix of fan favorites, hosted by avid queer fans ready to share (and defend) their picks.

Kick off each night with a pre-show happy hour in the Northwest Film Forum lobby from 7pm-8pm!

Horror fans Scott Carnz & Lance Park host A NIGHTMARE ON ELM STREET 2: FREDDY'S REVENGE…quite possibly the most gay horror film ever made!

Jesse Walsh and his family have moved into the home of the sole survivor of Freddy Krueger's 1984 killing spree. It isn't long before Jesse is plagued with nightmares and violent urges as Freddy's spirit seeks to possess his body, turning it into an instrument of MURDEROUS MAYHEM!
(Visited 1 times, 1 visits today)