From the Department of Dumb Decisions.
Whose idea was it to book controversial rapper/music artist Azealia Banks into the Capitol Hill live music venue Neumos on July 7, 2016? Apparently, some not so wise booker at Seattle Theatre Group thought it was a good idea…though if it's such a great match for them why didn't STG book Banks into one of their OWN venues, like the Paramount, the Moore or the Neptune? Instead, the homophobic star is booked into a venue at the heart of Seattle's queer neighborhood.
WHY would you do that?
Folks are already furious at the news. Neumos is getting the brunt of the criticism but they're just the venue; Seattle Theatre Group are "presenting" her. But, Neumos seems to be getting all the hate on their Facebook page post about the show.
Comments include:
"Disappointed that you guys would book such a hateful artist who repeatedly is in the news for using homophobic and racial slurs, which she was even recently banned from twitter for. Here's a video of her assaulting and spitting on a flight attended and calling him a "fucking faggot." http://www.tmz.com/…/azealia-banks-flight-homophobic…/ "
and
"You have GOT to be kidding. If she shows up on your stage, I'll never darken your door or Moe's or Barboza again. PLEASE think this though…Azealia Banks in CAPITOL HILL???"
and
"Is this a joke? not only would you have an empty venue but a very angry community. CANCEL THIS BOOKING SHE IS A TERRIBLE HUMAN BEING"
and
"Was juuuuuuuuusssssst about to by my tickets for Gender Blender @ Neumos as part of Pride Month #was "
and
"Out of respect for our Capitol Hill community, please cancel this show. Do the right thing Neumos "
One angry comment writer created this poster to express their anger: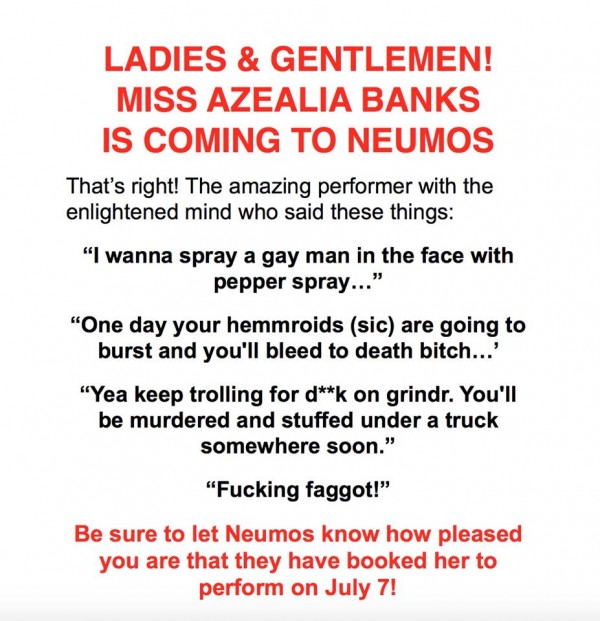 The 25 year old rapper self identifies as bisexual but has earned the ire of the LGBTQ community for blunt, rude and homophobic statements on social media and in the public including frequent use of the word "faggot".  While some admire her for her bold statements and fights for racial and gender justice, she's also come under fire for publicly supporting Donald Trump.
"I have no hope for America…I think Donald Trump is evil like America is evil and in order for America to keep up with itself it needs him…politicians are inherently evil, I trust the one who is most transparent."[60]

Azealia Banks
Oh, and to be clear we don't think she should be dropped. It's a free country; if you don't like her, don't go to her show. But, she shouldn't be performing on Capitol Hill…it's the wrong location for this event. Move it to the Neptune in the U-District.
We've reached out to Seattle Theatre Group for a comment.
(Visited 1 times, 1 visits today)