Seattle PrideFest has released the schedules for both days of their two day festival which will be on Capitol Hill this Saturday, June 25th at the LightRail Station lot on Broadway & Denny and Cal Anderson Park, and at three stages at Seattle Center on Sunday, June 26th, after the official Seattle Pride Parade.
PrideFest is also producing their FAMILY PRIDE and QUEER YOUTH PRIDE events in Cal Anderson Park adjacent to the Capitol Hill PrideFest events at the LightRail Station on Saturday. Family Pride will last from 1 to 4pm and feature the popular "Drag Queen Story Time" from previous years. From 4pm to 7pm, Queer Youth Pride will take over with more events geared towards teens/under 21. All PrideFest events on Saturday and Sunday are FREE to the public but there will be opportunities to donate money to help PrideFest put on their many events. (There's also a special "Back Stage VIP Pass" available for purchase for Sunday's PrideFest events. Details at the end of this post!)
FAMILY PRIDE: 1-4PM Cal Anderson Park
Drag Queen Storytime
Kid-friendly entertainment
Educational and engaging activities
Bounce houses
QUEER YOUTH PRIDE: 4-7PM Cal Anderson Park
Presented by PrideFest and Gay City
Spoken Word
Queer Youth Performers
Educational Activities
Share your story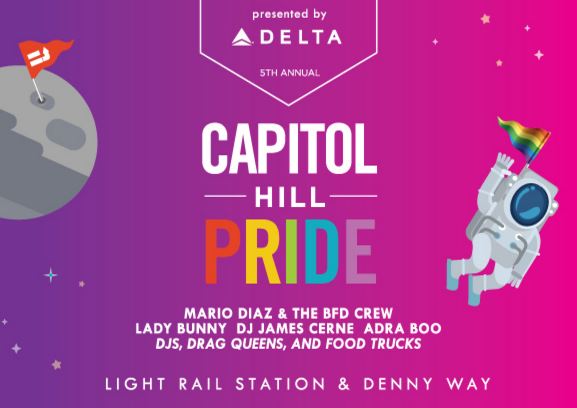 CAPITOL HILL PRIDE
(SATURDAY, JUNE 25 @ SOUND TRANSIT LIGHT RAIL LOT – BROADWAY/DENNY)
hosted by: Mark "Mom" Finley
12:00/Noon Kid Amiga/Andy Iwancio
1:00 DJ Toya B
1:30 RainbowGore Cake
1:45 DJ Toya B
2:15 Adra Boo
2:30 Mr Charming
3:00 ArtStar
3:30 Mr Charming
3:45 Jianda Monique
4:00 Mario & BFD Crew w/ DJ James Cerne (LA)
Candis Cayne cameo
5:00 Brandon Lentz
5:15 DJ Barbeau of Dirty Sanchez/MNLS (LA)
6:00 Lizzy Rose
6:15 Lady Bunny
7:15 SHE (God Des & She)
7:30 Tony Burns/LA Kendall
8:00 DJ Mixxtress / Christina Kairuz
The main Festival, on Sunday at Seattle Center, kicks off at Noon. The schedules for each of the three stages below and note that at 4 pm there will be a memorial for Orlando Pulse on all three stages.
PRIDEFEST SEATTLE CENTER
(SUNDAY, JUNE 26 NOON-8PM)
MAIN STAGE (SOUTH FOUNTAIN LAWN)
hosted by: Aleksa Manila and Mama Tits
12:00 DJ Toya B
12:50 Gold's Gym
1:00 Seattle Ladies Choir
1:20 Wedding Reception
2:00 Kristine W
2:30 Mama Tits
2:35 Lady Bunny
2:50 Big Freedia Teaser
3:00 Candis Cayne
3:25 Whim W'him
3:40 Aleksa Manila
3:45 Cazwell
4:00 Orlando Memorial
4:20 Robbie Turner
4:45 Ron & The Dancers
5:05 Whitney Monge
5:30 Honey Bucket
5:45 Drag Kings
6:05 Prince/Bowie Tribute
6:30 Molly Harden
FOUNTAIN /DJ STAGE
Hosted by: Alexis Campbell Starr, Honey Bucket, Ursula Major
12:00 DJ Tony Burns
1: 30 PERFORMANCE: Alexis Campbell Starr
1:40 DJ Riz
3:00 PERFORMANCE: Rainbow Gore Cake
3:05 DJ Bret Law
4:00 Orlando Memorial
4:35 PERFORMANCE: Honey Bucket
4:30 Cazwell
PERFORMANCE: Ursula Major
6:00 Mr. Charming/Kiss Off Takeover
MURAL STAGE
DJs between sets: Kid Amiga and DJ Toya B
12:45 Whitney Monge
1:30 Mirror Gloss
2:15 She (of God Des & She)
3:00 Princess Superstar
3:45 Big Freedia
4:00 Orlando Memorial
4:40 Chanti Darling
5:25 Garlic Man and Chikn
If you'd like a place to chill while at PrideFest on Sunday and you also enjoy hanging out with the talent, then snag a VIP Backstage Pass that gets you exclusive access to the talent as well as drink tickets and great photo opps. Go HERE to grab yours.
Tags: Pridefest, PrideFest Schedule, Seattle Center, Seattle PrideFest