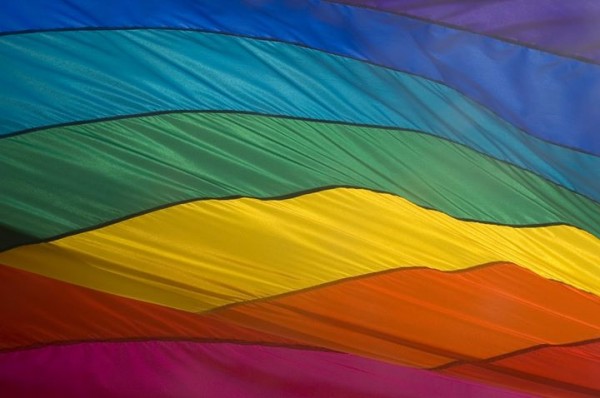 Hang on, Kidz…buckle those seat belts, keep your hands within the car, and secure all belongings.
SEATTLE PRIDE WEEK 2016 HAS BEGUN!!!
It's exciting that it's that time of the year…when Lesbian, Gay, Bi, Trans, Queer People and their Allies can gather together to express who they are. AND, equally important that we can demonstrate to the world that LGBTQ people are proud AND a force to be reckoned with…Pride IS Political. We ARE making a statement by being Out in public and demonstrating who we are. It doesn't matter HOW you display your queerness…loud mouthed drag queens, dykes on motorcycles, protest sign carrying political queers, leather daddies and their "pups" are all visible and bold and subversive reminders that we're Here and Queer but so are the Sweater Dads with their kids and the Soccer Mom Lesbian couples and the "non-scene" types in t-shirts and jeans.
It's our time of the year to be bold and proud and determined to be equal and valued and respected as people.
It's also going to be a tough pride for us, emotionally. It's a week after Orlando/Pulse…our hearts are very heavy right now. There WILL be tears this week and a lot of hugs. Some of us aren't ready to be out in public. The grief is still too raw and palpable right now. That's ok…if you're not ready to face the world, you don't have to.
And, let's be honest…we have fear, too. Fear of crowds and public spaces and unknown quantities. Fear that it could happen again.
But, let's try to NOT give in to that fear. Let's try to be brave and strong and present ourselves to the world.
Pride IS Political. Make a political statement by displaying your Pride in whatever form you can muster this year.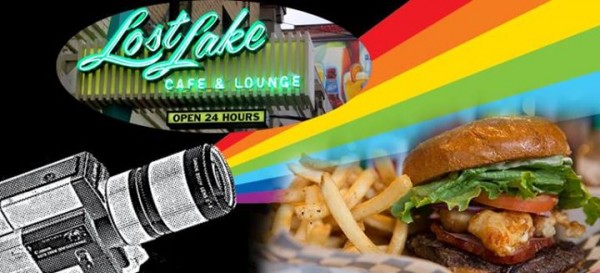 Check out our Pride Guide for options to celebrate YOUR form of Pride expression. It's not all "booze, go go dancers, braying drag queens and opportunities to become a drunken hot mess". (If that's your scene…go for it! Just be smart and keep your wits about you!)
Tuesday, June 21 is very low key with only a couple events of interest. You can help out the terrific program REEL QUEER YOUTH, the summer filmmaking camp for LGBTQ youths by eating at Lost Lake Diner on Capitol Hill tonight. 10% of proceeds will go to REEL QUEER YOUTH just one of Three Dollar Bill Cinema's fantastic yearly programs.
There's also the annual "Out & In" comedy show hosted by the adorable Nick Sahoyah and Elicia Sanchez and this year starring Nico Santos. It's at the Egyptian Theatre this year instead of The Neptune which makes WAAAAAAY more sense. We don't know much about this show since no one involved bothered to send us much info, but we're always happy to support Mr. Sahoyah and his endeavors.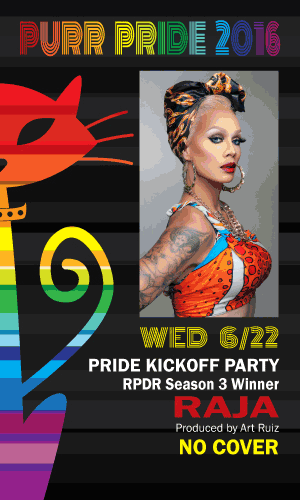 Wednesday, June 22 picks up a bit with a handful of "Pridey" things going on including a NO COVER party at Purr with the winner of "RuPaul's Drag Race" Season 3, the one and only RAJA plus local drag star Andrew Scott and DJ/Producer Art Ruiz on hand. It's a mellow way to kick off your Pride celebrations.
We'll get ahead of ourselves and also mention that Purr also has the very popular "RPDR" Season 7 star, TRIXIE MATTEL on hand for Thursday, June 23 with local talent Fraya Love in support. This is ALSO a NO COVER event courtesy of Barbie, Art and the Purr Team!
(You WILL have to pay a cover for Purr's big, annual, outdoor Pride Street Party on Saturday with the Perry Twins, though!)
For fans of "Alterna Drag" the wacky kids at ArtHaus have whipped up a fun Wednesday PRIDE OF ARTHAUS party down at their homebase bar at Kremwerk. The former Seattlite/LadyDude but in town for Pride Week, Cherry Sur Bete and the rapidly recovering Shelita Potroast  will host with all the krazy "hauses" of ArtHaus scheduled to perform.
Also on Wednesday: a quickly thrown together benefit for Orlando. LET YOUR LOVE SHINE is happening at Neumos with a $10 cover and proceeds to go to Orlando Pulse victims.
Thursday, June 23 really starts to sizzle with Pride events with the major one being the eagerly awaited return of San Francisco Diva PEACHES CHRIST and her fantabulous, huge campy, live stage parodies of beloved films. This time she's bringing WHATEVER HAPPENED TO BIANCA DEL RIO? to Seattle's Egyptian Theater, her twisted send up of the beloved Bette Davis/Joan Crawford gothic horror from the 60s with "RPDR" Season 6 winner BIANCA DEL RIO starring alongside Peaches and a bevvy of local Seattle queens in support including MAMA TITS, SYLVIA O'STAYFORMORE and rising new star ABBEY ROADS. There are TWO shows that night, at 7 pm and 9 pm with a portion of proceeds from the 9 pm show going to Orlando Pulse Relief. A FEW tickets remain for this big, comedy extravaganza…don't miss out!
If you're interested in seeing yet another "RuPaul's Drag Race" star, Neighbours and Stripper Circus have Season 8 runner up NAOMI SMALLS on hand for their big naughty night of debauchery.
If you're looking for Drag KING fun, then check out Dapper Downs fun "PRIDE PRE FUNK" party at Re-bar with special guest SPIKEY VAN DYKEY making their Seattle debut all the way from Florida plus DJ Trinitron and other special guests with proceeds going to support Orlando.
That's just a FEW of the events happening. Check out tons more at SEATTLE GAY SCENE'S PRIDE GUIDE!
(Visited 1 times, 1 visits today)