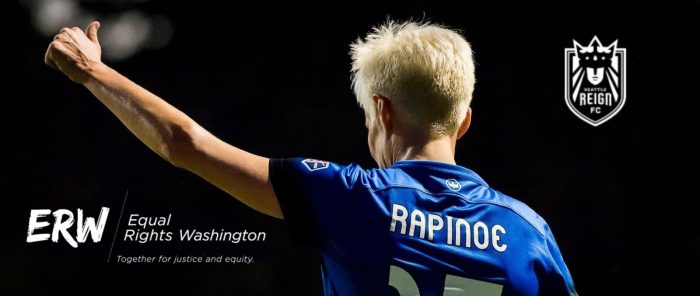 Something for fans of sports to do during Seattle Pride Week…See jocks do their thing!
All the major pro sports teams currently in season are offering up Pride Week nights where the LGBTQ Community can enjoy sporting events. First up will be the Seattle Mariners this Saturday followed by Seattle Storm, Seattle Reign and Seattle Sounders next week.
Here's more info and links to grab tickets/packages that also benefit the GSBA Scholarship Fund!
Equality is a Team Sport: 2018 Pride Games
GSBA has your tickets to this year's professional Pride Games! Be loud, be proud, be part of the fun, all while supporting GSBA's Scholarship Fund.
Tickets purchased through the links below will contribute $5 per ticket to the GSBA Scholarship Fund. The GSBA Scholarship Fund, founded in 1991, awards scholarships to LGBTQ and allied students who exhibit leadership potential, demonstrate strong academic abilities, and are actively involved in school and community organizations.
Thank you to the Mariners, Sounders, Storm, and AquaSox for all you do to support the GSBA Scholarship Fund!
---

June 16, 5:15pm

Join us for Pride Night as the Mariners take on the Boston Red Sox!

Five dollars of each ticket purchase goes back to the GSBA Scholarship Fund!

MATCH: Seattle Mariners vs. Boston Red Sox
DATE: Saturday, June 16, 2018
TIME: Pregame event begins 3:15pm, game begins 5:15pm
LOCATION: Safeco Field
THEME: Pride

DONATION: $5 of every ticket purchased through the pride ticket offer will be donated to GSBA Scholarship Fund.

TICKETS:Purchase tickets via this link to donate $5 to the GSBA Scholarship Fund and receive a limited edition, wearable Pride flag (while supplies last).

This special offer is online only and is not available at Team Stores or box office outlets. Please contact Elizabeth McCloskey at (206) 346-4519 with any questions.



Safeco Field
June 22, 7:00pm
Seattle Storm vs. Indiana Fever

Join us for Pride Night as the Storm take on the Indiana Fever!

Five dollars of each ticket purchase goes back to the GSBA Scholarship Fund!



MATCH: Seattle Storm vs. Indiana Fever
DATE: Friday, June 22, 2018
TIME: 7 p.m. PT
LOCATION: KeyArena
THEME: Pride

DONATION: $5 of every ticket purchased through the pride ticket offer will be donated to GSBA Scholarship Fund.

TICKETS: Purchase a ticket via this link to donate $5 to the GSBA Scholarship Fund. Questions? Contact Erika Moulder at 206.272.2540 or EMoulder@StormBasketball.com

 KeyArena
June 23, 1:00pm
Seattle Reign FC vs. North Carolina Courage

Join us for Pride Night as the Seattle Reign takes on the North Carolina Courage!

Five dollars of each ticket purchase goes back to the GSBA Scholarship Fund!

MATCH: Seattle Reign FC vs. North Carolina Courage
DATE: Saturday, June 23, 2018
KICKOFF: 1:00pm
LOCATION: Memorial Stadium
THEME: Pride

DONATION: $5 of every ticket purchased through the pride ticket offer will be donated to GSBA Scholarship Fund.

TICKETS: Purchase a ticket via this link to donate $5 to the GSBA Scholarship Fund!

Memorial Stadium
June 23,
7:00pm
Seattle Sounders vs. Chicago Fire

Join us for Pride Night as the Sounders take on Chicago Fire!

Five dollars of each ticket purchase goes back to the GSBA Scholarship Fund!

MATCH: Seattle Sounders vs. Chicago Fire
DATE: Saturday, June 23, 2018
KICKOFF: 7 p.m. PT
LOCATION: CenturyLink Field
THEME: Pride

DONATION: $5 of every ticket purchased through the pride ticket offer will be donated to GSBA Scholarship Fund.

TICKETS: Purchase a ticket via this link to donate $5 to the GSBA Scholarship Fund and receive a limited edition, clear Sounders FC Pride fanny pack!

CenturyLink Field
June 25, 7:05pm

Everett AquaSox vs. Tri-City Dust Devils

Join us for Pride Night as the Everett AquaSox take on the Tri-City Dust Devils!

Thank to the AquaSox for their generous donation of $1,000 to the GSBA Scholarship Fund as part of 2018 Pride Night!

MATCH: Everett AquaSox
DATE: Monday, June 25, 2018
FIRST PITCH: 7:05pm
LOCATION: Everett Memorial Stadium
THEME: Pride

TICKETS: Purchase tickets through this link with code PRIDE to receive an Upper Box ticket and Pride Night hat! Purchase your ticket before June 8 to guarantee your hat at the game.

For more information or questions contact Jason Grohoske at 425.258.3673 or via email.

Everett Memorial Stadium
---
2018 PRIDE Sponsors


Platinum Partner

Gold Sponsors


(Visited 2 times, 1 visits today)