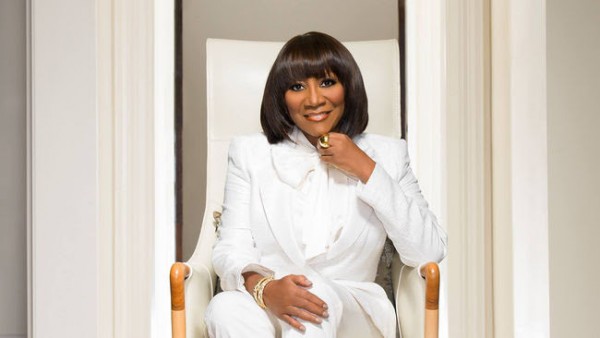 We LOVES Miss Patti LaBelle! "The Godmother of Soul" or the original "Lady Marmalade" or just the "Divine Miss Patti"…she's coming to Seattle on Tuesday, July 19, 2016 for a one night stand at Benaroya Hall, 200 University Street in downtown Seattle.
Grammy-winning R&B diva Patti LaBelle has blown audiences away ever since she and her '70s group Labelle belted out "Lady Marmalade." In the years since then, the powerhouse performer has piled up accolades for a songbook that includes her No. 1 duo with Michael McDonald, "On My Own," along with "New Attitude," "If You Asked Me To" and "If Only You Knew." Her soaring voice has graced the halls of the Apollo Theater, the Metropolitan Opera House and the White House. Now you can see the unstoppable LaBelle as she visits classic tracks and her gospel music roots in concert at Seattle's Benaroya Hall at the Mark Taper Foundation Auditorium.
You can grab $20 seats to see Miss Patti LaBelle over at Goldstar, if you move quickly!! Go HERE!!!
I actually have a personal Miss Patti story to tell….if you like my anecdotes, then pull up a seat. (If not, go out and look for Pokemon….) Many, many, MANY years ago (1989) I lived in Kansas City and worked at the downtown Radisson Hotel and Miss Patti came to town for a show with James Ingram (remember him?) opening for her. According to in-house hotel gossip, both Miss Patti and James were to stay at our hotel but (per the gossipy Sales Department) Miss Patti vetoed that plan when she found out we didn't have BET on our in-house cable TV system…and, apparently Miss Patti REALLY liked unwinding after a show with a little BET. So, she ended up at the Marriott.
Frankly, I always found that story to be a bit fishy….frankly, I think the hotel "lost" Patti because she didn't want to stay at a Radisson, or at least our Radisson which was a nicely remodeled old downtown hotel but with rather small rooms. Also, the Sales Department was headed by a vapid Barbie Doll whom I loathed. We had k.d. lang at our hotel once and in a staff meeting Ms Barbie Sales Head referred to her as "dykey" which I called her out on. She did apologize but she gave me the side eye after that.
I digress.
Anyway, Miss Patti stayed away, to the front desk staff's chagrin (we were all gay men and black women…I think we had one token straight white female clerk) but we did get James Ingram who was attractive but rather surly.  However, Mr. Ingram's entourage was pleasant and some minion of his graced the front desk with 4 comps to see the show so 3 of us gay boys and one of our African-American female clerks very excitedly made plans to go see the concert.
But, once we got there we discovered that the minion hadn't given us actual seated tickets…we had backstage passes (!!!!) but the show itself was officially sold out and there really wasn't anywhere for us to actually SEE the show. Our passes essentially got us in the Green Room but neither Miss Patti or James Ingram hang out THERE; it's mostly the band and flunkies plus we wanted to see the show.  We did hang out for a bit backstage but…it wasn't that exciting to tell the truth and we felt obtrusive. Fortunately there were no-shows and we wheedled our way into actually sitting in the auditorium to experience the show.
James Ingram performed first…he was ok. He did all his big hits including "Just Once" and "One Hundred Ways". He had a gorgeous voice but not much stage charisma. James was a handsome stick. OK, but…bring on Miss Patti!
NEXT!
Oh, I forgot to mention the fact that the audience was (not surprisingly since it's Kansas City) overwhelming African-American. I don't know the capacity of the theater but let's make it easy with the math and say it was 1500 seats….and 1300 of those seats were filled by black folks. And, the 200 white folks that were there, were mostly gay white men who LURVED Miss Patti and probably of those 200 gay white men lurving Patti, 50 of them were QUEENS who RAAAAAAAALLLLLY lurved Miss Patti!
So, while the audience liked and enjoyed James "The Stick" Ingram, they went ballistic went Miss Patti finally came out for her set. The theater LEVITATED with their excitement…which was fun. Because, you see, I wasn't really a huge Miss Patti fan…I mean, I liked her (who doesn't not like Patti LaBelle?) but I didn't own any of her albums (maybe a single of "Lady Marmalade"?) I was just there for the fun of it and the free ticket. But, it was great fun and mostly due to Patti LaBelle being a brilliant, giving performer and the enthusiasm of the crowd. At one point, Patti kicked her shoes off and one went flying into the audience and some queen snagged it. After the number, Miss Patti indicated to the Queen "I want my shoe back! Bring it to me!" and they brought him up and he about lost his mind with the excitement and he got to do a bit of a vamp with Miss Patti then floated back to his seat, one very happy queen.
At this point, the audience was just nutty with excitement and was really loving this audience participation bit but oddly enough, the older African-American gentleman I was seated next to leaned over to me at this point and bellowed into my ear, "Would you sign my petition to help get a new school crossing installed in front of Lafayette Elementary?" or something similar and I just turned and looked at him and said "Uh, what? You're asking me NOW to sign a petition in the middle of a concert?" And, he just smiled and offered a clipboard and pen…I think I signed it. I don't really remember that part…I was just rather stunned and amused by this odd non-sequitur moment. And, after that brief break, we both went back to enjoying the Miss Patti LaBelle concert.
I never did find out if Lafayette Elementary got that new cross walk.
(Visited 1 times, 1 visits today)