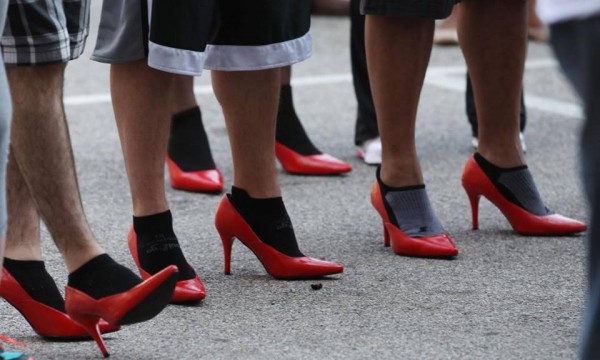 We know you drag fans (of which there are so very many) really enjoy the spectacle of "Jocks in Frocks" aka "masculine" non-scene dudes dressing up in drag for shits and giggles. They're so awkwardly endearing…and, most of them learn valuable lessons about femme-ness and being on that side of the queer spectrum while doing so.
Also, let's be frank. "Butch" men in drag are kinda hot…there's something arousing about a square jaw covered in pancake make-up and hairy legs shoved into fishnets that is just sort of….alluring in a filthy sort of way.
Well, if you're tired of re-watching all those old episodes of "RuPaul's Drag Race" where they would make-over so called "he-men" for drag challenges then you can check it out in person at the 8th Annual "Seattle Squadron Duets" show at Chop Suey this Sunday evening, July 17th from 7pm to 9pm. Every year the Seattle Squadron stages a fundraiser (it used to be at Julia's but outgrew the space) to get themselves to where ever the Gay Softball World Series is, that features their players donning drag and doing numbers to the delight of amateur drag fans that attend the show which is always hosted by a "pro" drag diva. This year, our returning hometown gal, GAYSHA STARR is the Diva in Charge of all the Shenanigans.
Oh, and if the sheer joy of Jocks donning Frocks isn't enough to tempt you, you can also potentially win tickets to the sold out Adele concert or Sia concert!!!!
Snag tickets HERE and more info down below!!
SEATTLE SQUADRON SOFTBALL ARE HEADED TO THE WORLD SERIES IN AUSTIN!

To help get us there, join us for "Squadron World Series Duets"!
Hosted by Seattle legend, GAYSHA STARR!

Squadron players, and friends of the Squadron, will perform their individual numbers…..and then……they'll come back to the stage to perform a DUET!
GET READY TO HAVE A BLAST!

SPECIAL GUESTS include LA SAVEONA HUNT – LICKI MASSAGE – KARMEN KORBEL & MORE!

AND GET READY FOR THIS!! Returning to the stage for this special event – MISS TAPATIO!

There will be lots of great prizes, like tickets to see ADELE & SIA!

CHOP SUEY – JULY 17 – Doors at 6pm Show at 7pm $15 21+
Chop Suey will be fully staffed, with all of their bars open and stocked, ready for you to bring EVERYONE YOU KNOW to enjoy the show!

BUY YOUR TICKETS NOW, TO HELP THE SQUADRON GET TO THE WORLD SERIES IN AUSTIN!

Buy your tickets here:
https://www.ticketfly.com/purchase/event/1232015
Tags: Amateur Drag, Chop Suey, Gay Softball World Series, Jocks in Frocks, Seattle Squadron