Seattle's Holocaust Center for Humanity is hosting a very special exhibit of interest to LGBTQ people and allies who study and appreciate queer history. "Nazi Persecution of Homosexuals, 1933-1945" is a traveling exhibit created by the United States Holocaust Memorial and has been traveling the country for the last couple of years. The exhibit is on view at the Holocaust Center, 2045 2nd Avenue (near Lenora) through October 31, 2016. Reservations are required; go here to make them.
While the persecution and murder of gay people in Germany and Nazi occupied Europe obviously paled in comparison to the Jewish Holocaust that claimed over 6 million lives, centers such as Seattle's Holocaust Center for Humanity, the United States Holocaust Memorial Museum and other such organizations around the world are dedicated to preserving the memory of all people victimized by systematic oppression and persecution.
Despite the fact there were several prominent early Nazis who were homosexual men including Ernst Röhm who was a close friend to Hitler and the founder of the Nazi's Storm Troopers, as the Nazis came to power they purged many (including Röhm) in a bloody night of murder known as "The Night of Long Knives" in 1934.
Berlin, Germany's capitol and largest city was a Mecca for queer people in the period between World War I and the rise of the Nazis. During this time, known as the Weimar Era (or, "The Cabaret Years" for fans of the Broadway musical/hit movie based on Christopher Isherwood's 'The Berlin Stories' which was set in this period). It's estimated that between 50,000 and 100,000 queer people lived relatively open lives in the "Roaring 20s" of "Gay Berlin" with dozens of bars and nightclubs catering to both gay men and lesbians as well as groups, associations, clubs and magazines dedicated to gay art, entertainment, and education. And, thousands of gay men and women from around the world flocked to Berlin in this time frame, some to just enjoy a quick fling of "sex tourism" but with others coming for longer stays and some to live in a city that seemed to be the "gay Eldorado".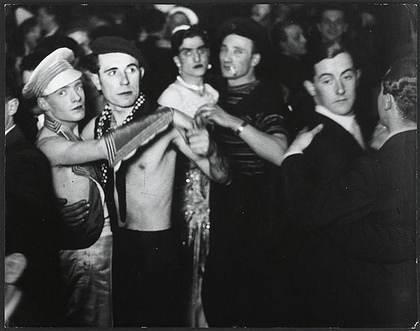 But, all that changed in 1933 when the Nazis came to power. The official line of the Nazi Party was that homosexual men were:
…a "degeneracy" that threatened the "disciplined masculinity" of Germany. (Homosexuals were) denounced as "antisocial parasites" and as "enemies of the state"….
Under "Paragraph 175", the German law that criminalized homosexuality, gay men were originally prosecuted for homosexual acts. But, the Nazis began interpreting the law to include INTENT…gay men were soon imprisoned for simple "looking" or even touching another man. Under these strict laws, as many as 50,000 men served prison terms while others were institutionalized in hospitals and some were castrated. Records are sketchy but it's estimated that between 5,000 and 15,000 homosexual men were sent to concentration camps, branded with the "Pink Triangle" on their uniforms signifying they were being imprisoned for their sexuality in contrast to the Jewish prisoners who wore the Yellow Triangle. Though not as many "pink triangles" were immediately murdered upon arrival in the camps, many still died from disease, starvation and abuse.

Meanwhile, the Nazis tended to ignore lesbians (unless they were Jewish or openly in opposition to the Nazis) since women were really only valued as "brood mares" by the Nazi regime and despite their sexuality, were still thought capable and encouraged to provide the German state with children. Obviously, all lesbian groups were abolished and any gathering of lesbians would be shut down by authorities.

But, regardless of gender or sexuality, all people are encouraged to check out this powerful exhibit at the Holocaust Center for Humanity.
More info:
Nazi Persecution of Homosexuals, 1933-1945 – Exhibit

September 11 – October 31, 2016 | On display at the Henry and Sandra Friedman Holocaust Center for Humanity.

Nazi Persecution of Homosexuals 1933–1945 is a traveling exhibition produced by the United States Holocaust Memorial Museum. Through reproductions of historic photographs and documents, this exhibition explores the rationale, means, and impact of the Nazi regime's persecution of homosexuals, which left thousands dead and shattered the lives of many more.

Plus: Photos from Robin Hammond's evocative photo project Where Love is Illegal, which tells the story of LGBTQ persecution today.

Special thanks to our sponsors:

Gilman Family Foundation | Pride Foundation | Greater Seattle Business Association | Carter Subaru | 1st Security Bank | Congregation Tikvah Chadashah | LifeLong AIDS Alliance
(Visited 1 times, 1 visits today)