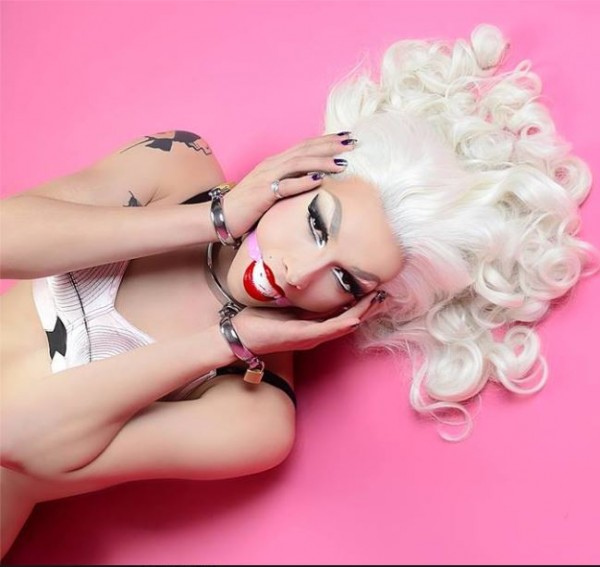 FINALLY!!! Something to do those two dreary days BEFORE the holiday season begins!
Seattle's adorable duo (onstage and off) of Kitten 'n'  Lou just announced they're bringing their draggy/burly show CREAM to Seattle venue The Triple Door for three shows on November 22 and 23, 2016. That's the Tuesday and Wednesday before Thanksgiving so unless you're a Grandma slaving away in the kitchen basting the turkey and curdling the gravy, you're free to join them plus special guests like Cherdonna, hostess BenDeLaCreme and The Atomic Bombshells for their "outrageously glamorous confection of a show" which has enjoyed sold out runs for the last couple years at the Southern Decadence festival/orgy in New Orleans.
And, joining them as a special headliner, the winner of RuPaul's Drag Race Season Seven, VIOLET CHACHKI! It's been awhile since this fashionable diva visited the Emerald City so it's a rare treat to get to see her live and in person.
CREAM! is the perfect pre-TDay snack before the holidays…especially for fans of this group of local cabaret stars. It'll help feed the habits of the many Kitten 'n' Lou / BenDeLa / Cherdonna addicts in town and help them make it to the premiere of this year's version of "Homo for the Holidays" their beloved holiday show which opens December 9th at Oddfellows Hall on Capitol Hill.
More on CREAM! including the ticket link!
CREAM!
A Spanksgiving feast of decadently sickening burlesque, drag, and cabaret

Starring RuPaul's Drag Race Season 7 WINNER,
Violet Chachki

Hosted by Seattle's own BenDeLaCreme! (RPDR Season 6)

November 22nd, 7pm
November 23rd, 7pm and 10pm

The Triple Door, 216 Union St, Seattle

Tickets $30-$45:
http://tinyurl.com/CREAMSEATTLE

VIP SEATING AVAILABLE

Featuring:
Violet Chachki (RPDR winner, season 7)
Kitten N' Lou (Voted #1 Burlesque Act in the World)
The Atomic Bombshells Burlesque
CHERDONNA (certified dance Genius)
and surprise guests!

(Visited 1 times, 1 visits today)