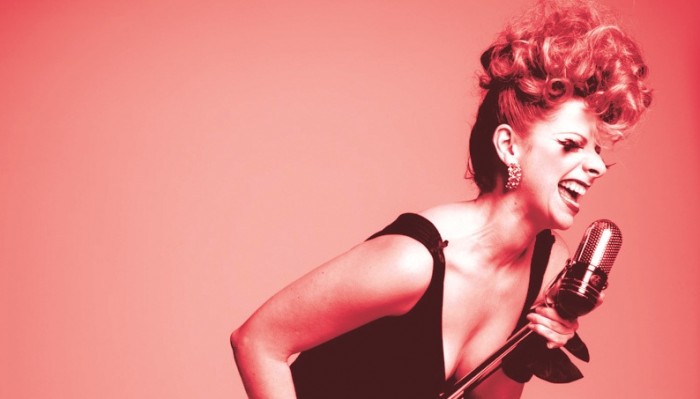 Last month, devoted fans of the legendary JUSTIN VIVIAN BOND lined up for the inaugural show of the new collaboration between Joe's Pub at the Public, an iconic cabaret performance series at New York City's Public Theatre (and named after beloved Public Theatre leader, Joe Papp), and Seattle's own and equally beloved Teatro ZinZanni. The new late night monthly series will bring big name cabaret artists to Seattle under the glorious roof of the Spiegeltent on Mercer Street across from Seattle Center.
Next up in the fantastic Joe's Pub series at Teatro ZinZanni….the one and only LADY RIZO!!! The Grammy winning comedian and chanteuse has wowed audiences from Edinburgh to Gotham City to the drizzle drenched streets of Seattle (and every place in between). The Lady Rizo is also currently starring in Teatro's mainstage production of "Welcome To Wonderland" through February 26, 2017 but Saturday night's late night offering is your main chance to see the artist vamp her way through her cabaret act.
And, it's also an opportunity for fans of iconic "High Priestess of Soul" NINA SIMONE as this show will pay tribute to that legendary artist.
And, joining Lady Rizon onstage will be several notable local singing sensations. Special guests Whitney Mongé and Adra Boo – Lead Singer from Fly Moon Royalty will join Lady Rizo along with Kyle Bertness, Evan Flory Barnes, Steve Aman, Jesse Brooke & Bill Marsh.
Tickets are still available. Snag them HERE!!!!
ALSO be sure to note the final night in this new partnership between ZinZanni and Joe's Pub for 2016: MOLLY POPE hits the Spiegeltent on Saturday, December 17th.
Critically-acclaimed cabarettist and madcap human, brings you an evening of thrilling song and pungent storytelling in An Audience with Molly Pope. Drawing from a catalogue of recontextualized pop, theater and standards, the "viscerally thrilling alto" (Time Out New York) simultaneously builds and deconstructs a superstar persona several times over.  Part concert, part free-flow banter, part sing-a-long, she gleefully exploits her life experience while paying it wry tribute. With her "powerhouse vocals and sassy wit" (Out.com), she takes the evening back to the heyday of New York City nightclubs.
Please note that this series is a 21 & over event with valid ID required to attend. It's NOT a version of the regular Teatro ZinZanni main stage show and food/beverages are not included in the ticket price but are available à la carte. Doors at 10:30 pm and show at 11:30 pm for all shows.
Tags: Adra Boo, Joe's Pub Seattle, Lady Rizo, Molly Pope, Nina Simone, Teatro ZinZanni, Whitney Mongé