Y'all probably know Rob Roth, man about town and event producer. He's helped Nark put on events for years as well as through his former work at Gay City and now through his Jetspace website and production company. Now Mr. Roth is debuting a new skill set with the premiere of his first full length play. When There Were Angels debuts Thursday, November 10, 2016 for a two week run at Gay City's Calamus Auditorium, 517 East Pike Street on Capitol Hill.
According to the playwright, it's a tale of fiction but one that draws on personal life experiences.
MORE from the press release:
When There Were Angels stars newcomer Collin Fitzgerald, supported by an all-queer cast of local performers including comedians Nick Sahoyah and Jeffrey Robert, actress and nationally-known cosplayer Abie Eckenezar, writer, actor, and director Moshe Henderson, and actor and singer Javion Smith. The play, directed by Roth, includes all the elements you'd expect to see in a compelling story–comedy, romance, tragedy, and fulfillment.

For Roth, it's an opportunity to finally tell a story that's been 20 years in the making.

"The story is fiction," he says, "but it's based on some pretty amazing experiences I had in my early twenties exploring some of the wilder parts of San Francisco, the Northern California coast, and, ultimately, hitchhiking from California to Minnesota."

"It's definitely a love story," he adds, "with everything that comes along with one."

The play is being presented as part of Gay City Art's 4th annual performing arts season, Uncontained. Each season represents an opportunity for Gay City: Seattle's LGBTQ Center to collaborate with local LGBTQ artists in order to galvanize an audience for queer arts, help foster the development of LGBTQ artists and works, and facilitate artistic excellence that is accessible.

"I was honored to have been chosen by the Gay City Arts Curating Council to participate in Gay City Arts: Uncontained," says Roth. "I'm honored to now stand with an elite group of emerging and established queer artists in Seattle, some of the city's finest."

When There Were Angels runs the evenings of November 10-13 and 17-20 at the Calamus Auditorium at Gay City. Tickets run $12-$20, although there are also a limited number of free tickets available for each performance as well. Tickets and more info can be found at whentherewereangels.com
You're strongly urged to check out local queer art. Especially since sometime contributor Jeffrey Robert is in the cast.
The Gay Uncle compels you to attend.
Besides…you need something to take your mind off recent unfortunate events…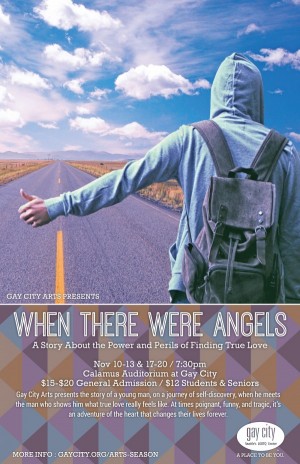 (Visited 1 times, 1 visits today)