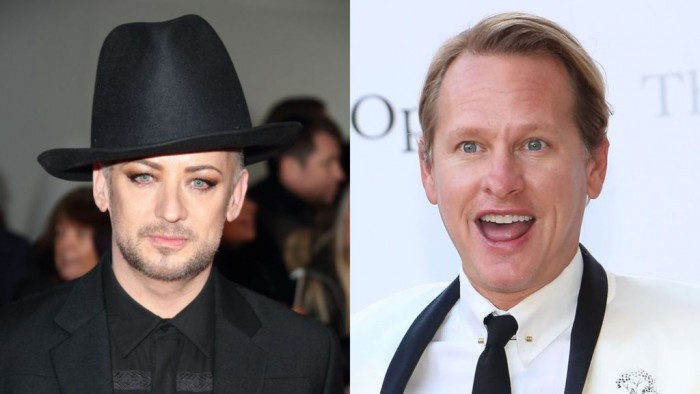 This is appalling.
So, NBC in its quest for ratings glory, is of course returning to the shitty cholera filled well of awful "reality" tv to bring back "The Celebrity Apprentice" the revolting long running show that starred illegitimately elected next president Donald J. Trump  for nearly 15 years prior to his run for the White House. The premise of the show is that contestants (originally it was "real" people but when that got old, they switched to celebrities) vie to become part of the Trump Empire, since Donald J. Trump is a business tycoon and genius (albeit one who refuses to release his taxes as well as one who is notorious for failed business ventures and declaring bankruptcy, but I digress). This horrible show helped keep the Trump Brand alive for the last 15 years even as Trump himself was sort of fading as a legitimate business name.
To be blunt, this awful show HELPED keep Donald Trump's name in the news and helped make him a celebrity and very much helped him "win" the 2016 presidential election. Trump was also a co-producer of the show with Mark Burnett, the mega Hollywood reality show success story who also produces The Voice, Survivor and Shark Tank.
"The Celebrity Apprentice" had started to fade but Trump's recent successes have led to he inevitable reemergence of the show with Arnold Schwarzenegger, actor and former Republican governor of California as the new host. The show also features mentor/advisors: Warren Buffett, Tyra Banks, Steve Ballmer, Jessica Alba, Patrick M. Knapp Schwarzenegger, Leeza Gibbons, Rocco DiSpirito, Tracey Edmonds, Bob Harper, iJustine, and Gemma Godfrey.
As for Donald J. Trump, despite the fact he's now the President-elect of the United States he remains listed as a Producer of "The New Celebrity Apprentice". Although it's standard procedure for all presidents to devote themselves full time to the job in which they were elected, Mr. Trump has resisted all urges and appeals to divest himself fully from his businesses, including working on this idiotic television show. His team stressed "he'll work on it in his spare time…"
Ya know…that huge amount of free time presidents have when they're not working on vital issues like healthcare or the economy or terrorist threats or epidemics or disasters or….
Yeah.
The 16 "celebrities" competing are:
Laila Ali
Brooke Burke-Charvet
Eric Dickerson
Boy George
Matt Iseman
Carrie Keagan
Carson Kressley
Lisa Leslie
Jon Lovitz
Vince Neil
Nicole "Snooki" Polizzi
Kyle Richards
Chael Sonnen
Porsha Williams
Ricky Williams
Carnie Wilson
So….that leads to the question:
WHY THE HELL ARE THESE PEOPLE SUPPORTING THE SEXIST, HOMOPHOBIC, RACIST AND ILLEGITIMATE REGIME OF DONALD J. TRUMP WHO RAN A DISGUSTING CAMPAIGN BASED ON LIES AND ABUSE?!?!?!?
Oh, and he's not qualified to be President of the United States. In any way, shape or form.
Now, obviously some of these "stars" aren't necessarily liberal/progressives and probably some of them supported and voted for Mr. Trump.
Fine. Whatever.
But, I'm thinking that some of them might not…Carnie Wilson? Jon Lovitz? Tyra Banks? Are they Republicans? Really?
And, there are GAY PEOPLE on this show. OUT gay people. Why the fuck are CARSON KRESSLEY and BOY GEORGE supporting fucking Donald Trump? Trump and/or his supporters have vowed to overturn many pro-gay acts of legislation. WHY would any LGBTQ person support such hostile bullshit?
Oh, and then there's "advisor" BOB HARPER, the tattooed trainer from "The Biggest Loser". Uh, why is HE being a big loser by supporting a Trump production that BENEFITS Donald J. Trump??!?!?
So, shame on all three of these men and any other queer person who is working on this shit show. And, shame on anyone who WATCHES this shit show. Until we can end The Illegitimate Regime of Donald Trump we need to… do what, again?
RESIST.
PROTEST.
OBSTRUCT.
INFORM.
Boycott "The New Celebrity Apprentice" and anyone involved with it.
Let them KNOW you're unhappy with their appearance on this show.
Tell NBC you're not happy about the return of this show. It's a conflict of interest for them to be in business with the President of the United States. Contact NBC.
Added: Yeah…we're aware this stupid show filmed nearly a year ago. Still. They made a poor decision. Herr Trump was being homophobic/sexist/racist last winter and spring. Let them know you're disappointed with their choice to appear. Let NBC know they need to stop doing business with the President-Elect. It's a huge conflict of interest.
Tags: Bob Harper, Boy George, Boycott Any Trump Supporter, Boycott Celebrity Apprentice, Boycott NBC, Carson Kressley, The Celebrity Apprentice