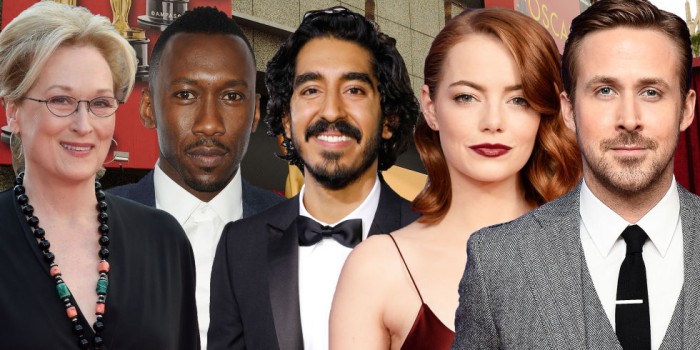 Well, at least for this year Hollywood and Oscar got their act together and the 89th Academy Awards ceremony, presented by the Academy of Motion Picture Arts and Sciences at the Dolby Theatre in Hollywood, California this Sunday, Feb 26, 2017 will not be quite so #OscarSoWhite. A number of films starring actors of color and featuring plots with a more varied array of representations of different cultures were honored this year including Moonlight, the highly praised film from Barry Jenkins that centers on gay black culture in Miami; it's up for 8 awards including Best Picture with its biggest rival being the acclaimed musical romance La La Land that earned a whopping 14 nominations.
You have a glob of options to watch this year's Oscar ceremony in Seattle this Sunday, with most events starting at 4 pm. The big one is the 11th Annual Gay City/Three Dollar Bill Oscar Party which is being held at the Egyptian Cinema on Capitol Hill this year with queer Seattle comedians El Sanchez and Nick Sahoyah serving as hosts (a nice change from the usual drag queen hosting…no offense Queens but it's good to give OTHER kinds of queer artists a chance at hosting LGBTQ events.)
Get tickets HERE for this big event.
If you prefer a less gay option but wanna go classy, there's The Film School's annual Oscar Night Gala at The Triple Door. It's pricey but it IS a fundraiser and it has an actual movie star, our own local superstar Tom Skerritt. You can snag tickets HERE.
As usual, Purr Cocktail Lounge is hosting their annual Oscar Party…R Place has Ladie Chablis as their host for their Oscar Party and they're giving away tickets for their March Dragness shows, too. OutWest in West Seattle is throwing a shindig as well.
Even the beer loving he-men at Madison Pub are getting in on the Oscar action. They even have Mark "Mom" Finley as host and cash prizes for dressing up. Here's some poo:
Join Mark "Mom" Finley and the staff of Madison Pub for an Oscar Party with cash prizes, drink specials, and surprises!!

$100 – 1st Place $50 – 2nd Place $25 – 3rd Place
With prizes for 'Best Red Carpet Look' and other silliness that you've come to expect from "Mom" Finley.

Drink Specials!!!
Crown Royal Whiskey & Ginger Ale
Captain Morgan Rum & Coke
Ketel One Vodka Cosmopolitan

The show starts at 4pm – be sure and arrive early to fill out your Oscar Ballots!!!
We've heard Central Cinema and Poco Wine Bar are having events as well but it's also likely that if your favorite bar has a TV or two, that most bars will have it on.
(Visited 2 times, 1 visits today)