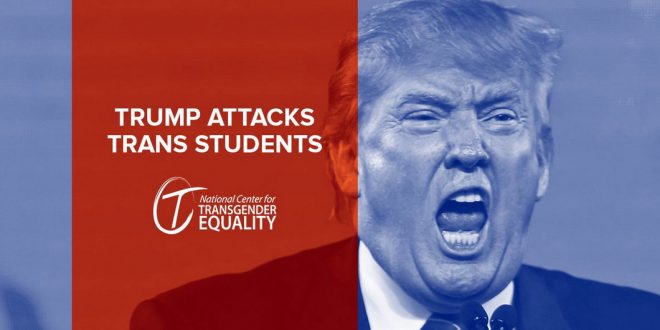 As expected, the Trump Administration announced Wednesday night that they would rescind protections for transgender student that were initially made only last year by the Obama Administration that interpreted that discrimination against trans students was banned under Title IX of the 1972 Education Amendments. The Obama Administration guidelines helped protect trans students with:
The right of students to not be discriminated against because of their gender identity
The right of students to not be bullied or persecuted because of their gender identity
The right of students to be addressed by the names and pronouns that correspond to their identity
The right of students with access to the bathroom matching their gender identity
The announcement by Trump and his Education Secretary Betsy DeVos, the conservative millionaire who donated millions to the Trump Campaign last year and was recently confirmed to her cabinet seat after a lengthy and controversial Senate confirmation, threw the fate of transgendered students back to the states and local schools to decide, a frequent tactic of Republicans.
"This is an issue best solved at the state and local level. Schools, communities and families can find — and in many cases have found — solutions that protect all students"

Department of Education Secretary Betsy DeVos
Around the country, LGBTQ groups and advocates condemned this move from the Trump Administration.
"The National LGBTQ Task Force is condemning President Trump's decision to remove guidance that helps provide protections for transgender students in our nation's education system.

This is an outrageous attack on the most vulnerable in our education system, transgender children. At a time when young people need all the help they can get to reach their full potential, all Trump has to offer is more opportunities to discriminate against them. When every parent of a trans child needs hope and optimism for their families, all the president has to offer is pain and despair,"

Rea Carey, Executive Director, National LGBTQ Task Force

"Supports for transgender students in K-12 schools change and save lives, and hurt no one. President Trump's reversal of federal guidance affirming Title IX protections in schools undermines the settled expectations and protections afforded by federal law, hurts transgender students and impedes the progress we have made creating safer and more inclusive learning environments for all.

"While the Trump administration may abandon transgender students, GLSEN won't. And neither will the thousands of teachers, administrators and parents around the country who work with GLSEN and our local Chapters to ensure that transgender students everywhere have the opportunity to simply be themselves and live better lives. Schools, leaders and teachers must do the right thing and give all students the chance in life they deserve.

"Research has consistently shown that transgender students are more likely to face severe violence and discrimination at school than their peers, and at greatly increased risk of suicide and self-harm as a result. GLSEN's National School Climate Survey has shown that 76 percent of transgender students felt unsafe at school simply because of their gender. We also know that transgender students who are allowed simply to be themselves at school are as healthy and happy and successful as their peers. Rescinding guidance designed to help schools help them makes zero sense."

GLSEN's Executive Director, Dr. Eliza Byard

"Every student matters, and every student has the right to feel safe, welcomed, and valued in our public schools. This is our legal, ethical and moral obligation. The Trump administration's plans to reverse protections for transgender students by rescinding the Title IX guidance, is dangerous, ill-advised, and unnecessary.

"We reject this discriminatory plan because it is a drastic departure from our core values. We don't teach hate, we do not tell people how to pray, and we do not discriminate against people based on their religion, gender, or identity. Period."

NEA President Lily Eskelsen García

"We stand with transgender students and their families in strong resistance to bullying, even when it comes from the White House. All students, including transgender students, should have a fair opportunity to participate fully and succeed in school. The nation's leading educators and child health experts agree that it is best for all students when transgender students are treated consistently as the gender that matches how they live every day."

Rebecca Isaacs, Executive Director of Equality Federation

"I'm extremely saddened by the Trump Administration's actions today. I want my daughter, who happens to be transgender, to have the freedom to succeed just like all the other students at school. Our God is a God of love, grace, and mercy. It's time for us all to extend that love. My kid is committing no sin by being her authentic self"

Kimberly Shappley from Pearland, Texas is a Republican and Evangelical Christian and Mother of a Transgender Daughter
Seattle Mayor Ed Murray issued the following statement in response to the Trump administration's announcement:
"The bullying coming from the White House reached even more alarming levels today when the Trump administration specifically began targeting school kids," said Mayor Ed Murray. "By rescinding federal guidance from the Department of Education to stand up for Title IX protections allowing transgender students to use the bathroom that matches their gender identity, the new administration is sending a message that it no longer respects individual rights and ratcheting up the fear among marginalized communities."

For the for the last 11 years, Washington state law has protected our transgender students. The 2006 passage of the Anderson-Murray Act, which Mayor Murray co-sponsored when he was a state legislator, specifically protects transgender people from discrimination in public accommodations.

In the last two years, Mayor Murray has helped advance rights and protections for Seattle's transgender community. In 2015, he passed legislation requiring all City-controlled and privately operated places of public accommodation to designate existing and future single-stall restrooms as all-gender facilities.

And last year, Mayor Murray signed an executive order that, among other actions, instructed Seattle's Office for Civil Rights (OCR) to develop uniform guidance and trainings for front-line City staff, such as police officers, on how to best continue providing safe and inclusive spaces for all residents, including transgender and gender-diverse people.

"Unlike the Trump administration, Seattle is committed to expanding rights—not undoing them," Mayor Murray said. "As the new administration continues to assault civil liberties, we will stand up for all students in Seattle schools. We will also stand by court precedent."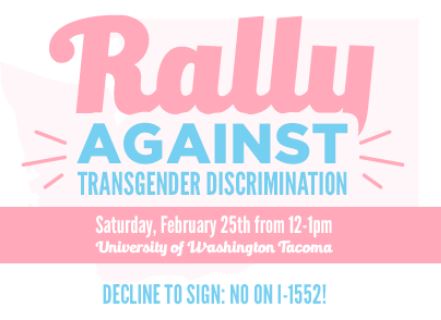 We know of at least one area rally to protest the Trump Administration's decision as well as protest against a new anti-trans ballot measure, I-1552 which is trying to remove equal rights for Washington State's transgender citizens.  It's happening in Tacoma at the University of Washington/Tacoma at 1900 Commerce Street from Noon to 1 pm. Here's more info:
The Trump Administration is trying to rescind protections for transgender students. And now those same forces are trying to repeal WA's laws protecting our transgender friends and family members. We can't let that kind of discrimination come to this Washington.

Join people from around the state including families with transgender students, elected leaders, and many more on Saturday as we rally against I-1552 and show opponents of equality that Washingtonians are united in defense of our transgender neighbors and friends.

RSVP HERE: http://NoOn1552.org/Rally

YES, please bring hand made signs.
YES, please organize your own carpools.
YES, please let us know if you'd like to volunteer to help set up this event on Saturday.
YES, please invite everyone you know.
(Visited 1 times, 1 visits today)