Review: The Stunt Queen Tour w/Mykki Blanco and Cakes Da Killah
Feb. 27, 2017 at  Neumos/Seattle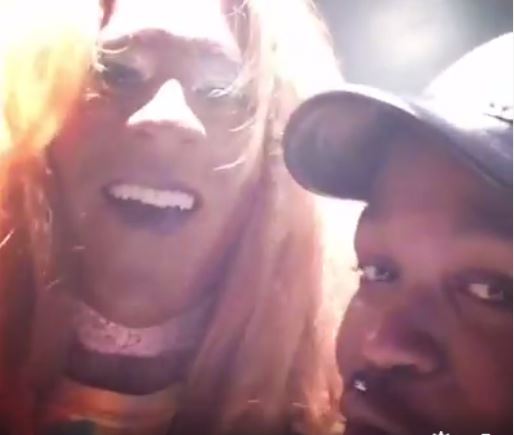 For those of us, and there are so many, who struggle to maintain a sense of normalcy during such tremendous times, seeing Mykki Blanco and Cakes Da Killa at Neumos was perhaps the best medication possible. It's easy to fall into the trap of thinking our world is falling apart, but this queer rap concert showed me that we are going to be okay. We are currently okay.
After all, who would have thought one could enjoy rap and not have to filter out a constant barrage of homophobia and misogyny? How many of you have loved a rap song, only to realize the lyrics diminish and demonize you? This past Monday night, the audience enjoyed all the fantastic elements of genuine, authentic, and skilled rap (hardcore expressions, booming beats and catchy prose, with trippy synth pads and leads) without having to grapple with the lyrics. Both Blanco and Killa rapped about real life matters everyone can relate to, including, if not especially, the trans and gay communities.
Blanco's live delivery was a rawer, higher-energy experience than her latest, more sophisticated and polished album would have indicated. She presented a good mix of energetic and relaxed moods, all of them emotional, personal, and relatable. At times the experience felt psychedelic with the help of moody synth lines and great lighting.
I was disappointed the sound system wasn't a bit clearer in the mix of the prerecorded tracks. There were enough technical issues which led me to suspect a sound check either didn't take place or go very well. Admittedly, there was a fabulous and fun drag show at the beginning of the event, so the sound system had a lot of different acts to contend with. That being said, I was a little bummed that neither Blanco or Killa had any type of live musicians present. I think some live musicians could have enhanced the experience.
Justifiably so, both she and Killa demanded and mildly reprimanded our Seattle audience for being too observational, rather than participatory. Killa suggested he could be napping instead of performing to our tired, energy-sapping faces. Their strategy was to penetrate the physical space of the audience, creating a table-in-the-round experience, away from the traditional stage – and it worked. We Seattleites woke up just near the end of the opening act.
There was a fantastic act present at the show which wasn't named on the bill: the audience. During the break between Killa and Blanco, a vogue extravaganza unfolded by amazingly talented local queer performers. Just as exciting at the rest of the show, I was amazed by the number of talented locals (i.e. celebriqueers) who came together in the same space.
And that's really the magic ingredient of Blanco's show: community. She coordinated and reached out to queer talent in Seattle to make her show a success and it worked. I wish more artists took this approach to their live shows. Yes, I imagine a lot of coordination had to happen, but can you think of a better way to sell tickets and have a fantastic audience at the same time?
If you missed this celebratory show, don't worry. She'll be back. She loves Seattle and she loves us. And it's clear we love her too.
(Visited 1 times, 1 visits today)