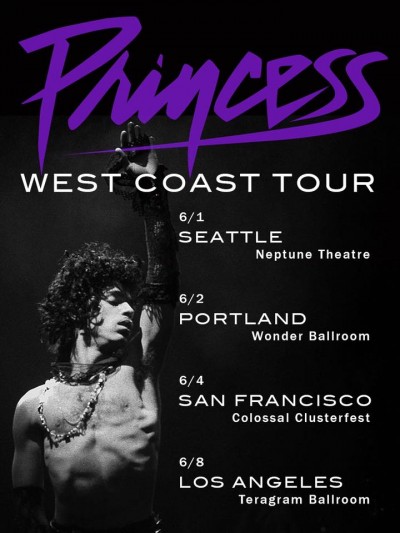 Princess, the Prince cover band project from actress/comedian Maya Rudolph and LA singer/songwriter Gretchen Lieberum is embarking on a West Coast tour and it kicks off at Seattle's Neptune Theatre in the U-District on June 1st.
Rudolph and Lieberum are both die-hard fans of Prince and they formed the cover band out of that mutual love in 2011. And, Prince was aware of the project and gave it his blessing and admitted to the pair he saved their 2012 appearance on the Tonight Show on his DVR. Princess was scheduled to perform in Austin Texas last April when Prince died in his suburban Minneapolis home and Rudolph hesitated if they should go on with their scheduled performance but Lieberum talked her into it. Via New York magazine's "The Cut" website:
"I didn't want it to be like, 'Hey, that lady that shit in the street [in the 2011 film Bridesmaids] from Saturday Night Live is telling us'" how to grieve, Rudolph said. "Everybody has their heroes, and he was mine, and I took it really hard. I've been taking it really hard. And I lost something that has just been such an inspirational charge for me creatively, because knowing that Prince is in the world, you never know when you're going to see him, and he's exciting. He's electric. He's magical … he was music."
Tickets for the June 1st show go on sale on Friday, April 7, 2017 at Ticketmaster and through Seattle Theatre Group's website or main box office at The Paramount Theatre in downtown Seattle.
MO' Poo on Princess:
Featuring Maya Rudolph & Gretchen Lieberum
Date:
June 1

, 2017 @

9:00PM
Venue: The Neptune 
Age Limit: All Ages 
Price: $33.00 Advance, $33.50 Day of Show (not including applicable fees)
Seating: General Admission 
On Sale: Friday, April 7, 2017 @ noon
Ticketing Information: Available online at Ticketmaster.com, in person at the Paramount box office, or may also be purchased by phone at 1-800-745-3000. For more information, visit STGPresents.org.    
SNL vet Maya Rudolph and LA singer-songwriter Gretchen Lieberum are PRINCESS, a Prince cover band. The two have been singing together since college but it was only recently that the duo turned their mutual adoration for Princeinto a musical project. Born out of their collective, life-long obsession with Prince, each performance is a love letter to the Artist himself. Don't Worry, They Won't Hurt U… They Only Want U 2 Have Some Fun.
(Visited 1 times, 1 visits today)