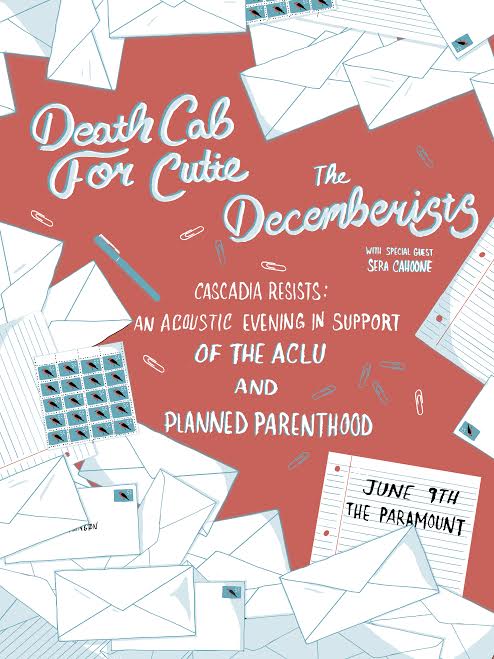 Heads up for fans of two local mega bands, DEATH CAB FOR CUTIE and THE DECEMBERISTS. They are joining forces for a huge concert and fundraiser happening on June 9th at Seattle's Paramount Theatre. Proceeds will benefit the ACLU and Planned Parenthood and tickets go on sale this Friday, May 12th. We're guessing it will sell out very quickly!
The poo:
DEATH CAB FOR CUTIE AND THE DECEMBERISTS TO LEAD SPECIAL BENEFIT SHOW: "CASCADIA RESISTS: AN ACOUSTIC EVENING IN SUPPORT OF THE ACLU AND PLANNED PARENTHOOD" AT SEATTLE'S PARAMOUNT ON JUNE 9

ALL PROCEEDS WILL GO DIRECTLY TO THE ACLU AND PLANNED PARENTHOOD

Death Cab for Cutie and The Decemberists have announced plans for a benefit concert to show support and stand in solidarity with the ACLU (American Civil Liberties Union) and Planned Parenthood. The benefit show will take place Friday, June 9, at Seattle's The Paramount with all proceeds going directly to the ACLU & Planned Parenthood organizations. Tickets for the show go on sale Friday, May 12 at 10AM, PST and will be available for purchase here. Joining the two bands on this momentous evening will be Seattle's very own singer/songwriter Sera Cahoone.

"We as Death Cab For Cutie are appalled by the divisive, xenophobic and misogynistic agenda the Trump Administration is attempting to implement in our country.  We are proud to be joining our friends The Decemberists and Sera Cahoone in support of both the ACLU and Planned Parenthood at this pivotal time in our nation's history," stated Death Cab for Cutie's Benjamin Gibbard. To further that sentiment, Colin Meloy of the Decemberists notes, "There are enough stories from this last week alone — the Trump administration's attempts to curtail first amendment protections and the GOP's passage of the heartless AHCA — to remind us that organizations like Planned Parenthood and the ACLU need our support now more than ever. We Decemberists are proud to do our bit to help those orgs stay funded and active in their communities, both local and nationwide. RESIST!"

For more information, please visit: http://deathcabforcutie.com/ and/or http://www.decemberists.com/.

If you are unable to attend the show but are interested in donating to the organizations, click here to reach ACLU and here for Planned Parenthood.
(Visited 1 times, 1 visits today)