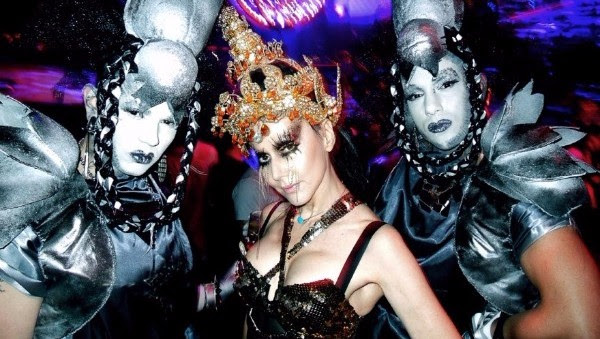 SIFF wrapped up the 2nd of its 4 weekends and now heads into its second half with several more LGBTQ films on tap including a revisit to a great documentary on the trans/queer activist Marsha P. Johnson; a fun lesbian comedy and this year's annual SIFF GAY-LA, the big LGBTQ themed film event/party which is happening Thursday June 8th. This year's GAY-LA presentation is the documentary SUSANNE BARTSCH: ON TOP about the legendary NYC event promoter and her highly theatrical party themed lifestyle. 
Grab tickets to all these films and the other remaining LGBTQ films over HERE!
GAY-LA: Susanne Bartsch: On Top
Directors Anthony & Alex Scheduled to Attend
Meet the irrepressible driving force behind New York City's nightlife scene for the past 30 years: event promoter and muse Susanne Bartsch, whose lavish, theatrical, trend-setting parties have embraced all walks of life and attracted a who's-who of the fashion underground.
Thursday, June 8 · 7:00 PM · SIFF Cinema Egyptian
Always a wild, colorful time, SIFF's Gay-La has become one of the Festival's most treasured events! Join us after the screening on June 8 for drinks and dancing at the Baltic Room!
Also Screening: Friday, June 9 · 4:30 PM · SIFF Cinema Egyptian
The Death and Life of
Marsha P. Johnson
Producer L. A. Teodosio Scheduled to Attend
Academy Award®-nominee David France (How to Survive a Plague) uncovers never-before-seen footage and rediscovered interviews in a search for the truth behind the mysterious 1992 death of courageous black transgender activist and Stonewall veteran Marsha P. Johnson.
Friday, June 9 · 6:30 PM · SIFF Cinema Uptown
Saturday, June 10 · 3:45 PM · SIFF Cinema Egyptian
A lesbian bachelorette weekend goes awry when one of the brides admits she's never had an orgasm. Constance Wu ("Fresh Off the Boat") stars in this funny and raunchy, yet poignant and real, reflection on trust, love, and the journey every woman shares. (d: Jenée LaMarque c: Constance Wu, Angela Trimbur, Jenée LaMarque, Lauren Parks, Ever Mainard, Josh  Fadem, Kárin Tatoyan, Doug Purdy, USA 2017, 90 min)
This intimate hangout movie chronicles the weekend getaway of a group of friends celebrating lesbian couple Andi (Constance Wu, "Fresh Off the Boat") and Lu's (Angela Trimbur, The Final Girls) impending marriage. The trip is full of dancing, drinks, and laughs, but isn't without its fair share of drama. Lu's strained relationship with her older sister (played by writer/director Jenee LaMarque), who is currently going through a divorce, becomes a main point of contention over the weekend, and the presence of Andi's lothario male friend Josh (Josh Fadem, "Better Call Saul") doesn't help. During a wild night of partying, a spontaneous drug-riddled conversation reveals that Lu, contrary to Andi's belief, has never had an orgasm. The tension among the group grows as secrets are revealed and relationships—both romantic and platonic—are put to the ultimate test. Mixing all the best elements of The Big Chill and Bridesmaids, LaMarque's The Feels is a touching and humorous film, relatable regardless of sexuality, and accompanied by a rad '90s top-40 R&B and girl electro-pop soundtrack.
Director Biography
Jenée LaMarque graduated from Stanford University with a B.A. in English with a creative writing emphasis in poetry and has an M.F.A in Screenwriting from The American Film Institute. Her first feature, The Pretty One, premiered at the 2013 Tribeca Film Festival and was sold to Sony Worldwide Acquisitions.
Sponsored by Ingeniux, Babeland
Director:

Jenée LaMarque

Principal Cast:

Constance Wu, Angela Trimbur, Jenée LaMarque, Lauren Parks, Ever Mainard, Josh Fadem, Kárin Tatoyan, Doug Purdy

Country:

USA

Year:

2017

Running Time:

90 minutes

Website:

Official Film Website
Tags: Gay-la, Marsha P. Johnson, Queer Film, SIFF Gay-La, Susanne Bartsch: On Top (film), The Death and Life of Marsha P. Johnson, The Feels (film)