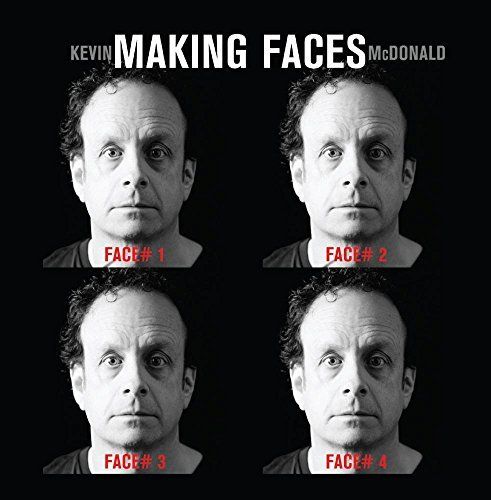 We're HUGE fans of the seminal Canadian sketch comedy troupe THE KIDS IN THE HALL and their eponymous CBC/HBO series from the 80s. The five man troupe (Dave Foley, Kevin McDonald, Bruce McCulloch, Mark McKinney, and Scott Thompson) occasionally regroup for special events and projects but have mostly gone their separate ways. Many gay fans loved the only gay "Kid" Scott Thompson who created iconic characters like Buddy Cole but all the "Kids" were gay friendly and the troupe did some amazing sketches utilizing gay characters and themes.
One of our favorite kids was Kevin McDonald, who co-founded the "Kids" with Foley. The sad sack faced comedian was a valuable utility player in the troupe and tended to play characters a bit more grounded in reality; McDonald characters tended to be wry as opposed to more over the top like the ones created by McCulloch and McKinney. McDonald has gone on to numerous other gigs (including much voice over work) and is familiar to younger audiences for his turn on "That 70s Show" as the befuddled "Pastor Dave".
He's also a much sought after teacher of comedy and comedy writing and Kevin McDonald will be leading a two day sketch comedy workshop in September with Seattle's Unexpected Productions who perform at the Market Theater in Post Alley in Seattle's famed Pike Place Market. (Unexpected is known for "Theatresports" and their currently running improv show "Schrampflin Falls")
Here's more info about the Kevin McDonald led sketch workshop:
Join Kevin McDonald of the Kids in the Hall as he returned to Unexpected Productions for a two-day sketch comedy workshop that will culminate in a show on the second night.

Workshop your sketches and perform with sketch comedy legend Kevin McDonald of Kids in the Hall, Saturday Night Live, MADtv and more. This one of a kind, two-day workshop will include YOUR sketches performed in a live show!

What: Workshop your sketches and perform with sketch comedy legend Kevin McDonald. Kevin teaches students how to run a writers room, rehearse and perform sketches, all leading up to a live performance. Kevin invites everyone in the workshop to bring one scripted comedy sketch. The workshop begins as a writers room. Everyone will read their sketches and give notes. Selected sketches will be re-written, worked on and given notes again. He will pick five/six sketches, split the class into groups and guide everyone in a rehearsals and evolve them into fully formed sketches.

What you need: A sketch. Copies of that sketch. And a laptop for editing that sketch.

What you get: You work one-on-one with Kevin McDonald as well as your fellow participants to workshop your sketch. You receive hours practical advice and guidance on sketch writing, specific work-shopping tips and guidance to help create brilliant comedy sketches.

Workshop: Saturday, Sept 23rd & Sunday, Sept. 24th 10 a.m. – 5:00 p.m.
Performance: Sunday, Sept. 24th at 5:00 p.m.
Cost: $285 – space is limited
Register: Register Here for How to Create a Sketch Show with Kevin McDonald

On Sunday, attendees will rehearse the chosen sketches under Kevin's direction. As Kevin says, "We are creating and producing a sketch show together." Sunday evening's performance will include stand-up and improv as well as YOUR sketches complete with your performances.

About the Instructor:

Comedian, actor, writer and director Kevin McDonald founded "The Kids in the Hall" with friend Dave Foley, after they met in Toronto at Second City, and the television series ran from 1988-1995. In the troupe's television series and stage shows, he portrays several popular recurring characters, such as the King of Empty Promises, Sir Simon Milligan, and Jerry Sizzler. McDonald went on to appear in a variety of films including "Boy Meets Girl," "Lilo & Stitch," "Lilo & Stitch: The Series," and "Epic Movie." On television, he has appeared on "The Martin Short Show," "Ellen," "That '70s Show," "Seinfeld," "Friends," "NewsRadio," "MADtv," "Arrested Development," and "Corner Gas." McDonald has also done voice work for various animated series, including Nickelodeon's "Invader Zim," "The Angry Beavers," "Catscratch," and "Clerks: The Animated Series." He also played an imaginary friend named Ivan in the episode 'Sight For Sore Eyes' on "Foster's Home for Imaginary Friends," appeared in the music video for "Roses" by Outkast, and made an appearance in "Tim and Eric's Awesome Show."

In 2006, McDonald hosted a CBC Television special, featuring several of Canada's best-known sketch comedy troupes. "Sketch with Kevin McDonald" won a Canadian Comedy Award (Best Taped Live Performance – The Minnesota Wrecking Crew). He was recently at the Just for Laughs Festival with the reunion of Kids in the Hall, and also with his show "Hammy and the Kids" with Craig Northey, based on his two dysfunctional families, his father ("Hammy") and the Kids in the Hall, as well as "Death Comes to Town" on CBC.

About the Improv School at Unexpected Productions
Artistic Director, Randy Dixon designed The Improv School. Dixon is a respected instructor and teaches improv all over the world. He is known for creating the "Seattle Style" of improv, combining the teachings of Del Close and Keith Johnston. He has written books and numerous articles on the art of improv and storytelling. He designed the Improv School to teach the

Since 1986, Unexpected Productions' Improv School has taught new skills to tens of thousands of students. Now, improv troupes in cities across the country boast members educated by this unique institution.

Unexpected Productions' Improv School has four quarters a year. There are 6 levels to the school, each building on skills from the previous level. Student learn the basics of improvisation. Discover how to actively listen, to use their own life to create stories, improve speaking skills and work on the fundamental principles of improvisation.

The Improv School offers a wide range of specialty classes throughout the year. Including storytelling, sketch comedy, musical improv, genre styles, stand-up comedy, performance, self-improvement, stage combat, dance improv, character, acting, genres, where, voice, and stage presence. Master classes with the best improv instructors from around the globe.

Emphasis is placed on understanding and utilizing basic scene work skills, and most importantly, having fun. Lots of laughs and lots of stage time. They make new friends, and gain new confidence. They take classes to:

Pursue the art of Improvisational theater
Improve your public presentation
Gain amazing teaming skills
Overcome shyness
Build confidence
Improve communication skills
Think on their feet
Come out of their shell
Have a safe place to take risks
Or simply to have fun and make friends.

Students unlock the secrets of active listening and being present in the moment. They discover the power of collaborative storytelling and connecting with an audience. They add more spontaneity and playfulness to their life. All while having a fun time laughing and making new friends.
(Visited 24 times, 1 visits today)