Hand to God at Seattle Public Theater Ventures into Religion and Morality, and Succeeds on the Characters … and Puppets (Preview — Runs 5/11 through 6/3)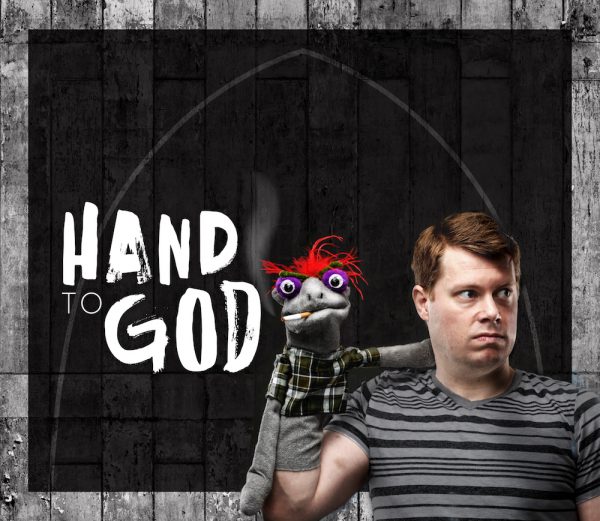 Sing your praise to the Lord!
Come on everybody,
Stand up and sing
One more hallelujah!
Give your praise to the Lord!
I could never tell you …
With … puppet sex!
And … demonic puppet violence!
Opening tonight (5/11), Seattle Public Theater's latest show is Hand to God, a 2011 play by Robert Askins, directed by SPT Co-Artistic Director Kelly Kitchens.  
The show has signs of being a campy, friendly little church play.  There's a delightfully churchy musical backdrop (including the above-quoted Amy Grant throwback, which I had forgotten existed).  And the set is a quite spot-on church basement, with the right amount of dinge and awkward, tacky posters, and which follows successfully the hard-fast (apparently) rule that every Christian-oriented building must display somewhere a print of da Vinci's distinctive painting, The Last Supper.  
But don't let any of that fool you: the play is about as vulgar as they come.  Perhaps that is why the theatre has "advisory" signs up all over — lest someone think they are bringing their kids to church camp, they have been warned.
Hand to God is a play about family and teenage drama, identity and loss, morality and sexuality.  It is set against a southern Lutheran church backdrop, with the characters — and puppets — driving the show.  
At its center, the play features Jason (Ben Burris), an awkward and passive teenager, and his handmade puppet, Tyrone, who is exactly the opposite, the epitome of self-assured … and may be the devil himself.  
The character through whom most plot flows, however, is Margery (Sunam Ellis), Jason's mom, who teaches the church's puppetry class to Jason and two other teenagers after the death of her husband/Jason's father.  Actually, "teaches" may be a strong word; reluctantly and unsuccessfully oversees a trio of troubled teens is probably more apt. The position seems — based on some guilt trips from Pastor Greg (Martin G. Krouse) while he tries to pursue her affections — effectively to be Margery's penance for relying on support from church resources.  Or perhaps it is less loaded, and meant solely as a distraction for herself, in which the church is indulging her lack of aptitude. In any case, her, um, handling of the kids doesn't go quite as planned.
Jason is joined in his mom's puppet by his teenage peers Timmy (Arjun Pande) and Jessica (Hannah Mootz).  Jason likes Jessica, who ignores or belittles him, which is better than Timmy, who bullies him. This creates an opportunity for the opportunist puppet, Tyrone, who takes on a mind of his own and quickly becomes a bully himself, first on Timmy, then on Jason and everyone else.
Ultimately, the show is largely about the fronts we put up — a worthy topic, but much of the plot feels underbaked, and it did not dig deep enough to offer much lasting commentary on the timeless religious and moralistic topics it raised and left there.  One example is Jason's sexuality — when you come out with a zinger like, "You're so far back in the closet, you're in Narnia" (YES!!), you damn well better do something with it. Instead, it hangs for a second and promptly shifts to other cheap barbs, never returning to any meaningful exploration of queerness and Christianity that one would think germane to a play about a church and frickin' puppets.  Opportunity missed.
In SPT's hands, the show is an enjoyable one.  It is a strong production, full of wit and humor, that moves fast.  (The show is only 90 minutes, but still gives an intermission — my kind of play!)  The solid acting, direction, and design all bolster the script and give the characters a lot of life.  
Because it was still in preview, I will not comment further on the technical elements, other than to highlight the necessary: Burris's controls make for some expressive, enjoyable puppetry (as main puppet Tyrone and his human, Jason), and Ellis is irresistible in the many moods (and positions) of Margery.  
If you're up for a batter of vulgarity sprinkled with blasphemy, they've got the show for you.
Hand to God runs 5/11-6/3 at Seattle Public Theater, on the shores of Green Lake.  Tickets $34, available here.
(Visited 1 times, 1 visits today)