EVERYONE is announcing their big starry line-ups for Seattle's LGBTQ Pride events happening in June of 2018 but centered on Seattle Pride Weekend from Thursday, June 21st thru the BIG DAY, Sunday, June 24th which will feature the big annual Seattle Pride Parade in downtown Seattle followed by Seattle PrideFest at Seattle Center that afternoon and evening.
The biggest name announced: #1 Billboard Dance Music artist DEBBY HOLIDAY will make appearances on both Saturday and Sunday of Seattle PrideFest.
Nuyorican electro-pop, hip hop & r&b singer, NOMI RUIZ is another out of town guest as is the Brooklyn based queer country band, PAISLEY FIELDS. 
Many popular local talents have been booked for both days of the PrideFest festival including popular drag performers like Miz Honey Bucket and casts from Queer Bar and other local bar shows, plus musical groups like Connie & The Precious Moments, Adra Boo, Mirrorgloss w/Action Jackson, Tiffany Wilson, L80, Shaolin Hunks and many more go gos, djs and artists.
Seattle PrideFest has just released the posters for their two major Pride Weekend events, the fun Capitol Hill centric festival happening on Saturday, June 23rd and the Seattle Center main festival happening on Sunday.
This will be PrideFest's 5th year with Saturday events at Cal Anderson Park on Capitol Hill and the 2nd year of running the Broadway Street/Capitol Hill Pride event on the main drag of Seattle's longtime LGBTQ home neighborhood. After a series of controversies last year, PrideFest took over the management of that popular street festival at the last minute. This will be their first year totally in charge of producing the event.
More info, schedules and interviews to come in the weeks ahead! Stay tuned.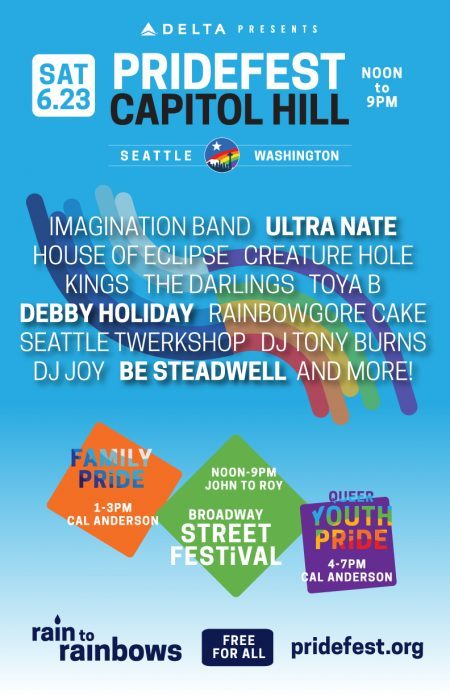 Now in its 5th year, PrideFest Capitol Hill is now expanded to encompass Broadway from John to Roy, as well as Denny Way and Cal Anderson Park for Family Pride and Queer Youth Pride. An event for the traditional LGBTQ neighborhood, now fully managed by PrideFest exclusively. All ages. Presented by Delta with support by the Broadway BIA. FREE FOR ALL.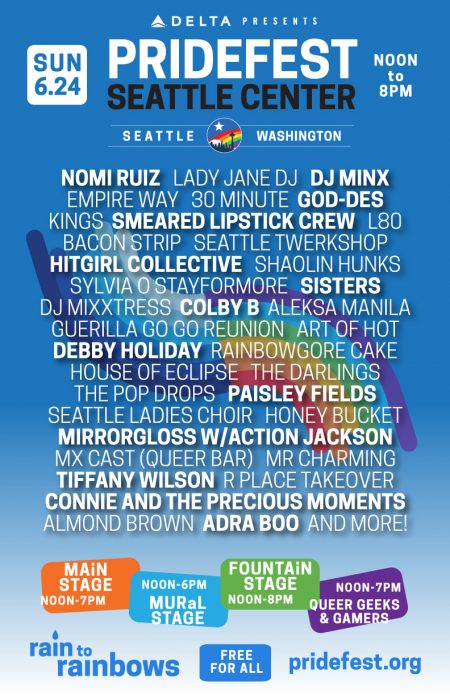 The legendary Seattle PrideFest rally and party at Seattle Center, now in its 12th year. Free for all. A celebration of LGBTQ arts, culture, and Pride, on four stages. Stay tuned for artist announcements! All ages. ASL interpreting provided on main stage.
(Visited 5 times, 1 visits today)