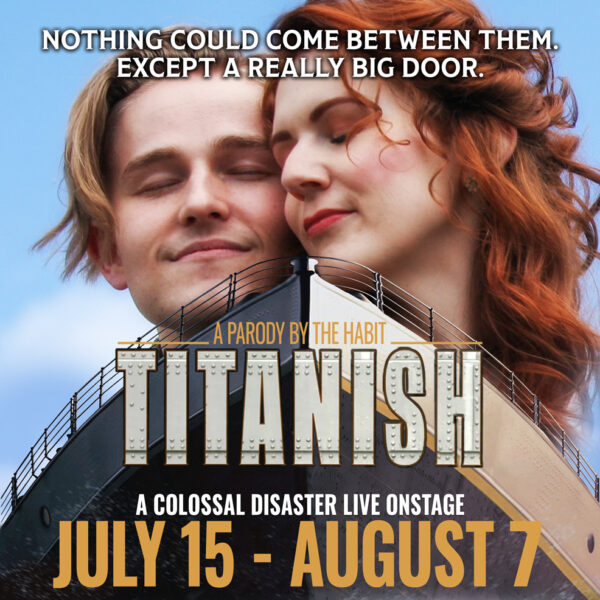 It's summer and as Seattle swelters under the oppressive 72 degree heat you should feel the need to treat yourself! One way to do that is by going to live theater and seeing a ridiculous parody of the biggest movie of all time!
NO!!! Not some dumb Marvel Universe crap….TITANIC, the romantic 1997 disaster flick that made Leo DiCaprio and Kate Winslet stars and gave the world the delightfully cheesy theme song sung by the delightfully cheesy (in a good way) Celine Dion! It made a zillion dollars and even though all the stuff before the iceberg actually hits the ship is pretty silly, it had rip snortingly good special effects and production design.
Now, the diabolical masterminds behind the beloved annual holiday show "A Very Die Hard Christmas", returns with a brand new parody called TITANISH! Yes, busy little Seattle producer/director/actor/showman Mark Siano has teamed up with writers Jeff Schell and Ryan Dobosh to trash, er, pay loving homage to everyone's favorite movie about rich Edwardians drowning in icy, North Atlantic waters! You can expect all the pun, jokes, gags, parody songs and hilarity you'd expect from veterans of the beloved Seattle comedy troupe, The Habit.
They also managed to find two adorable young actors who look just like Leo and Kate!
From the press release:
Titanish follows the epic love story of seventeen year-old Rose and  a young artist named Jack and the ill-fated voyage on the Titanic. "It is our chance to explore one of the most melodramatic films of modern cinema. We will be incorporating the best 90's ballads that are pure nostalgia," Widely regarded as one of the greatest melodramatic films in modern cinema, The Habit and Mark Siano thought this was a vehicle ripe for satire. "Not only do we get lampoon the movie, but this gives us a chance to musically incorporate 90s power ballads that are pure nostalgic bliss."  Siano adds. "Titanish combines our two passions as a comedy troupe – pop culture and satire – and smashes them into an action-packed romance musical comedy."
TITANISH opens this Friday, July 15th at Seattle Public Theatre's Bathhouse Theater at Green Lake (the same space where "A Very Die Hard Christmas" is performed) for a nearly 4 week long run, through Sunday August, 7th. They have ticket options including a First Class Ticket experience that gets you preferred seating, drinkies, snackies, and lovely merch.
Or, you can be a poor steerage person and sit in squalor and be forced to do Irish folk dances.
I keed, I keed!
Hopefully, the show will answer the age old argument, "why wasn't there room for Jack on that huge piece of wood?"
Snag tickets HERE: https://app.arts-people.com/index.php?show=136551
(Visited 31 times, 1 visits today)